LVT and Rigid LVT Market Report: The category is all-in with LVT, rigid and flexible - Feb 2018
By Beth Miller
The resilient flooring segment is booming, with the LVT category, boosted by rigid LVT, igniting the rush of activity. In 1996, the picture of both the category and its role in the flooring industry was much different. Resilient flooring was a $1.9 billion market then, accounting for 12.3% of total flooring, and 95% of resilient products sold in the U.S. were manufactured here, according to Market Insights LLC.

As of 2006, the category was holding at $1.9 billion, accounting for only 7.5% of total flooring, and 78% of products were domestically manufactured.

Fast forward to 2016-over the course of 20 years, LVT has surged from 5% to 59% of the resilient category. And the impact of this dramatic growth is clear: the category has expanded to $3.2 billion, 14.2% of total flooring, and the percent of resilient product manufactured in the U.S. has dropped to 41%.

As is apparent in those figures, the growth of the resilient category has come at the expense of other flooring categories, but it is also cannibalizing from within. In those same 20 years, resilient sheet has fallen from 59% of the category, by dollars, to 27%, and VCT, which accounted for 36% of the resilient sales by dollar value in 1996, now makes up only 14%.

As for where all that LVT and rigid LVT is coming from, China leads in manufacturing with an 81% share. Korea follows at 13%, and Taiwan with 2%. All other countries, of which the U.S. is a part, account for the remaining 4% of production.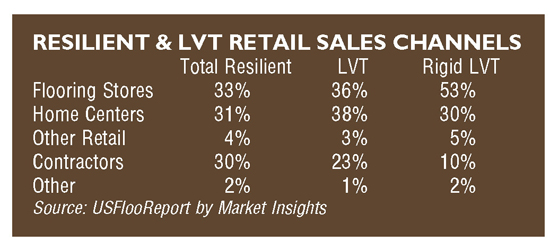 CAPACITY & PRICING
Asked how many producers of LVT there are currently in Asia, one industry expert estimates "thousands," explaining that new ones are coming on line all the time, including some that have converted former laminate manufacturing into LVT and rigid LVT production.

That, of course, is related to the trend we have seen in the U.S., with many flooring companies, including those formerly soft surface only, rolling out LVT lines, several of which are sourced-not to mention the fact that many flooring distributors are now carrying their own sourced lines. The fact is, everyone wants a piece of the action, and the action right now is LVT/rigid LVT.

Several U.S. manufacturers have or are making moves to on-shore at least a piece of their production. Mannington makes 80% of its residential LVT products in Madison, Georgia and expects this number to be closer to 95% by the end of 2018. Currently, all its rigid LVT products are sourced, but it plans on producing some rigid LVT in Madison by late 2018. Similarly, 85% of Mannington's commercial LVT products are made in Madison.

Tarkett makes 50% of its traditional LVT at its two facilities in Florence, Alabama, while rigid products are sourced. And Mohawk makes LVT at its Dalton facility. Its soon-to-come second LVT facility will produce its SolidTech rigid product; currently, its rigid line is sourced from Asia.

Shaw incorporated machinery that US Floors purchased pre-acquisition into its Ringgold facility, called Plant RP, where it is currently making entry-level LVT products to serve one particular partner, according to Jamann Stepp, director of marketing and product management for US Floors. The company plans to produce rigid core products at the facility eventually as well.

In addition, Korea-based Nox cut the ribbon on an LVT production facility in Fostoria, Ohio in February 2016. By the second half of this year, the company hopes to begin making its new rigid click product, called Genesis, at the facility. Currently, it is importing the product from its Korean facilities.

Beauflor produces cushioned sheet vinyl in its Cartersville, Georgia plant, bringing in its LVT products from one of its Beaulieu International Group sister factories.

The on-shoring of domestic production is, of course, good news for the industry, though the impact of expanded capacity could ultimately have negative effects. It wasn't so long ago that we saw a similar pattern with laminate, which of course led to overcapacity and pricing pressure, a result that no one hopes to see in LVT/rigid LVT, yet, given the dynamics of the market, could be where the category is headed if suppliers don't act responsibly.

As of today, Market Insights reports that 12% of U.S. LVT sales is in products under $1.99 per square foot at retail; 21% sells for between $2.00 and $2.99; 32% sells for between $3.00 and $3.99; 17% sells for between $4.00 and $4.99; and 18% sells for $5.00 and higher. That's an average of $3.78. Compare that to hardwood, which retails for an average of $5.18 per square foot, and it's interesting to note that the industry is putting its energy into selling a product category that is less per square foot than one of its traditional categories-though historically the margin has been higher on resilient products than hardwood, according to Market Insights, which speculates that both categories are under competitive pressures that are restricting margins currently. At this point, with the momentum of the market toward LVT, it is probably unlikely that any manufacturer offering multiple product categories will shelve LVT business to promote higher price point products, but it's interesting to note that, as an industry, flooring may be shooting itself in the foot to some degree.

There is no question that the threat of commoditization of the resilient category is top of mind for many LVT/rigid LVT manufacturers. Says Emil Mellow, director of public relations for Karndean, "There are so many cheap imports today that don't represent the quality we are putting into the category. We're not playing down to that arena. What we are trying to do is create enough differentiation-through both aesthetics and the technical aspects-that our products will stand out, hoping that will drown out the noise of lesser competitors." But the question is, will it?

Eric Erickson, senior vice president of sales and marketing at Nox, is blunt about what he sees is the greatest challenge that the category faces: overcapacity. "Certainly, price points continue to erode," says Erickson. "With the overcapacity, you will see a lot of people fighting their way into the market, and pricing will continue to be a challenge. Speed to market will continue to be key for the category. I've never been involved with anything that has evolved this quickly."

And the concern isn't, of course, only about how much product is coming in but what quality of product. Al Boulogne, vice president of commercial hard surface for Mannington, says, "For years, there has been a rush of competition into the LVT marketplace. From the manufacturers' perspective, we've felt ongoing pressure from outside sources, some of which are really good quality and some of which may give the market a black eye."

So what can domestic manufacturers do to bolster themselves against such a result? According to Jimmy Tuley, vice president of residential resilient business for Mannington, the greatest defense against commoditization is innovation. "Commoditization is a major concern with the onset of new manufacturers, but I don't think we're close to the end of the innovation cycle," says Tuley. "Technological innovation will hold and even drive up pricing in the foreseeable future. In parts of the market, that will happen faster than others. We have more years where value can be added that consumers will be willing to pay for. I feel great about the next couple of years. There is certainly commodity product out there, but I think we have more than a year or two to drive innovation and value." Tuley adds that a successful player in the LVT market must be nimble, ready to act on the next wave of innovation as soon as it's visible on the horizon.

All this being said, it's hard to pinpoint a single manufacturer-domestic or otherwise-that is limiting its offering as a stalwart against the eventuality of overcapacity. Everyone wants their piece of the pie. The fact is, though innovation may hold off commoditization to some degree, too much product in the market is just too much. And even if we end up with a market overflowing with beautiful, innovative and bulletproof LVT/rigid LVT, moving the excessive bulk will result in price chopping.

NORMALIZING THE NOMENCLATURE
In December 2017, the Multilayer Flooring Association released two definitions in an attempt to normalize the nomenclature for rigid core vinyl products.

According to the group, "WPC products represent the class of rigid vinyl flooring products with an expanded or foamed polymer core; SPC products refer to the class of rigid vinyl flooring products with a solid polymer core."

The action is a move in the right direction but certainly doesn't mean that the task is in any way complete, especially given the pace of innovation in the category and the nuanced differences of products. The company's statement continues, "WPC and SPC products may still have significant differences within each category: the type of surface, the formulation of the core, production methods, and type of backing, are just a few examples of potential characteristic differences. The MFA is continuing to work on further definition and the establishment of ASTM standards for performance."
DISTRIBUTORS GOING DIRECT
easons why he believes that flooring distributors are choosing to carry their own LVT and rigid LVT lines today:
• With over half of the LVT imported, distributors can potentially get a better price by importing product themselves;
• Although there are notable exceptions, U.S. manufacturers have largely abandoned consumer advertising, so their products are fast losing their brand equity, meaning that distributors have less to lose by implementing their own private label brands;
• Higher value rigid LVT provides distributors with the ability to garner high margins with their own brands;
• Most rigid LVT sales are and should continue to be in residential replacement, a segment within which distributors are deeply niched;
• Distributors fear U.S. manufacturers will begin distributing LVT direct, and they are protecting themselves from this eventuality;
• And the Internet is making it easier for alternate channels to develop and be successful. Therefore, distributors are making up for some of the business lost to online.

Understandably, depending on their business model, the manufacturers with whom we spoke have varying opinions on this trend. Says Perry Coker of CFL, "For five years, we have been telling distributors that their future is based on private labeling. The function of a distributor is to bring products to market that the manufacturer can't distribute. Today, the top factories in Asia are leading the industry in innovation. We have said for years that it's very important that distributors align with a proven importer that can provide them with products they need to support their own private label business. Remember, it wasn't long ago that distributors built their businesses around domestic hardwood brands, then the rug got pulled out from under them when the brands were altered via acquisitions. At the same time, it is important for distributors to align themselves with proven manufacturers. There are all kinds of fly-by-night operations right now."

Erickson adds, "There is so much capacity now overseas-and it's such a growing market and competitive-that distributors have become quite good at building their own lines, at importing and managing that process. Distributors today have to take an aggressive approach to the market. If they are buying competitively directly from the manufacturer, they can compete with the big guys like Shaw and Mohawk, and with an aggressive logistics system, that they can reach the customer quickly and effectively."

Russ Rogg of Metroflor takes a diplomatic approach to the trend. "It's obviously very common for distributors to carry a house or private label brand," he says. "Hardwood was one of the first categories where this took place, and we saw it migrate from hardwood to laminate and now from laminate to resilient. It's a natural migration. For the distributor, it allows them to control where they can sell. Metroflor, for example, has some distributors with restricted territories. Many have a larger territory than where they can sell our product, but they can sell house brands anywhere. There are no manufacturer handcuffs. And often, there's a little cost taken from the equation as well because there's no advanced merchandising, POP materials or website-it's a stripped down delivery chain, and therefore, there's less cost. So I see why the distributor does it. Just about every one of our distributors has a brand of this type in resilient, but they also support ours too. It becomes a bit of a good, better, best scenario. If a customer wants a stripped down, low cost, non-branded product-a white box program-then the distributor has that solution in their portfolio. If the customer wants a more recognized brand, then they have that too. The two approaches can coexist."

Tuley sees that trend as something of a necessary evil but hopes the distributor will go with a trusted manufacturer partner if and when they can. When asked whether the fact that distributors are increasing carrying their own vinyl lines is cause for concern, he says, "Certainly. But, again, we want our distribution to be healthy, and we can't provide every product. Our view is that distribution will always have to carry some independent lines. Our role is to provide the differentiation and value that makes us worth doing business with. It is a challenge, but there are also things that distributors provide that we can't do ourselves, so it goes back and forth. Overall, the trend is a major concern, but it's a reality that we deal with, and I don't feel threatened by it. We want our distributors to be healthy and to have resources to support us."

Adrienne Rose, director of LVT product management for Tarkett, believes in looking at the trend as an opportunity, adding, "Perhaps it indicates that there is an opportunity for domestic manufacturers to better partner with distributors to fill their gaps."


MANUFACTURER PROFILES
ARMSTRONG
Products: LVT (glue down, click, peel & stick), rigid core (glue down and click), sheet (homogeneous and heterogeneous)
Production: LVT in Stillwater, Oklahoma; Alterna in Lancaster, Pennsylvania and Kankakee, Illinois; traditional LVT in Kankakee, Illinois; balance is sourced, including rigid core, from Europe and Asia
Markets: Residential (builder and remodel) and commercial (multifamily, healthcare, education, retail)
Focus for 2018: Innovation, quality, brand building to consumers, portfolio expansion and more penetration into commercial market with rigid core products

BEAUFLOR
Products: Cushioned sheet vinyl, LVT (proprietary click system, glue down, floating), rigid core
Production: Sheet vinyl from Cartersville, Georgia; LVT sourced from Beaulieu International Group plants in Europe
Markets: Residential, both through distribution and direct
Focus for 2018: Rebranding, as well as identifying what needs it is fulfilling in the highly competitive marketplace

CFL FLOORING
Products: LVT, SPC, WPC (all click)
Production: Company-owned plant outside Shanghai, China
Markets: Residential, commercial
Focus for 2018: Continue to grow with distribution network

KARNDEAN
Products: LVT (glue down, loose lay), rigid core (click)
Production: Asia; Post-manufacturing work in Export, Pennsylvania
Markets: Commercial; residential, direct to retailers
Focus for 2018: Educate retailers about why Korlok is a good solution for the mainstreet market.

MANNINGTON
Products: Sheet vinyl (homogenous and heterogeneous), rigid core LVT (click), LVT (traditional, glue down, floating), WPC (click)
Production: 80% of residential and 85% of commercial products in Madison, Georgia; balance sourced from China
Markets: Commercial (healthcare, multifamily, education, hospitality, corporate); residential, sold through distribution to traditional floorcovering retailers
Focus for 2018: Commercial, promote new generation of Quantum Guard Elite wear surface, rolling out this year; residential, simplify and verify product stories; bring style and design to the market

METROFLOR
Products: LVT (glue down, floating, click), rigid core (floating and click)
Production: Two factories in Zhangjiagang City, China make 95% of Metroflor's products
Markets: Residential, sold through traditional floorcovering retailers; commercial (including multifamily, education, retail, hospitality)
Focus for 2018: Support its Metro Aligned Dealer program and Aspecta commercial brand

MOHAWK/IVC
Products: Flexible and rigid LVT (dry back, click)
Production: Dalton, Georgia and sourced from Asia
Markets: Residential, commercial
Focus for 2018: Maximize capacity in both LVT facilities and take marketshare, both commercially and residentially

NOVALIS
Products: LVT (glue down, click, loose lay), rigid core LVT (click)
Production: LVT at its own facility in China; rigid core sourced
Markets: Residential (remodel and new construction), commercial, OEM
Focus for 2018: Grow its NovaFloor brand in North American with distributors and dealers, as well as Ava brand.

NOX
Products: WPC (dry back, loose lay, click) and rigid core
Production: WPC in Fostoria, Ohio; rigid core in South Korea
Markets: Through distribution to residential; commercial; OEM
Focus for 2018: Getting larger programs launched through distribution; taking new technology to existing OEM business; leverage its values in U.S. market

SHAW/USFLOORS
Products: LVT/LVP (glue down, click), WPC (click), rigid core, SPC (click), sheet (homogeneous and heterogeneous)
Production: Some WPC and entry-level LVT made in Ringgold, Georgia; balance sourced from international partners, primarily China
Markets: Residential (specialty retailer and big box) and commercial under Shaw Contract
Focus for 2018: Drive Coretec brand with consumer advertising, launch premium Coretec category

TARKETT
Products: LVT (glue down, self adhesive, loose lay), rubber, SVT (glue-down), VCT, heterogeneous sheet vinyl, rigid core (click)
Production: LVT in Florence Alabama; rigid core sourced
Markets: Residential (multifamily, residential remodel); commercial (healthcare and education driving volume)
Focus for 2018: Launching new collections, listening to customers regarding their quality and design desires, being forward-thinking
BEFUDDLING THE CUSTOMER BASE
Consumer confusion poses another challenge for the LVT/rigid LVT business. The variety of nuanced constructions and the benefits they yield, not to mention the range of acronym names, can prove confusing not only to those buying the product but also to those selling them, the retail sales associates.

Considering that several manufacturers report that the next horizon of innovation for LVT/rigid LVT is hybrid products-a composite core with a wood veneer or laminate face, for example-and we are already seeing some of these products in the market, we can only assume that this challenge will grow.

Of course, to some degree, this can benefit the LVT/rigid LVT business. Time and time again, it has been proven that consumers purchase on aesthetics, and those who want a wood look at an affordable price may find the blur of the technical details simply easier to ignore than absorb, tipping the scales toward LVT/rigid LVT. On the flip side, the frustration may discourage them from updating their flooring at all-or encourage them to go with a known quantity, such as hardwood or ceramic.

Michael Finelli, business manager of Beauflor USA, points out that the LVT/rigid LVT category needs to differentiate shop-talk and consumer-talk if it is to truly provide clarity to customer. "It is nearly impossible for me to understand the variety of resilient products offered today-and I'm in this business-let alone a consumer," says Finelli. "A lot of our marketing in this business is geared at people in the industry, rather than people who need a new floor. In our product development meetings, I like to ask, 'What is this product exactly? What are the benefits it offers? And how are you going to communicate that simply to the sales team, to the distributor/retailer and, ultimately, to the consumer?'"

Mellow has a similar take. "It comes down to education," he says. "We're all talking to ourselves a lot in this industry. I don't believe that consumers understand what LVT is. At Karndean, we do a lot of store visits and reconnaissance, and consumers really don't understand the products-even on the commercial side."

Of course, the problem doesn't lie simply with the fact that one manufacturer typically offers multiple lines of multiple product types, but that every manufacturer does-not to mention that manufacturers are constantly adding the next nuanced version. "A major issue that we see in the market is confusion over all the new offerings," says Tuley. "When you consider that there might be 20 to 30 LVT displays in a store, each with its own story, you can see that this is a major problem."

Jeremy Kleinberg, LVT product manager for Armstrong, points out that, in his view, the challenge is growing with time. He notes, "With all the new product entrants, competitors and marketing stories, it's a challenge for people even in the trade to keep up and sort out the options. This is becoming more of a challenge than it was initially when customers just thought of LVT as vinyl that looked nice. Today, there is so much more discussion on the details. It's an opportunity for manufacturers to help the industry by being very clear on features and benefits."

At the same time, Stepp points out that, if it acts deliberately, the industry has the ability to control the narrative and really shape the consumers' desires. "Years ago, Stainmaster introduced stain-resistant, moisture-resistant fiber, and customers began to ask for products using those phrases specifically," he points out. "With all the LVT/rigid LVT products hitting the market, consumers may get to a point that they expect all floors to be waterproof. In a sense, we're training the consumer to ask for that."

Of course, a significant part of that narrative-shaping hinges on getting the message to the consumer in the way that you want it communicated, and US Floors is implementing a strategy to do just that. "Our focus for 2018 is driving the Coretec brand, embarking on a rather sophisticated ad campaign geared toward the consumer," Stepp adds. "We have partnered with Big Red Rooster on that. We spent a lot in 2017 to have a digital-first approach to build the Coretec brand and coretecfloors.com. And we're really going to spend a lot of money by industry standards in advertising this year to drive Coretec into the minds of the consumer. It's a big initiative for us."

Just as importantly, Rogg believes the consumer market needs to understand that the latest-and-greatest product isn't always the best suited for every application. "Because things change so quickly, there is definitely a lack of understanding in the market," says Rogg. "Regarding new products, we have to ask, what are the real differences and legitimate performance attributes and limitations? Many of the new products are robust and have good performance stories related to moisture-but they can't be used everywhere all of the time. There are certain applications where glue-down dry back is still the best choice, and I believe there is a lack of recognition on that. The market needs general education on the variations, attributes and shortcomings of products and clear direction on when each should and shouldn't be used."

Taking a similar philosophical approach, Beauflor reports that it is currently less geared toward the development of new products and more toward the improvement of the customer's experience with the products already in the market. Says Finelli. "We are trying to focus less on the construction of a product and more on the consumer's customization of the product. We consider how we deliver product with the same speed and convenience that Amazon Prime has gotten consumers accustomed to. We are focused on the next evolution of the customer experience and less about making a new WPC with backing of X." In fact, this drive was one of the central ideas behind the decision to build a manufacturing plant for its sheet products-which are up to 15' in width-in Cartersville, Georgia. "We feel that we have a strategic advantage in producing our sheet products locally," says Finelli. "They are difficult to move and have in the right place at the right time logistically because of the massive roll sizes." Boxes of LVT, of course, aren't as difficult to transport, so Beauflor feels they are a better choice for importing from its European sister factories.


THE COMPLICATED WORLD OF CLICK SYSTEMS
The business of licensing the intellectual property (IP) of click systems for flooring is messy-replete with more lawsuits and counter-cases than most in the industry can keep track of. In fact, when asked about what click systems his company utilizes and why, one interviewee suggested that we simply "stay the hell away from the subject" in this article. That being said, there are three significant organizations licensing click systems for flooring today: Välinge (the largest from a royalties perspective), Unilin (which Mohawk acquired in 2005, a close second to Välinge in revenue), and, more recently, I4F. According to Floor Focus estimates, the global market size of click systems business is between $250 million and $280 million.

Locking systems were first used on laminate, then engineered hardwood, but with limited traction. LVT came into the market as a glue-down product and remained that way for a number of years until the organizations began experimenting with locking systems for the category. The locking systems developed for laminate, however, could not simply be transferred to vinyl products for varying reasons. On the LVT side, because the product has a thin profile and isn't dimensionally stable, it would not stay rigid when lifted in order to be angled into place. And rigid LVT products didn't perform well with the angle-angle system, so they were fitted with the easier, faster angle-fold-down system. Of course, as the market demands greater ease of installation as well as new formats-longer and wider planks, for instance, not to mention tiles and other shapes-technology must find ways to facilitate these innovations.

Each of these three organizations has its own solutions, of course, and manufacturers often pick and choose from these what is best suited for their particular products. Once patents expire after 20 years, then that technology becomes available to anyone who wants to use it. This can, of course, be quite a hit to the former provider. In February 2017, Stifel said of its outlook for Mohawk that year, "The company is facing a $100+ million (>100 bps of margin) headwind to EBIT from patent expiration and plant start-up expenses." Patent expiration provides incentive for organizations to continually innovate, so that by the time a patent expires, they have developed something new for which manufacturers are willing to pay.

As one might expect, the figures surrounding the IP held by these firms baffles the mind. I4F, which filed its first patent in 2009, reports that it holds 2,000 patents today. Unilin reports that it was granted a record 221 patents in 2017 for a total of 1,700, and Välinge says that it added 350 patents last year for a total of 1,850 patents. Many of Välinge and Unilin's patents date back to the late '90s or earlier.

Floor Focus has heard from a variety of sources that the click systems business for traditional, non-rigid LVT is dying due to excessive claims over failed product, and it will be interesting to see how this story unfolds. If the subfloor isn't extraordinarily flat, those variations can telegraph through the thin LVT profile and cause the locking systems to fail, especially at end joints. There have also been reports of these occurrences on projects of varying temperature/humidity or in direct sunlight.

So why would a flooring manufacturer pay for IP technology at all? Why not develop their own and forego the expense? First of all, it's a matter of leaving the job to the experts. But, secondly, and perhaps more significantly, IP is a minefield and to tread within it is to risk litigation. Not to say that manufacturers don't ever play there. In fact, when a flooring manufacturer does develop a new technology, it will sometimes sell that IP to one of these three organizations, which then offers the technology for license to a range of manufacturers.
THE NEXT HORIZON
None of the manufacturers that we spoke with believe that the LVT/rigid LVT category has reached a plateau with regard to innovation yet. That being said, the category is almost developing too quickly for the consumer market to keep up. Stepp reports that he sometimes has difficulty selling current collections to distributors, who are hesitant to commit, should the next-big-thing be just around the corner, rendering the current product obsolete. And the same phenomenon is presumably at work at the retail level. Investing in display systems and samples is costly, and no retailer wants last season's "new" thing.

Says Rogg, "The rapid pace of development is almost too fast and maybe faster than what is required or demanded. Most good products are developed to solve a problem. The irony is that some of these next-generation products are presented to solve problems that don't exist. Products that are 'more waterproof' or 'more dimensionally stable at 200 degrees' simply aren't required in the market." In other words, the market could be at risk of developing for the sake of development, serving itself rather than the customer, and, as a result, rendering itself irrelevant.

On the other hand, US Floors is introducing a new product that it hopes will solve a significant problem in the market: the challenge and cost of ceramic tile installation. Says Stepp, "We have a composite core tile program that we are launching, which we will position not necessarily in the vinyl tile category but in the porcelain/stone category. If you look at the cost of grout, thinset and maintenance-not to mention the shortage of mechanics in tile and stone-there are metro markets where you might pay $4/square foot for the tile but $8/square foot for the installation. We are trying to find solutions to that."

Roseman believes that the next generation of LVT/rigid LVT won't bring revolutionary new constructions but will instead fine tune the types of products already in the market. She asks, "How do we make the product more durable, more scratch- and abrasion-resistant, to raise product quality? That's what we're working on now." She adds that the all-consuming focus on LVT can be a distraction from other resilient categories and points out that there is value in innovating within the veteran resilient categories as well. "How do we keep sheet and rubber relevant and up-to-date while growing LVT and focusing on innovation? It's hard to strike a balance."

Kleinberg seconds Roseman's analysis on one front in particular, noting, "There is certainly an opportunity to do better in this industry with acoustics. The industry is still in the learning curve. The question is how you can easily evaluate hard surface floor and ceiling combinations for acoustics. Customers need an easy system to use."

Interestingly, only one of the interviewees that we spoke with, John Wu, CEO of Novalis, mentioned the pursuit of sustainability as part of the next-horizon quest of the category. "I believe that the category will continue to become more and more sustainable, as manufacturing processes become more efficient," Wu says.

Wu also speaks to the next generation of styling, which will likely bring better replications of natural products as well as more high-style, non-faux options. "Digital printing is also not far away as the industry advances," he says, pointing to Novalis' Stenciled Concrete looks as an indicator of what's to come, with looks going more creative and less replicative.

As we alluded to earlier, several manufacturers with whom we spoke believe that hybrid rigid core products are the next stage of development, comparing the core of rigid LVT to the chassis of a car, upon which a variety of different tops can be placed. That may be hardwood veneer, for a more natural look and feel, or laminate, which is more scratch- and dent-resistant than vinyl. These products aren't conceptual. Armstrong's Pryzm rigid core flooring, for example, features a melamine top layer, similar to laminate, which offers a harder, more scratch-resistant surface.

Dave Sheehan, SVP of product management for Mohawk, summarizes the experience of being a part of the LVT/rigid core revolution: "This is an extremely fast-paced, dynamic category. In the 20-plus years that I have been in flooring, I have never seen the rate of change that we observed in 2017 with the fixation on WPC/rigid-like products in the market. This requires all our functional teams-R&D, manufacturing, product, design, sales and marketing-to work very hard to drive meaningful innovation in the market."


WHAT'S TO COME?
• hybrid products
• new locking systems that are easier to install
• digitally printed faces
• longer and wider planks
• enhanced bevel treatments
• more embossed-in-register products
• less indentation and greater stability
• unique looks that go beyond wood and stone
• enhanced scratch resistance
• improved acoustics

Related Topics:Mannington Mills, HMTX, Tarkett, Mohawk Industries, Metroflor Luxury Vinyl Tile, Lumber Liquidators, Armstrong Flooring, Shaw Industries Group, Inc., Beaulieu International Group, Novalis Innovative Flooring