About Us
Floor Focus strives to be the most objective and respected trade magazine for the flooring industry.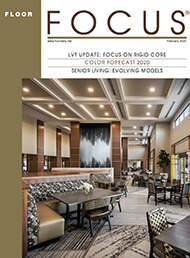 We provide readers in both the residential and commercial sectors with an indepth perspective on the latest trends and issues in the marketplace and offer insight on what impact that could have on their business. Our goal is to both educate and entertain our readers with information they need to achieve greater success and profitability in their business. We recognize that the task of providing insightful and interesting articles, interview and reports can only be accomplished by getting as close as we can to the marketplace, through our own research and face to face contact.

We target key decision makers in the retail, contract dealer, architect and design, facility management, builder and distributor segments of the buying chain.


Meet Our Team




Kemp Harr, Publisher
Kemp is the publisher and owner of Floor Focus Magazine and Floordaily.net. Prior to publishing, Kemp spent over 20 years in marketing—initially with two consumer products companies (Lego toys and Shakespeare Fishing Tackle) and then he moved over to B2B marketing as Vice President of Marketing for SI Corporation—an Industrial textile company whose largest product line was carpet backing. After Shaw Industries bought SI, Kemp decided to leave the corporate world and pursue his entrepreneurial itch. At age 45, he decided to listen to Theodore Roosevelt and avoid becoming one of "those poor spirits who neither enjoy nor suffer much, because they live in a gray twilight that knows not victory nor defeat."

Kemp holds a BS in Communications from the University of Tennessee and has completed several advanced marketing courses at the University of Pennsylvania's Wharton School of Business.

Kemp and his wife Anne live on Missionary Ridge in Chattanooga, Tennessee.



Darius Helm, Executive Editor
Darius Helm has been an editor with Floor Focus since 1999. He lives in Connecticut with his wife, Tracey Robinson, a painter and printmaker, along with a handful of assorted animals. Prior to Floor Focus, Darius was first a contributing editor, then editor-in-chief, for Travel World News—where he worked with Floor Focus production manager, Karen Rochette. He received his BA from Yale University in 1988, attended high school in northern England, and grew up in Iran and Portugal.


Jessica Capets Chevalier, Features Editor
Jessica Capets Chevalier grew up in western Pennsylvania and attended Geneva College (BA writing; BA English) and Penn State University (MFA, writing). Previously, she taught rhetoric and composition, creative writing, and humanities at Penn State and the University of Tennessee Chattanooga. In 2003, Jessica founded Alchemy Spice Company, an artisan food manufacturer, and oversaw operation of the business until its sale in 2009. She lives in Chattanooga with husband Christian, son Arlo, daughter River Alise, and three old dogs.

Jennifer Bardoner, Editor
Jennifer joined the Floor Focus team in mid-2021, bringing with her more than a decade of experience in journalism, most recently as executive editor of the lifestyle and outdoor magazines published by the Chattanooga Times Free Press. Prior to that she served as a community news reporter. Before starting her journalist career, Jennifer worked as both a tour guide and an English teacher in and around Paris, France. Souhaitez-vous une visite à la tour Eiffel? Jennifer earned a journalism degree at Middle Tennessee State University. When she isn't trying to schedule interviews with flooring industry leaders, she enjoys volunteering, hiking with her fur babies and exploring cultural offerings the world over.

Karen Rochette, Production Manager
Karen's journey began with books and manuals in the Army using hot wax and camera ready mechanicals. The real world catapulted her into modern times when she moved on to work in service bureaus where it was necessary to learn any and all software and computer platform in order to meet customer requirements. It was an easy shift to Production Manager from there and Karen worked at two different travel magazines prior to settling in at Floor Focus in March of 1999. The journey didn't stop there though. Karen hung up her snow shovel and headed for warmer climates to join the new Chattanooga headquarters of Floor Focus in March of 2007. Floor Focus—it's not just a job, it's an adventure.


Anne Harr, Art Director
After growing up in the big city of Russellville, KY, Anne attended Hollins University where she graduated with a degree in Art and Art History. Yearning for true big city life she moved to NY City and worked for numerous fashion designers. She was probably the best dressed bag lady on the entire island of Manhattan. After eight years of city life, Anne returned to her southern roots where she met her husband, the future publisher of Floor Focus Magazine. As they say, the rest is history.


Santo Torcivia, Research Partner
Santo is the magazine's primary resource for statistical data that helps make Floor Focus the leading authority for market based intelligence. Santo is the author of the annual US FLOOReport, a detail forecast and analysis of the US flooring industry by product, channel, and major player. His firm, Market Insights also produces the County Penetration Report, a county based historical and forecast of flooring sales by product type to consumers, builders, and commercial accounts by county, metro area, and state, including an estimate of the number of retail and contract outlets selling flooring by type in each designated geography. Prior to starting Market Insights in 1997, Santo was employed for 16 years by Mannington Mills as Vice-President for Business Analysis & Planning.

A graduate of Temple University, Philadelphia, PA, where he majored in economics, Santo makes his home in Reading, PA and is the proud father of three daughters.



Nicholas Bratcher, Sales Manager
Nicholas, a Chattanooga native, brings to the role nearly 10 years of sales experience, including with Shaw Industries and Engineered Floors. He is a graduate of Middle Tennessee State University.