2022 Spark Awards: Contractors successfully juggle logistical and technical challenges on award-winning projects - April 2023
With Fuse Alliance comprising over 150 commercial contractors and 230 member locations, narrowing down the top projects for the group's Spark Awards is a big lift. The group is responsible for more than $2.1 billion in annual sales and services throughout the U.S. and Canada. Based on originality, quality of installation and design innovation, the awards represent outstanding craftsmanship, skill and expertise in the flooring industry and champion the positive impact skilled contractors have on the built environment. An independent panel of judges selected the following winning projects this year.

BEST IN SHOW
M&T Bank Buffalo Tech Hub
Buffalo, New York
Contractor: GP Flooring Solutions
Design by: Antunovich Associates
Suppliers: Milliken, Tarkett, Dal-Tile
Project overview: The carpet tile and ceramic tile flooring in this creative space offer the perfect balance of creativity and functionality. The Milliken carpet tile brings a comfortable feel to the space, creating an inviting atmosphere for production and collaboration. The tiles come in a variety of textures, patterns and colors, allowing the creation of a unique environment. Adding to the functionality of the space, the Dal-Tile ceramic tile flooring provides a durable and low-maintenance solution. The smooth and glossy surface of the tiles enhances the overall look of the space, creating a sleek and modern aesthetic.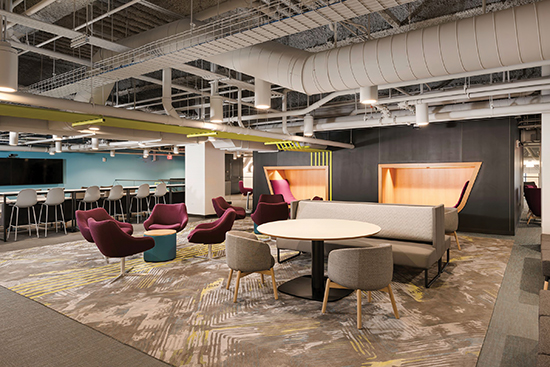 BEST FLOORING SOLUTION
Norfolk Southern HQ
Atlanta, Georgia
Contractor: Certified Finishes
Design by: HOK
Suppliers: Shaw Contract, Dal-Tile, Engineered Floors
Project overview: When Hitt Contracting identified foundation issues due to sinking, Certified Finishes recommended Schönox SL, and everyone was very happy with the quick floor leveling it offered after the remediation took place. There was also a slight miscalculation for the train track flooring installation in the childcare center by the water jet company hired to create this design, and, due to scheduling, Certified Finishes' expert installation crew had to hand-cut some of the track design. It's imperceptible which pieces were water jet cut and which were hand-cut.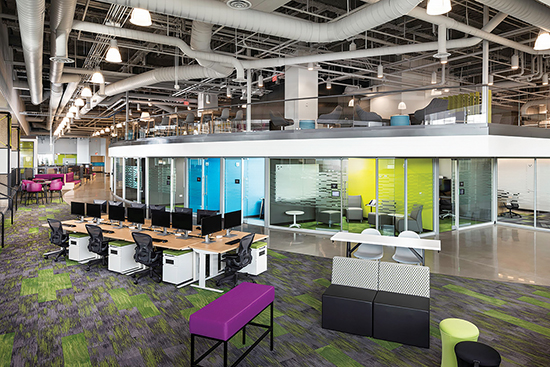 TOUGHEST SITE CONDITIONS
Olympic Village Apartments
Chicago Heights, Illinois
Contractor: HTC Commercial Flooring
Design by: TAT (The Architectural Team)
Suppliers: Mohawk Group, Karndean, Schönox
Project overview: The client-a 30-building multifamily housing complex-chose HTC Commercial Flooring to execute a 25,000-square-foot, vinyl-click flooring renovation in an efficient and cost-effective manner. There was just one catch: the second and third stories had existing gypsum subfloors that were cracked, not level and in need of serious attention and modification. HTC Commercial Flooring partnered with Schönox to provide a new subfloor, priming the existing with KH Fix, overlaying with Renotex, and pouring over 10,000 bags of APF. Throughout the renovation, 27 buildings remained occupied at all times, requiring 30 different leveling mobilizations.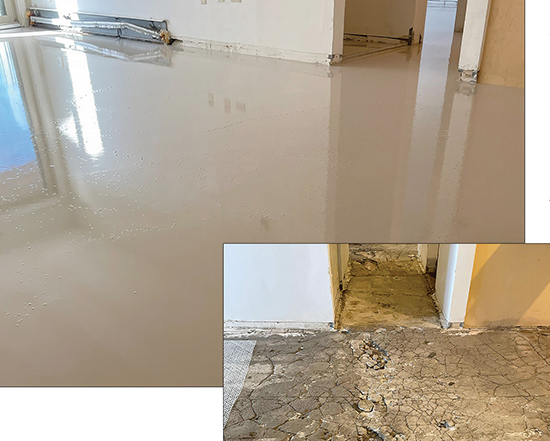 TOUGHEST SITE CONDITIONS
The Gardens & Guardian House
Lake Charles, Louisiana
Contractor: Unit Design
Suppliers: J+J/Engineered Floors, Shaw Contract, Tarkett/Johnsonite
Project overview: After Hurricane Laura destroyed the town of Lake Charles, Louisiana, there were no local hotels within an hour's drive, so Unit Design's forces stayed onsite-where there was a fire and three floods due to poor design-despite the pandemic. The installers slept on the floor and worked from 5:00 a.m. until 11:00 p.m. each day, cooking their meals on a hot plate. No sooner had they finished the apartments in a nursing home than a second hurricane hit and damaged 15 apartments, requiring removal of all of the flooring that had just been done.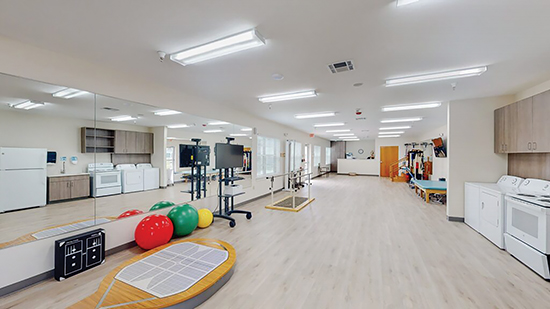 MOST MAXIMIZED BUDGET
Alvin High School #4 (Iowa Colony High School)
Alvin, Texas
Contractor: Intex Flooring
Design by: Huckabee
Suppliers: Tarkett, Dal-Tile, Schluter
Project overview: The bond money allocated for this massive new construction project created a challenge for all parties involved. After going through several budget exercises with the general contractor, Intex Flooring found out big changes would be needed. Instead of reaching out to other manufacturers, they decided to double down with the original specified manufacturers and were able to provide a $150,000 value engineering solution that was eventually enough to move the project forward. These colossal changes included different metal transition finishes, smaller porcelain wall panels, rubber base alternatives, and much more.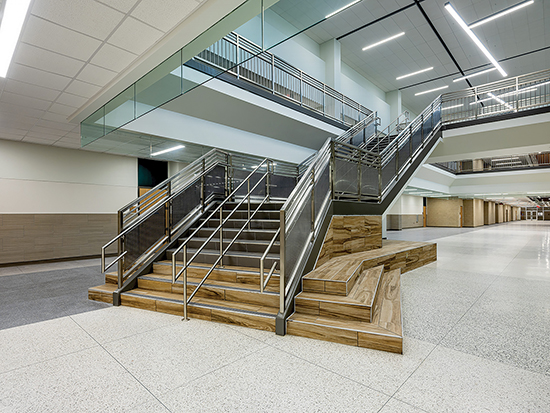 MOST AGGRESSIVE TIMELINE/SCHEDULE
City of Hope Orange County Lennar Foundation Cancer Center
Orange County, California
Contractor: Christian Brothers Flooring and Interiors
Design by: ZGF
Suppliers: Shaw Contract, Uzin Utz, Matter Surfaces
Project overview: When Christian Brothers Flooring and Interiors (CBFI) received a call from its general contractor partner, Hensel Phelps (HP), about 30,000 square feet of moisture mitigation and self-leveling needed at a local hospital, they mobilized immediately. Through extensive support from Uzin Utz, company-wide collaboration and constant communication with HP, CBFI completed this task in less than two weeks-though the existing substrates presented a number of challenges. More than 7,000 bags of Uzin NC 150 self-leveling were used on this project, followed by over 2,000 square yards of Shaw Carpet, 70,000 square feet of Matter Surfaces bio-polyurethane based flooring, and 25,000 lineal feet of Tarkett rubber wall base.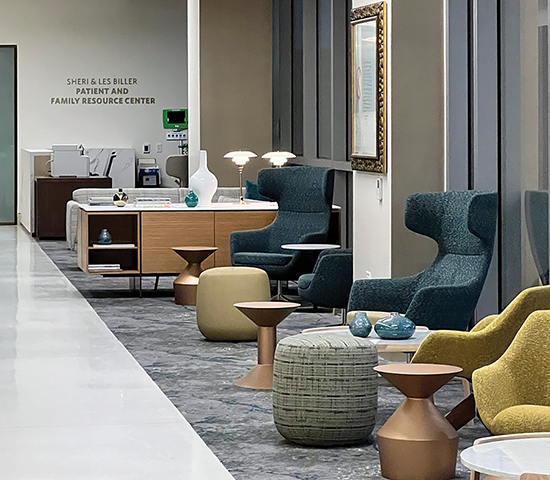 MOST AGGRESSIVE TIMELINE/SCHEDULE
Constellation-Kennett Square
Kennett Square, Pennsylvania
Contractor: Franklin Flooring
Design by: Shive Hattery Architecture and Engineering
Suppliers: Mohawk Group, Tarkett, Ardex Americas
Project overview: On October 12, 2022, Franklin Flooring was invited to a bid walk-through for the replacement of existing carpet, LVT and wall base on three floors of an occupied class-A office building. The project-which had a yearend completion scheduled-involved extensive lifting of systems furniture and a fairly intricate pattern of five colors of a Mohawk carpet tile. Design was not finalized and colors not selected until November 10 and a written contract not sent until December 22, yet Franklin Flooring had demolished and was ready for installation when the carpet arrived on December 12, 2022. They had one crew on each floor working in each wing to meet the tight timeline, and even recycled all the carpet they took up, palletizing and shrink-wrapping 9,975 square yards of carpet.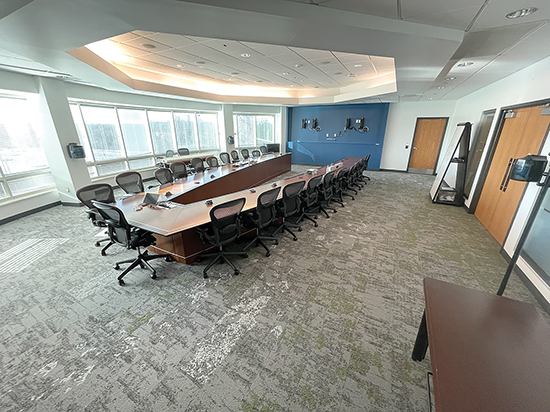 MOST CREATIVE FLOORING DESIGN
"Project H"
Orlando, Florida
Contractor: Certified Finishes
Design by: Walt Disney Imagineering
Suppliers: Dal-Tile, Altro, Tarkett/Johnsonite
Project overview: Disney's new Star Wars: Galactic Starcruiser hotel includes unique and immersive "Star Wars"/space themed experiences, many of which required multiple specialty flooring products and accessories installed in intricate layouts. Over 12,000 square feet of Dal-Tile porcelain products were installed in unique triangular designs and sleek futuristic transitions and finishes, and Altro sheet vinyl products were cut into curves and circles heat welded together to create a metal transition look. The engineering room was a unique challenge. Metal panels had to be installed on top of the Lonseal sheet vinyl products. Certified Finishes hand-created templates of every metal panel to ensure the panels properly aligned with the show set elements for the space. Specialty areas also required accessible flooring, so magnetic tiles were adhered to the back of rubber tiles to ensure the room had a clean and finished look, while also being easily accessible.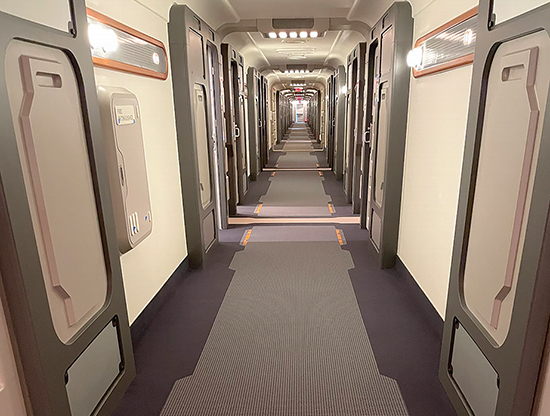 Copyright 2023 Floor Focus

Related Topics:Mohawk Industries, Tarkett, The International Surface Event (TISE), Shaw Industries Group, Inc., Fuse, GP Flooring Solutions, Daltile, Shaw Floors, Fuse Alliance, Engineered Floors, LLC, Schluter®-Systems