Tile Files: Five trends from Italy to watch - Aug/Sept 2020
By Kristin Coleman
Despite many challenges caused by the pandemic-the cancellation of tradeshows and a brief pause in production mandated by the government, to name a few-Italian manufacturers are still hard at work and are delivering high-quality ceramic tile in myriad design styles. After reviewing hundreds of new product launches from Italian tile producers these past few months, here is a summary of the top five trends to watch. While some of these trends are tied to specific styles, like the color blue, others showcase the industry's answer to holistic concepts in design, such as biophilia and the importance of telling a good story.

THE BLUES
Blue is one of the most popular hues in tile design this year, which also happens to dovetail with Pantone's color of the year, Classic Blue.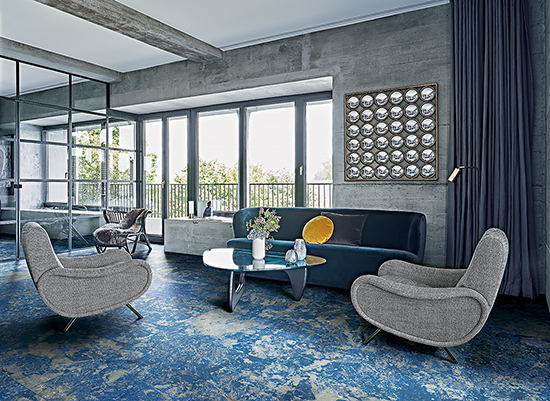 The Les Bijoux de Rex porcelain tile collection in Sodalite Bleu by Florim Ceramiche.

According to Leatrice Eiseman, executive director of Pantone's Color Institute, "Classic Blue gives the feeling of confidence and stability." It also works incredibly well in traditional interiors. And while there are many classic blue options, advanced technology allows manufacturers to recreate nearly every shade of blue under the sun.

On the saturated side, designers can make a bold statement using solid bright blue tile, energize a room using blue marble with contrasting veining or create a head-turning floor with the look of rare blue minerals like sodalite. Turquoise and teal can also be used to conjure vacations in the Mediterranean, especially when paired with hexagonal formats and whitewashed walls. On the other end of the chroma spectrum, greyish blues have a more subdued look and tie back to a sense of calm and serenity. However, they can still add visual interest when used with geometric formats and effects like ombré and terrazzo that add a playful twist without overpowering the space.

OXIDES
For more than a century, oxidized metal has been a part of architecture and design, which can be seen in various patinaed roofs of municipal buildings all over the country. Copper, in particular, produces a beautiful verdigris when it reacts with air or, in the case of the Statue of Liberty, its own special hue of blue-green because of unique environmental conditions. Such is the case with this new crop of oxidized tile collections, revealing beautiful material and color stories minus the chemical reactions, from large-format tiles with a beautiful green patina and ceramic mosaics with an imaginative oxidized blue to tiles that look like corten or oxidized pewter for a modernized industrial look.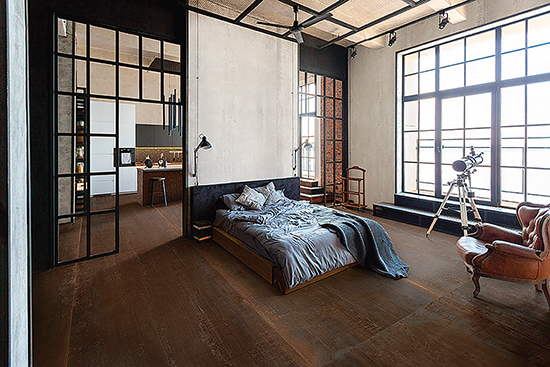 Ava Ceramica's Metal collection in Corten.

MATERIAL STORIES
With so many products available in the market, it's not enough to have a beautiful collection-it also needs to tell a good story. Luckily, Italian manufacturers excel in this area, offering striking photography and imaginative narratives that conjure a specific place or mood, from rustic tiles reminiscent of Tuscan estates to colors that evoke the charm of Middle Eastern kasbahs. Italian tile producers also scour the world to find unique materials to incorporate into their collections, whether it's a rare and precious marble or a limestone only found in a small village in northern Italy.

Another way companies help tell a good story is by taking a traditional material and using it in another context, like wall tiles that emulate French rustic stone or the interior application of a Greek slate traditionally used for outdoor flooring. In fact, that is one of the beautiful things about digitally printed tile: it facilitates entirely new possibilities in design that were unthinkable before.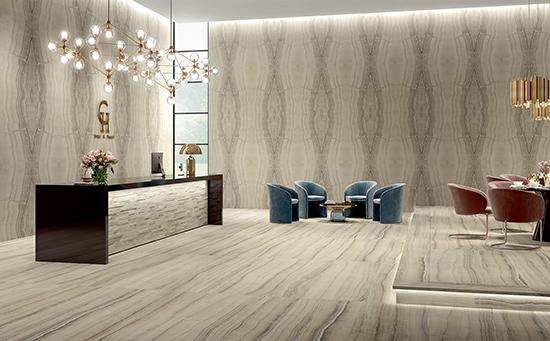 Skorpion collection in Ivory by Cerdomus.

BIOPHILIA
A major trend across the design spectrum is biophilia: the idea that humans possess an innate tendency to seek connections with nature. It is scientifically proven that nature has the power to reduce stress, improve cognitive function and enhance mood and creativity, which is why companies are taking biophilic design seriously. Tiles mimicking nature can help improve a person's perception of space, which is a good reason for architects and designers to consider incorporating them into their next project. Italian manufacturers offer a variety of flora-inspired tile designs from barely-there leaf prints, grassy motifs and palm designs to pixelated and pop-art florals.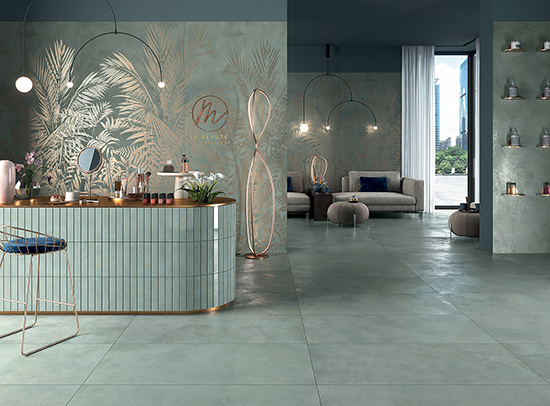 Ariana Ceramica's Luce Verderame with Tropici decoration.

GEOMETRIC STONE
Geometric stone has been used since ancient times and is ubiquitous in countries like Italy, from the floors of historic churches to the terrazzo sidewalks. Fast forward to modern times and Italian producers offer the look of Palladiana terrazzo or inlaid stone without the headache of cutting, sorting and installing an assortment of small pieces. In fact, many companies offer a random selection of decorative tiles with their collections that incorporate fragments of different marble and stone types into a single tile design to mix and match and create completely unique compositions. They are also designed to coordinate with field tiles, making the job of matching colorways a lot easier.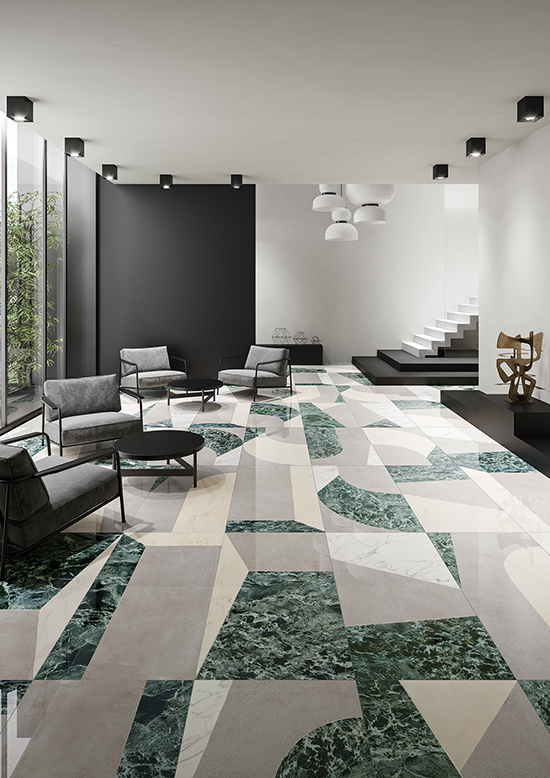 Sound of Marbles in FioMood Verde by Ceramica Fioranese.

Copyright 2020 Floor Focus

Related Topics:Florim USA, CERAMICS OF ITALY