Starnet Design Awards 2021: Starnet celebrates innovative design amid an especially challenging year - Nov 2021
By Jennifer Bardoner
Last year was a tough one for everyone, but Starnet members still managed to complete impressive projects, 71 of which were submitted for the group's Design Awards. The awards are typically handed out during a ceremony in conjunction with Starnet's annual meeting in April, but Covid precautions sent them online for the second year in a row. "Many of these incredible installations were completed during the height of the pandemic," says Mark Bischoff, president and CEO of Starnet Worldwide Commercial Flooring Partnership. "They showcase Starnet members' ability to quickly adapt and remain focused on delivering exceptional commercial interior spaces to end users during the uncertain times."

In a year when a large chunk was lost to lockdown, 71 award entries is a strong showing compared to the 100 that Starnet director of marketing and member services Rob Starr says the group typically receives on average. And with sectors including healthcare and hospitality among the six categories represented by the awards, members faced some exceptionally challenging markets as routine project environments went into overdrive or spending dried up. Last year, with total commercial flooring sales falling around 20%, no sector was harder hit than hospitality. While hotels were empty and silent, healthcare environments were the busiest they have ever been, leaving little time for necessary upgrades and renovations. Supply chain issues and labor shortages only further complicated matters. "There was a lot of disruption and revisiting project plans," Starr says. But the pandemic has also proven the importance of good design, he adds, pointing to employers' efforts to draw people back to the office through upgraded spaces and amenities.

"Floors are very integral in the overall success of the project and for the building owner-operator's ultimate success, whether it's retaining employees or recruiting new employees; or if it's a retail shop, trying to win business with customers; in a healthcare environment, trying to create a smooth and calm environment," he says.

Starr notes there's been a strong trend over the past few years toward "resimercial," or the incorporation of homey elements in commercial spaces-which may end up playing a key role if employees are to be lured from the cocoons of their home offices (which have likely been upgraded themselves)-and while amenities like treadmills are nice focal points, the flooring serves as the basis for creating the desired atmosphere. "The floor is such an important part of an interior design space," says Starr. "And it really can support so many other things in a commercial space, like the culture."

This year's Grand Prize winner-which was announced at the end of October, the final in a series of monthly category winner releases-also illustrates another trend of utilizing a variety of different flooring materials to further curate users' experience within the overall space, Starr says. Starnet member LVR Commercial Flooring used hard and soft surface selections from more than a half-dozen different vendor partners for its full renovation of UMC Health System's Dimensions II breast imaging center in Lubbock, Texas, which also netted LVR a gold prize in the healthcare category. "The material choices were outstanding, seamlessly blending highly cleanable resilient flooring necessary for healthcare environments with carpeting and soft surfaces that manage acoustics and contribute to a quiet, healing environment," says judge Andrea Hanson, AIA, WELL AP, principal, architect and licensed interior designer with Dekker/Perich/Sabatini.

New this year is a Canadian Project of the Year, which went to Beatty Floors, Ltd. for its work on G&F Financial Head Offices in Burnaby, British Columbia. "There's a little bit of design difference in Canada versus the U.S.," Starr says of the impetus for the new award category, noting that Starnet also launched a Canadian educational committee this year. "Their go-to-market strategies and their supply chains are totally different."

The judges for this year's 23rd annual awards again represented a cross-segment of the industry. "We were grateful for the high engagement level with the Starnet Design Awards across the entire network of partners," Bischoff says. On the following pages are this year's gold winners and the People's Choice winners selected from nominations by Starnet members, Preferred Vendor Partners and industry press.

GRAND PRIZE WINNER
Gold in Healthcare
MEMBER: LVR Commercial Flooring
PROJECT: UMC Health System's Dimensions II, Lubbock, Texas
ARCHITECT: Condray Design Group, Inc.
MANUFACTURERS: Altro, American Olean, Ardex, Armstrong Flooring, Dal-Tile, Henry Adhesives, Mannington Commercial, Mapei, Tarkett Tandus Centiva, Tarkett Johnsonite, Uzin Utz North America, XL North Chemical Co.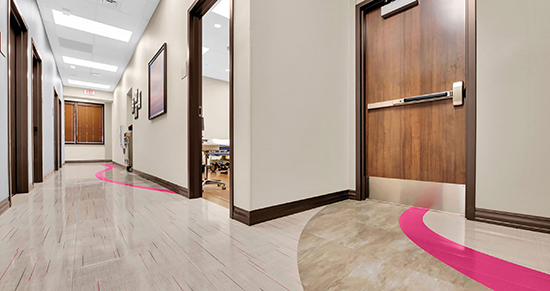 Category Winner-Corporate
MEMBER: Consolidated Carpet
PROJECT: Komatsu Headquarters, Chicago, Illinois
ARCHITECT: Partners by Design
MANUFACTURERS: Armstrong Flooring, J+J Flooring, Mapei, Tarkett Johnsonite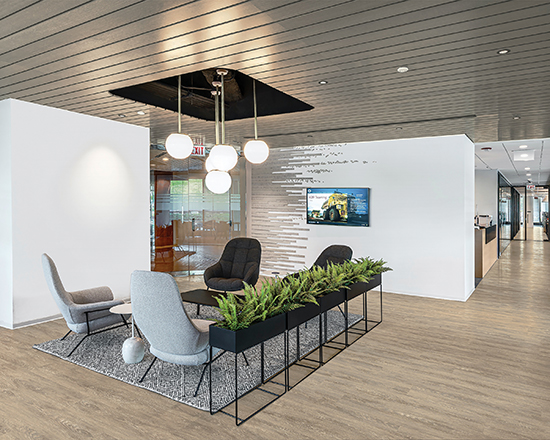 Category Winner-Hospitality/Public Space
MEMBER: DCO Commercial Floors
PROJECT: Silverspot Cinema at The Battery, Atlanta, Georgia
ARCHITECT: Collins/Webb Architecture
MANUFACTURERS: Armstrong Flooring, Dal-Tile, Flexco, Mannington Commercial, Mapei, Mats, Milliken Commercial, Tarkett Johnsonite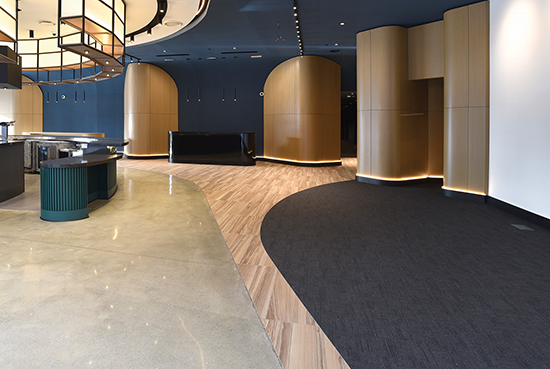 Category Winner-Mixed Use Developments; Unique Installation
MEMBER: Diverzify
PROJECT: Old Chicago Post Office, Chicago, Illinois
ARCHITECT: Gensler
MANUFACTURERS: Mapei, Schönox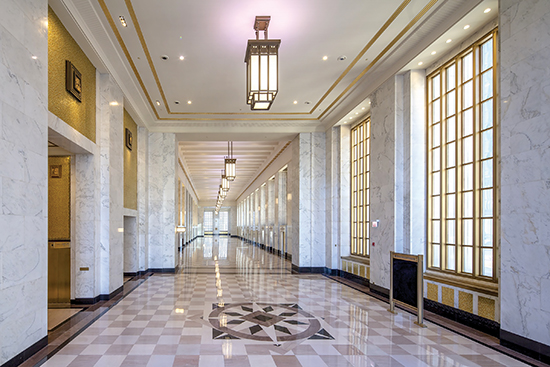 Category Winner-Education; Unique Installation (Bronze)
MEMBER: W.C. Carpenter
PROJECT: Virginia Wesleyan University Dining Hall, Norfolk, Virginia
DESIGNER: Atlantic Culinary Environments
MANUFACTURERS: Armstrong Flooring, Dal-Tile, Mannington Commercial, Schönox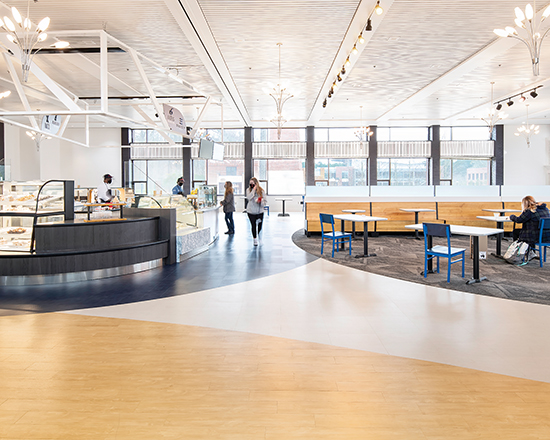 Category Winner-People's Choice (Tie)
MEMBER: St. Paul Linoleum & Carpet
PROJECT: The Cathedral of Saint Paul, Saint Paul, Minnesota
MANUFACTURERS: Ardex, Tarkett Johnsonite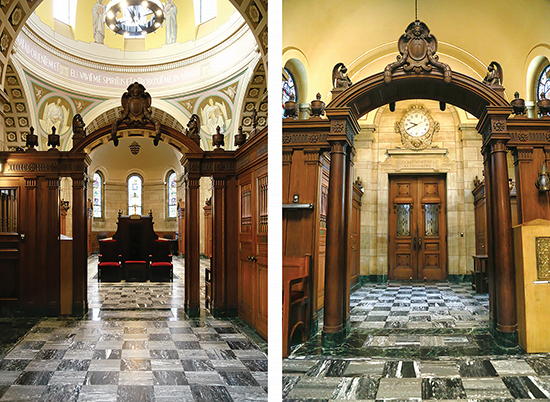 Category Winner-People's Choice (Tie)
MEMBER: Great Floors, an ADG company
PROJECT: Grandview High School, Grandview, Washington
ARCHITECT: Architects West
MANUFACTURERS: Altro, Dal-Tile, Ecore Commercial, Mannington Commercial, Tarkett, Tarkett Johnsonite, Tarkett Tandus Centiva, Uzin Utz North America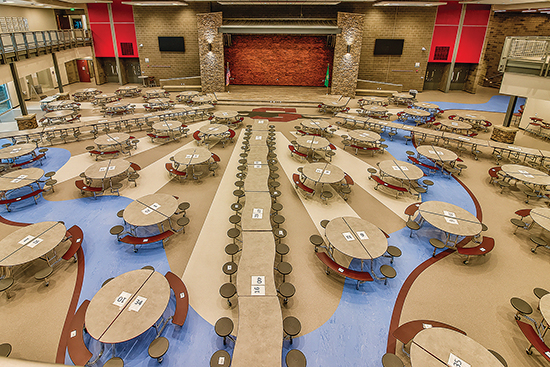 Copyright 2021 Floor Focus

Related Topics:Tarkett, Mohawk Industries, Daltile, Starnet, Great Floors, Armstrong Flooring, The American Institute of Architects, American Olean, Artisan Design Group, Mannington Mills