Retailers are winning by default: Advertising & Branding
By Santo Torcivia
In floorcoverings the value of brands at the consumer level is often debated. Those firms that argue against spending the money to advertise to consumers are usually the ones that have decided the results are usually not worth the investment and as a result have minimized their spend in this area.

The truth is that, two weeks after a purchase, most consumers can't remember whose flooring they just spent $4,000 on, but they usually can remember where they bought it. This is a chicken/egg type debate. Is the reason they can't remember because the brand of origin was never a factor to begin with? Have the manufacturers in this industry decided that it's better to be the generic low-cost supplier than the sought-after brand that consumers will pay more for? What advantage does the producer have when the brand of preference belongs to the retailer?

The retailer wants to make all the brands in a product category appear the same to his customers. In that way, he can walk the customer up and down the aisles to find a design that the consumer desires without having to sell around any troublesome features or benefits that may differentiate brands from each other and cause him to potentially lose a sale. The retailer defines competition as "my store versus their store." When a manufacturer brand is differentiated with known features or benefits, or has a distinct image or reputation, that makes it harder for the retailer to sell the customer away from the brand, and they often do not. This is part of what is known as channel wars, the struggle for who will control any given channel to the customer. This struggle transcends the competition among brands. It also occurs most acutely between manufacturers (or suppliers) and retailers.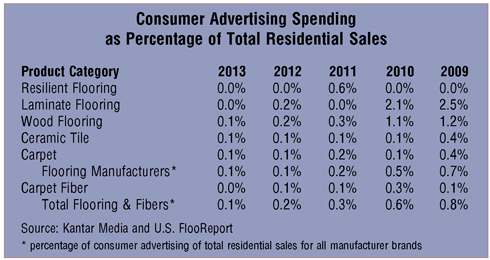 By any assessment, the retailers are winning this war. Research indicates people shop stores for flooring more than they do for brands. More strategically, retailers are creating their own private labels, and some retailers do not sell anything but private labels (Lumber Liquidators and Floor & Décor Outlets, for instance). Our analysis at Market Insights LLC indicates that last year 40% of all wood flooring sold in the U.S. was private labeled. In these situations manufacturers are merely relegated to commodity suppliers, bidding on low margin product as private label suppliers while retailers are reaping higher margins selling store brands. It is not just in flooring. Look around your local supermarket. It is loaded with store brands.

More and more we find less and less is being invested in support of manufacturer brands. In 2013, resilient and laminate flooring manufacturers invested nothing on consumer advertising. That means among all resilient and laminate flooring producers, no one felt the need to communicate anything to their existing or potential customers.

Combined, all flooring producers in 2013 invested a paltry $9 million in consumer advertising. If the industry invested 1% of the wholesale value of its products on consumer advertising, that number would be closer to $200 million. Not surprisingly, Lumber Liquidators spent $41 million on consumer advertising alone, according to Kantar Media. All retailers combined, and this includes The Home Depot, Lowe's and Menards, in 2013 invested $187 million on flooring related consumer advertising, 20 times that invested by manufacturers. Although many producers do not communicate anything to their customers, most retailers communicate consistently.

Not all producers neglect their consumer brand building investments. Mohawk, Mirage and Mercier, to name a few, consistently communicate with their consumer and bring them messaging designed to build preference at the end-user level.

Producers that believe retailers will remain advocates for their brands at the point of sale are grossly mistaken. Big-box retailers are gaining retail share, and the boxes love their higher margin store brands. Producers can sit back and watch their brand equity erode. Or they can invest in keeping their brands fresh and vibrant with consumers aware and desiring their brand's product features, benefits, image and reputation.
Copyright 2015 Floor Focus

Related Topics:Lumber Liquidators, Mirage Floors, The International Surface Event (TISE), Coverings, Mohawk Industries