Grigsby's Carpet, Tile and Rug Gallery: Best Practices
By Jessica Chevalier
Grigsby's Carpet, Tile & Rug Gallery isn't a company that's bullish on expansion. With 55 years of success under its belt, the Tulsa, Oklahoma based company takes a conservative, deliberate approach to business strategy and focuses on keeping its customers happy with quality service and a showroom kept in tiptop shape.

DELIBERATE ACTION
Dub Stover purchased Grigsby's from founder Harold Grigsby in 1985; however, ownership of the building that the business occupied remained with Grigsby. For years, tired of paying rent, Stover and his team considered purchasing a facility and moving the business, but it was 19 years before they found the perfect location, around the corner and less than a mile away.

The team purchased the location in 2004, renovated it and moved in a year later. The new 20,000-square-foot space, a former strip mall, allowed Grigsby's to create a separate but connected 3,400-square-foot area rug gallery and a 1,300-square-foot commercial showroom. Over the next two years, the business grew by 30%. Of the move, director of operations Penny Carnino says, "It is probably the best thing we've ever done. The economy was doing well when we moved, but the expansion and visibility helped, and the new displays generated a lot of interest."

Today, roughly 40% of Grigsby's business is commercial sales, 20% is builder market business, and the balance is residential. The retail store sells carpet, stone, ceramic tile, laminate, hardwood, LVT, cork, bamboo, area rugs and resilient sheet. The business has 30 installation crews made up of subcontractors who work primarily, though not exclusively, for Grigsby's. Carpet accounts for the largest percentage of sales; carpet tile from the commercial side of the business figures into that as well. In addition to flooring, the store sells laminate countertops.

CATERING TO THE CUSTOMER
Carnino, who has been working for Stover since 1982 and now runs the business with his son David, likes to say, "If you don't take care of your customers, someone else will." To that end, she seeks to make the customer experience as simple and pleasurable as possible. "We are not a junky store," she says. "Reps always remark about how nice our showroom is, and I used to think they probably said that to everyone, but then I visited the Dallas design district and saw some stores there that were pigpens. And I realized that we do have a very nice store." To keep Grigsby's tidy, the team cleans it weekly, and Carnino believes that the neat quarters have a direct impact on the customer's mental state. "Customers get overwhelmed," she explains. "That is typical, especially if someone has never shopped for flooring before." A clean, streamlined showroom goes a long way toward putting customer's minds at ease.

In addition, Grigsby's has a seasoned staff. Carnino reports that many on the team are 60-somethings who have been in the business for much of their careers. Having a staff with such extensive experience isn't only a benefit for the customers, it keeps dollars in Grigsby's pockets as well. "If someone isn't trained well and makes mistakes, that can really eat your lunch," says Carnino.

One of the ways in which Grigsby's both capitalizes on and hones its staff's expertise is by having dedicated team members in certain areas. The area rug showroom, which houses over 600 rugs, is manned primarily by one employee, which Carnino believes is particularly important for creating a good experience for rug shoppers. "It's not uncommon for a person to look two or three times before they decide on an area rug. At first, they are overwhelmed by the choices. To have a consistent person that they deal with and who can remember them and their preferences is beneficial." Carnino adds that area rug purchases often have a longer sales cycle than other types of flooring, and, as a result, some of the standard salespeople simply don't have the patience to manage it properly.

Similarly, the commercial area has dedicated sales staff, and one of those individuals, alone, brings in over $2.5 million of the company's business annually.

NFA MEMBERSHIP
Grigsby's is part of the National Floorcovering Alliance (NFA), an elite group of retailers that maintain flooring sales of over $10 million annually. The company joined the NFA around 1999, and Carnino has nothing but positive feelings for the organization and the impact it has had on Grigsby's business. "The most valuable thing is the relationships—and the give and take between the members. We share ideas. We discuss our common experiences and the struggles we share. It's a really wonderful group of people."

But the benefits of membership aren't only of the touchy feely sort. Carnino can point to specific examples of how the sharing of ideas among members has saved her dollars and cents. At one recent meeting, Phil Koufidakis, owner of Baker Brothers, discussed his decision to change to LED lighting in his showroom and brought in an expert to do a presentation on the subject. Carnino then hired that expert to redo the lighting in the Grigsby's showroom. The expert also helped Grigsby's file a rebate with the power company, and, as a result of the switch, Grigsby's has saved "a ton of money," according to Carnino.

CONSERVATIVE GROWTH
The leadership team at Grigsby's has considered adding a second location in Tulsa, which has a population of around 400,000; however, for the time being, they have decided to focus on the business at hand. "Tulsa is fairly small; we feel like we would be competing against ourselves," says Carnino. "We couldn't duplicate our large showroom and product offering." Plus, the team believes that the current location is ideal. It's centrally located and easy to access from the affluent areas of town.

Though Dub Stover is now semi-retired, he is still involved with the business, and in addition to Penny and David, a fourth family member, Stover's younger son Jeff, has now joined Grigsby's team. Says Carnino, "David and I run the business. We do different things, and we're a good team." Indeed, keeping steady on its current path seems to be the right strategy for Grigsby's.
THE PULL OF PETS
Grigsby's uses traditional advertising methods, including newspaper, television and Facebook, to attract consumers to its retail location. However, the store also hosts unique community events that both pull in customers and help the community. Recently, the business had a promotion for its Stainmaster PetProtect carpet in which it had the ASPCA bring its mobile unit to the Grigsby's store, where adoptable pets were welcomed into the showroom. The unique nature of the promotion attracted the local newspaper, which ran a story, complete with pictures, about it. Grigsby's plans to maintain the momentum that the event created by promoting pet adoption in its print ads and on Facebook.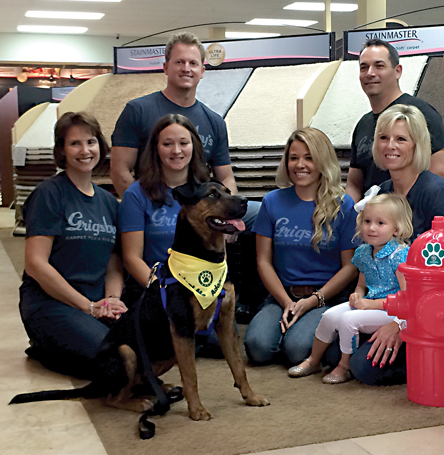 Copyright 2015 Floor Focus

Related Topics:National Flooring Alliance (NFA), The International Surface Event (TISE)