Focus Annual Report - May 2007


Introduction by Frank O'Neill, Statistics by Market Insights/Torcivia
After record sales in 2005, the floorcovering manufacturing sector slipped a bit last year as the bottom fell out of the builder market in the second half. Total sales dropped 1.8%, from $23.4 billion in 2005 to $23.0 billion in 2006. The end of the record breaking run-up in home sales had a big impact on residential flooring sales in the second half of the year and into the first part of this year. On the other hand, commercial flooring sales are still going like gangbusters, and that has kept total industry sales from taking a really hard fall.

There were some price increases last year and early this year, as the price of oil, the primary ingredient in carpet and the fuel that drives all manufacturing operations, remained above $60 a barrel for most of that time frame. There was little of the instability in pricing we saw in 2005, thanks in part to the benevolence of mother nature, who may not be as kind to us this year. Most dealers and end users have adjusted to the fact that floorcovering prices will probably never again be the great consumer bargains they were throughout the last part of the 20th century and the first four years of this century.

Imports continue to be a major problem for U.S. manufacturers, but for the first time in years, we didn't see a huge jump; they rose just 0.6% in 2006, as wood flooring and laminate imports fell by 2.4% and 6.8%, respectively. Hardwood imports were off primarily because of the downturn in the builder business, which accounts for about 40% of all hardwood sales. Laminate sales were down partly because more European laminate producers are shifting production from Europe to the U.S., and partly because of the slump in the market. According to the European Producers of Laminate Flooring, laminate flooring sales from Europe dropped 20% last year.

he leveling off of imports last year is almost certainly a temporary thing; once the U.S. residential floorcovering economy bounces back, so will imports.

Imports, in fact, could be an increasing problem for U.S. manufacturers as long as the dollar continues to drop against other currencies. Last year, for the first time since 1915, foreigners earned more from their U.S. investments than we did on our investments overseas. That makes the U.S. an increasingly attractive place for foreign investment, and we've certainly seen that in recent years with a big increase in investments here. The Italian ceramic tile company Panaria bought Florida Tile early last year; the Spanish company Faus opened its Georgia laminate plant; the German company Pfleiderer bought Canada's Uniboard last year, and it just completed its acquisition of Pergo, whose primary business is in the U.S.; Tarkett and the Chilean company Aconcagua are opening their Pennsylvania laminate plant this summer; the Japanese company Itochu bought Galleher Hardwood two months ago; and Tarkett and its investment partner KKR are the favorites to win the impending auction for Armstrong World Industries.

If the dollar continues to slide, and there's nothing to show that it won't, these will be just the beginning of foreign investments in the U.S. flooring business.

The biggest issues preoccupying the manufacturing sector today are the state of the residential economy and the impending sale of Armstrong. At press time, there were some indications that the housing slump may have touched bottom and sales could be on the way up again. That would certainly be a good sign for the floorcovering business, particularly the builder sector. The sale of Armstrong, meanwhile, will create a shift in power in the industry if the company is bought by one of the three flooring manufacturers said to be bidding on it: Mohawk, Shaw and Tarkett. Armstrong, as you can see on the chart on page 36, is the nation's third largest manufacturer, and its sale to one of those three—which we think is a very good bet—would change the balance of power dramatically. For more on the possibilities, see The Distribution Evolution on page 16 of the May 2007 issue of Floor Focus.

As you'll see in the chart below, only three product sectors—area rugs, ceramic tile and rubber flooring—showed positive growth last year. Broadloom carpet continued to lose marketshare, slipping from 52.3% of total flooring sales to 51%. Rugs, on the other hand, gained marketshare, and the two soft surface floorcoverings still account for 62.9% of total marketshare. Hardwood sales fell for the first time in two decades, and ceramic tile replaced it as the third largest product category last year, with a 10.6% share of the total market.

All of 2005's sales and marketshare figures, by the way, have been updated to reflect revised U.S. Government statistics.



TOP 10 U.S. FLOORING MANUFACTURERS 2006
Firms ranked by U.S. Flooring Sales

U.S
Flooring Sales

N. American
Flooring
Sales

Foreign Flooring
Sales

Total
Flooring Sales

Total Non-Floor
Sales

Total
Company
Sales*

1.

MOHAWK (1)

5,934

6,021

405

6,426

1,495

7,921

2.

SHAW (2)

5,140

5,192

--

5,192

642

5,834

3.

ARMSTRONG (3)

1,543

1,624

360

1,984

1,442

3,426

4.

BEAULIEU OF AMERICA (4)

1,103

1,157

--

1,157

80

1,237

5.

TARKETT (5, 6)

730

761

1,539

2,300

--

2,300

6.

MANNINGTON (7)

696

711

--

711

15

726

7.

INTERFACE (8)

561

592

249

841

174

1,015

8.

THE DIXIE GROUP

315

315

--

315

16

331

9.

PFLEIDERER (9)

272

344

159

499

1,671

2,170

10.

C&A FLOORCOVERINGS (10,11)

267

303

--

303

27

330

*All sales are in millions

Data compiled by Market Insights/Torcivia and Floor Focus Magazine

Here's a look at total 2005 sales for the ten largest U.S. floorcovering manufacturers, broken down according to where their products are sold. Total company sales may not be the same as reported sales due to acquisitions and divestitures, both of which are included or deducted for the full year 2005.

For a breakdown of sales according to product type, see the chart below. Here are explanations for the footnotes next to the company names:

(1) Mohawk's non-flooring sales include ceramic wall tile, throws, textiles, cleaning accessories, fiber, etc.
(2) Shaw's non-flooring sales include Spectra contract service/installation, and fiber/yarn sales.
(3) Armstrong's non-flooring sales include ceiling components, cabinets and flooring accessories.
(4) Beaulieu's non-flooring sales include fibers and chemicals.
(5) Tarkett's sales include Sommer, Domco, Tarkett, Johnsonite, FieldTurf, and Tarkett Wood.
(6) Tarkett's sales include FieldTurf sales for full year 2006; FieldTurf sports flooring acquired September 2005.
(7) Mannington's non-flooring sales include ceramic wall tiles and flooring accessories.
(8) Interface's non-flooring sales include revenues from its contract flooring network, Re:Source Americas, and fabrics.
(9) Pfleiderer's sales include Uniboard and Pergo sales for the full year 2006; Pergo acquired March 2007.
(10) C&A's sales based on year-to-date results through third quarter projected to the full year.
(11) C&A's non-flooring sales include extruded yarn.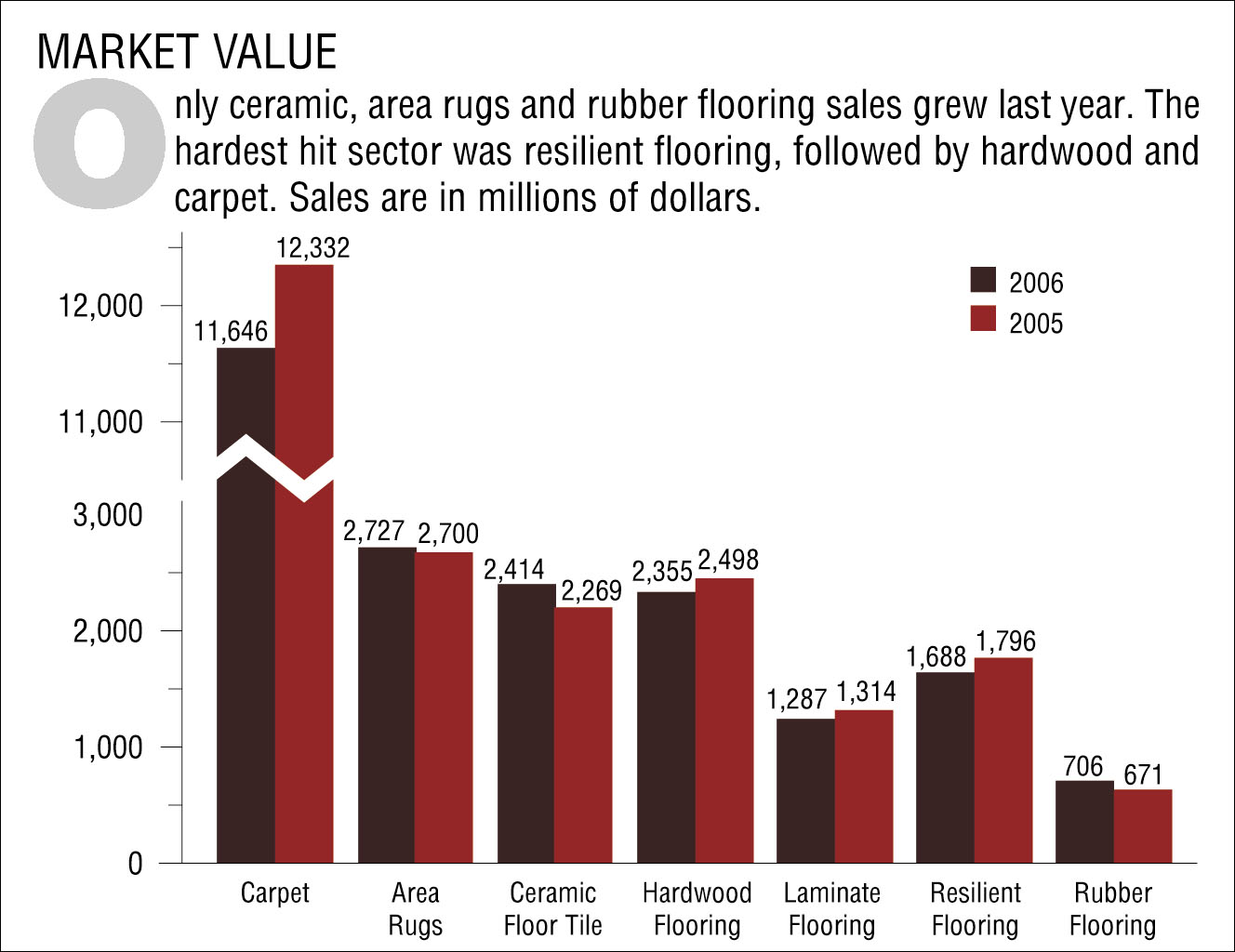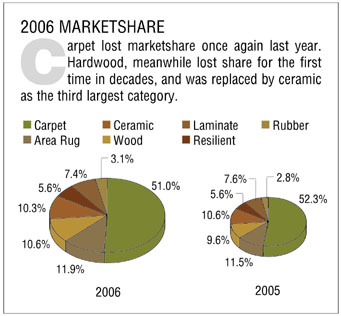 TRANSITIONS

For the first time since the mid 1980s, there hadn't been a single blockbuster acquisition in the manufacturing sector in the past sixteen months until two months ago, when Pfleiderer bought Pergo. There were, however, a number of mid-size acquisitions, which are listed below. Perhaps the biggest transition, though, was the retirement of Bob Shaw, the chairman of Shaw Industries, who had been a dominant figure in the American floorcovering industry for the past 50 years.

Florid Tile is sold to the Itlaian ceramic producer Panaria for $22.5 million.

Carpet backings producer Propex buys the part of SI Corporation not sold to Shaw Industries in 2005.

Mohawk Industries buys Propex Fabrics' Roanoke, Alabama secondary carpet backing plant.

Faus opens its Calhoun, Georgia laminate flooring plant.

Armstrong World Industries acquires Capella Wood Floors and Homerwood.

Armstrong enters into a joint venture with China's largest hardwood manufacturer to make solid hardwood flooring.

Shaw Industries buys the 50% of Evergreen Nylon Recycling it doesn't already own.

Amtico is acquired by the Dutch bank ABN Amro.

Pfleiderer buys the Canadian laminate producer Uniboard.

Spain's Faus Group is bought by its top management and a Spanish investment firm.

Tarkett AG moves its headquarters from Germany to Paris.

The Italian nylon fiber producer Aquafil opens a plant in Georgia.

Bob Shaw steps down as CEO of Shaw Industries and is succeeded by Vance Bell.

Tarkett and Kraus Carpet Mills merge their sales, customer service and logistic operations in the Midwest.

The New York investment firm Kohlberg Kravis Roberts buys a 50% stake in Tarkett.

The auction for Armstrong World Industires begins this March.

Pfeiderer buys Pergo.

For an indepth look at the various flooring categories, see the May 2007 issue of Floor Focus.
Copyright 2007 Floor Focus

Related Topics:Mannington Mills, Beaulieu International Group, Mohawk Industries, The Dixie Group, Tarkett, Interface, Shaw Industries Group, Inc., Armstrong Flooring, HomerWood, Spectra Contract Flooring, Coverings