Domotex Germany 2020: Where the flooring world meets to see the latest innovation and styling - Feb. 2020
By Kemp Harr
Attendance is only one measure of a show's success. While attendance at this year's annual Domotex expo in Hannover, Germany was down a bit, it continues to be the global go-to event in early January to discover the latest flooring trends and innovations from around the world. This year was the 32nd edition of the show, held in 11 massive buildings at the Deutsche Messe fairgrounds from January 10 to 13. Post-show numbers put attendance at 35,000 with 1,400 exhibitors in 1.07 million square feet of exhibit space. Countries with the greatest level of attendees (in order) were Germany, Turkey, India, China, Belgium and the Netherlands. In contrast, while the Domotex Shanghai show attracts a larger crowd, the audience isn't as global.

Some of the larger flooring firms cycle in and out as exhibitors at this show. Since this was an even year, and therefore an off year for the Bau Munich show that competes with Domotex biennially, we were surprised to see that Tarkett and Beaulieu International Group didn't exhibit. We also didn't see Forbo, Masland and Mannington, but Shaw was represented in the US Floors booth, and the Mohawk brands that exhibited were IVC and Unilin. In fact, IVC had taken a couple of years off but was back in full force this year.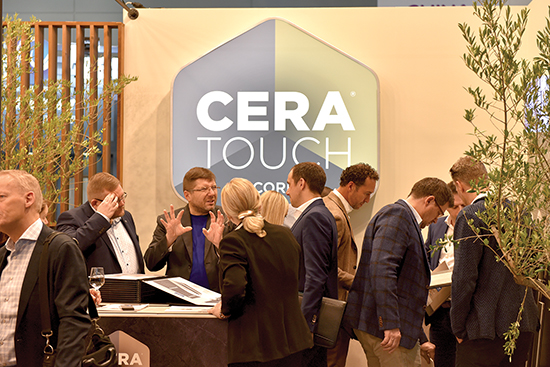 US Floors' crowded space attracted a diverse audience that speaks 27 languages.

Floor Focus has attended this show for 14 straight years, and it continues to be our primary conduit for the latest technology and global market trends in floorcovering. The two flooring categories that were most prominent and attracted the most foot traffic were rigid core luxury vinyl flooring and area rugs. There were fewer finished carpet exhibitors this year than in years past, but there were plenty of yarn, backing and equipment manufacturers-which are also used to produce area rugs. In Europe, the use of carpet, which was never as popular as it was in the U.S. at its peak, is in a slump, though not as severe a slump as here in the U.S. The U.K. is one of the stronger European carpet markets, and the distractions from Brexit are taking a toll on sales.

NOTEWORTHY EXHIBITS
Oriental Weavers (OW) continues to support this show by hosting the largest booth with a massive pyramid-shaped area rug space in hall 5 and a second hospitality exhibit in hall 11. This Egypt-based firm with manufacturing in Dalton, Georgia; Cairo, Egypt; and China celebrated its 40th anniversary last year.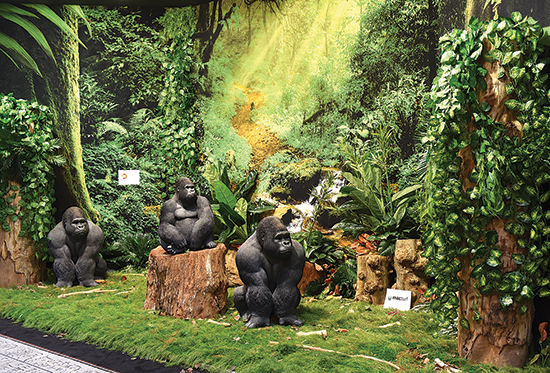 This gorilla exhibit was part of Oriental Weavers message that the firm is also in the grass and turf business and on the cutting edge of the digital rug printing wave.

Harlan Stone launched his HMTX brand in the U.S. last year at Chicago's NeoCon but chose this year's Domotex Germany show to launch the brand to the rest of the world with an elaborate, high-tech, two-story exhibit at the front door of hall 12. It's no secret that HMTX is one of the two big players in the global rigid core LVT business, selling product under the Aspecta, Vertex, Halstead-Lifeproof, Metroflor and Teknoflor brand names. Both HMTX and Shaw's Coretec believe that WPC is the superior core construction, though Lifeproof vinyl flooring reviews are about what you would expect, and Stone has branded his WPC flooring as IsoCore. To further accentuate the brand's launch at the show, HMTX plastered a huge billboard in the middle of the fairgrounds quoting Abraham Lincoln saying, "The best way to predict the future is to create it." HMTX is a fourth-generation, family-owned business with estimated annual sales of $700 million.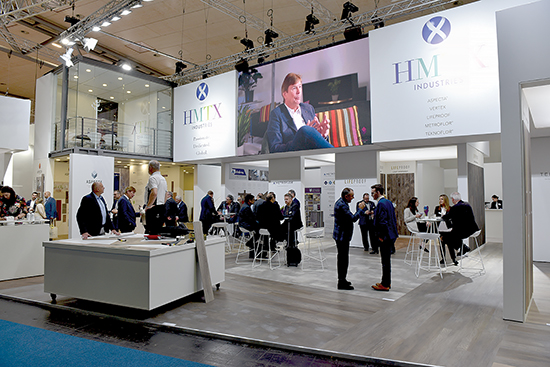 The global launch of the HMTX brand-a leader in the rigid core business.

INNOVATION
The three leading intellectual property brands in the flooring business are I4F, Unilin and Välinge, and all three had exhibit spaces in hall 12-further accentuating the fact that most of innovation in the flooring business today is focused in the multilayered, rigid core category.

Unilin used this show to launch its new Unidrop click system, which is perfect for herringbone and chevron pattern installations.

I4F's core message this year was centered on its six clusters of innovation: digital printing, locking, wall panels, manufacturing processes, core construction and surface finishing. Another focus for I4F is a new curing process that creates a matte finish, which helps minimize surface scratches and helps plastic emulate a real wood look.

FLOATING PORCELAIN FLOORS
This show has consciously avoided the porcelain tile category, but that didn't keep Lico from launching two new innovative floating porcelain systems in hall 12. Both systems were developed to speed up installation time and also eliminate the need for extensive training for installation. Much like in the U.S., skilled tradesmen are in limited supply in Europe, and the Drytiling system and the Ceraclick system can be installed with minimal training.

AREA RUG TRENDS
There are five buildings at Domotex that feature area rugs, which are further segmented into handmade and machine-made.

In the machine-made segment of the business, area rugs are transitioning from a floorcovering to a furniture accessory. As part of this shift, suppliers are finding ways to produce the products so that they meet the lower price points that consumers are willing to pay for what's now perceived as a expendable finish. This segment is growing, especially with the new softer polyester and polypropylene face fibers. Both of these fibers used to have a rough hand.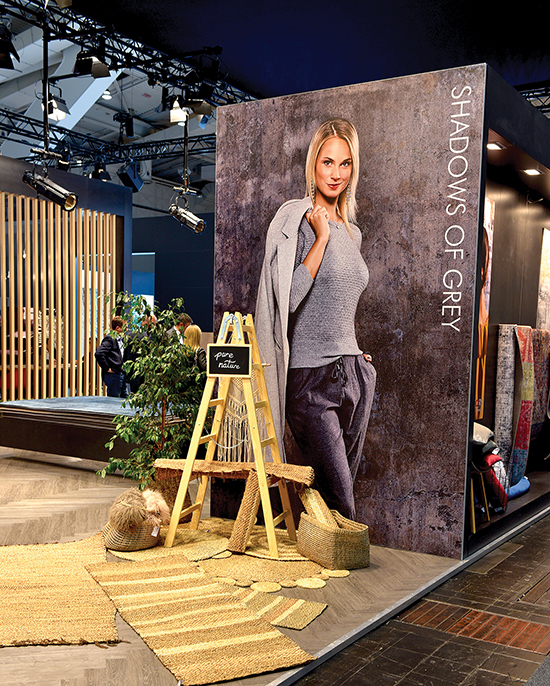 The primary color for rugs this year was grey.

Another development is shrink polyester, which shrinks during the coating process and gives the rug more dimension and texture. Recent investments in digital printing are also adding more realism to the more contemporary rugs. Grey continues to be a dominant rug color.

SUSTAINABILITY-EUROPEAN GREEN DEAL
When it comes to sustainability, the Europeans are out front with the passage of the European Green Deal. This agreement mandates that by 2030, 65% of the plastic materials used in all flooring, both hard and soft surface, must come from post-consumer recycled content. Ten years seems like a long time, but this will require a major investment in product reclamation.

Copyright 2020 Floor Focus

Related Topics:Beaulieu International Group, HMTX, Mohawk Industries, Mannington Mills, Shaw Industries Group, Inc., Tarkett, The Dixie Group, Lumber Liquidators, Metroflor Luxury Vinyl Tile, Masland Carpets & Rugs, Domotex