Coverings 2019: Color and graphics along with concrete and terrazzo were centerstage - May 2019
By Beth Miller
Celebrating its 30th year, Coverings, the largest tile and stone exhibition in North America, kicked off the celebration by welcoming attendees and exhibitors with music from the show's 1989 launch. A timeline displayed highlights from Coverings' history and also recognized exhibitors who've participated every year.

Running April 9 to 12 in Orlando, Florida, the show-which welcomed 27,000 attendees in 2019, compared to 2018's 26,000-was sponsored by its five owners: Ceramics of Italy, the Tile Council of North America (TCNA), Tile of Spain, the Ceramic Tile Distributors Association, and the National Tile Contractors Association (NTCA).

This year's Coverings, which primarily targets distributors, offered attendees the opportunity to see tile trends and innovations as well as attend education sessions that focused on topics like tariffs, e-commerce and technology in brick-and-mortar retail. Installation and design lectures-such as Substrate Preparation and Large Format Plank Tile, Installation Techniques for Gauged Porcelain Tile and Panels, and an Installation & Design Experience Vignette Tour-were offered in the Installation & Design Experience booth.

TRENDS AT THE SHOW
Among the many trends, encaustic tiles both with antique and modern motifs continue to be popular as are wood look planks, which are now going bolder with contrasting shading. With the larger format rectangles, the predominant visuals are industrial concrete and terrazzo looks, the use of which takes some of the risk and cost out of specifying poured floors.

Tile of Spain consultant, Ryan Fasan called out the vibrant colors and "supergraphics," trends in his annual luncheon presentation. Within the colors, blue was one of the hottest hues on display. It was blended with different materials to create varying textures and finishes. Florim, for example, featured a blue marble look in its Onyx collection. The deep grey veining and hints of brown/gold are layered with what is reminiscent of greyish blue quartz blended with marble. The result is a 3D effect. Marca Corona displayed its Ossidi line with new additions in a high-gloss deep blue and white diamond-shaped tile that allows for a great deal of design flexibility. Florim's Flor Gres commercial brand offered a palette of colors, ranging from blue to orange.

Yellows and oranges were used in conjunction with graphic tiles as an accent or alone. A vibrant orange solid tile called Twist Square Orange Sunset was offered by Somertile, a distributor out of New Jersey. Oceanside Glass & Tile's Zoetic collection in Prelude Peacock blends blues, yellows and oranges together with the lustrous quality of a peacock feather.

Black is back with dark marble and stone tile looks-particularly with gold veining. American Olean offered a matte black diamond-shaped tile in its NeoConcrete collection. Marazzi displayed a solid charcoal tile and a medium black tile in its Basalto collection.

Graphics played a much larger role this year with nature-inspired murals and bold looks. Somertile's Bombato Decor York is made up of comic book graphics, while its Banksy is square tile covered in street graffiti. Cotto D'Este displayed a prime example of a trend the TCNA calls "functional flora" with Dream, its forest mural large-format tile. Veromar offered a range of luxury tile with intricate geometric and floral graphics in gold, black and antique white.

Wood looks have expanded into what the TCNA is deeming "wild woods." Variations in species as well as combinations of different species were shown. Vitromex's Barque glazed ceramic floor and wall tile mixed light and dark planks that look like a range of species from plain pine to a deeply striated walnut. Florida Tile's Excursion collection blends multiple species into each plank, giving a highly textured visual.

In addition to color and graphics, the varying tile scales played a role in the new products. Manufacturers are using the different slab and panel gauges to their advantage, with the largest sizes applied to walls and the smaller formats (e.g. 24"x48") going on the floor. There is also a return to the square format that was so popular years ago. It's worth noting that the hexagon format is being replaced with the rhombus and other geometric shapes. Crossville showcased unique dog-shaped tiles.

COVERINGS COMMUNITY SERVICE
In its second year, Coverings partnered with Clean the World to provide hygiene kits for veterans' associations in the Orlando area. The NTCA, Tile of Spain, Ceramics of Italy and Coverings exhibitors Mapei and Florida Tile participated in assembling the kits, which included items like toothpaste, shampoo, toothbrushes, lotion and Chapstick.

The show collaborated with Habitat for Humanity of Seminole County & Greater Apopka and also Freeman, the general service contractor for the show, to identify and collect usable tile, stone and other products used as part of exhibitor space that could be donated for re-use.

TCNA and 21 of its members continued their support for Orlando-area pets through the tiled doghouse program. Participating members designed and built custom tiled doghouses. During the show, these one-of-a-kind creations were on display at the TCNA Art Tile Courtyard.



PRODUCER HIGHLIGHTS
Crossville, a U.S.-based company, presented its tile introductions with an Escher-themed booth, highlighting repeating patterns similar to those found in the famous Dutch graphic artist's work. Crossville is a domestic producer that focuses primarily on the commercial segment. Now competing with other slab producers, Crossville seeks to offer an extensive portfolio. It reports positive feedback on the new line from restaurateurs. As attendees entered the booth, the focal point was the firm's new slab countertops.

Crossville also added Alaska. The new terrazzo look is designed to coordinate with a number of other Crossville lines and offers five natural colors: Ice, Bone, Mink, Glacier and Tundra. Additionally, it offers a cove base and bullnose along with a total of five sizes, including a 2"x2" mosaic and a polygon mosaic.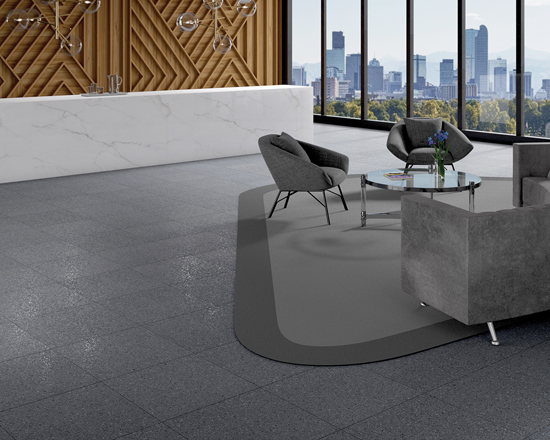 Marazzi featured Historia-an antique marble-look collection with four options and offers a half-hex tile, literally a hexagon cut in half, in every color. The finish is a light polish.

Basalto offers a monochromatic look in four neutral colors and is inspired by basalt, a charcoal-colored volcanic rock. In addition to large-format tile sizes, Basalto comes in 2cm thick outdoor pavers.

Merona, a light grain wood-look floor tile, comes with StepWise-Daltile's new proprietary technology that spans the company's product portfolio-that makes products 50% more slip-resistant.

American Olean came to the show with Ideology, a white marble-look tile in three colors. Every tile size is cut from a 24"x48" tile, making it much easier to mix and match the different sizes. The collection is available in a polished or matte finish.

NeoSpeck, a modern terrazzo style, was launched last year. This year, American Olean offered NeoConcrete, a concrete-look indoor/outdoor tile with very subtle movement and a 3D cube pattern. It comes in five colors and features the StepWise slip-resistant technology. The large-format tile is designed to coordinate with the NeoSpeck collection.

Celebrating 70 years, Ragno featured Romantic Marble, aimed at both residential and commercial markets. Romantic Marble is reminiscent of Italian marble with its sophisticated grey veining against a pure white background. There are several finishes to choose from, including a soft, natural finish.

ConKreto, just as its name suggests, is a concrete-look floor tile that is available in four colors and three large-format sizes. A coordinating triangular mosaic is offered as well. The "greige" palette is inspired by the industrial chic trend.

Florida Tile showcased its new Modtique (modern plus antique) collection-scheduled to launch this fall. It is characterized by areas of subtle wear and comes in four colors: Loft, Chateau, Estate and Salon. In addition to standard tile sizes, a 25- and 30-piece circle mosaic is available in each color.

Excursion is a unique blend of five different wood species to create the National Park themed collection. The porcelain wood-look floor tile displays a mix of the different species in each plank. It's possible to see oak, ash and olive tree looks in one plank. Badlands, Denali and Zion are just a few of the names within the collection.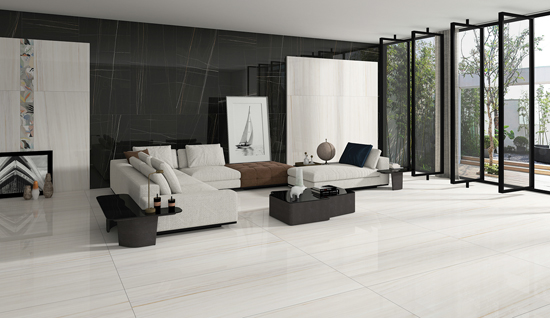 With the addition of three new kilns, American Wonder Porcelain is ramping up production and coming out with new products like Biancatto Porcelain, a travertine look with hints of gold tones. Avaro Forest Porcelain is a wood-look mixed with a cement look in a matte finish. Bravado Porcelain blends metal and cement for a unique visual. It is available in a lappato or matte finish in three colors: Steel Grey, Aged Bronze and Gunmetal Brown.

Stonepeak was the first manufacturer to make the large format tile in the U.S. Its Plane 2.0 collection is expanding to offer more colors. One of the new offerings is Avalanche, a white marble-look tile available in three sizes with a polished finish. The company reports that approximately 80% of the panels it sells are white. It now offers a 5'x10' slab with a diamond polish finish.

Imperial Stone is a lightly veined marble look in five colors with a satin or lappato finish. It is designed to mimic the natural textures found in quarry-sourced stone. Three mosaics round out the collection.

Design Your Slab (DYS) is a new program that offers the placement of any image or illustration on a slab of porcelain. These fully customizable wall applications can be used on interior or exterior walls. The sizes range from 30"x15" to 120"x60". In addition to the artistic value provided by the porcelain canvas, the tile can be used in conjunction with the firm's Ventilated Facade System-a metal framework that allows application of tile to the exterior of a building. The firm reports that this tile application can cut energy costs by up to 64%.

Florim USA focused on its Milestone brand, launched last year for the North American market. It is offering 2cm pavers in three colors: Quartz, Lacquered Wood and Classica. Each collection contains 40% recycled content.

Erfoud Stone, named after the fossilized marble found in Erfoud, a town in Morocco, mimics the movement of the sea life that once inhabited the land. The rich patterns come in five natural colors ranging from white to brown.

Onyx, a rectified color body porcelain tile, is a realistic stone look. This collection comes in five colors: white, ivory, beige, dark grey and light grey. The veining in each color is a blend of grey and gold, providing a sophisticated design.

Patina, a pressed porcelain tile, offers a wood look in five colors. It is offered in an 8"x48", but what is unique about this collection is the high-gloss finish atop a wood-look tile. Cherry is eye-catching with its reddish coloring combined with a burnished aesthetic.

Atlas Concorde USA showcased a collaborative collection with Laurie Smith, a veteran designer made popular through the TLC show "Trading Spaces." The Mood collection is made up of a blend of wall and floor tile in a wide variety of colors. The floor tile offers a range of wood, travertine and marble looks.

The company is offering a cut-to-order option where consumers can request non-standard sizes and formats. For example, if a mosaic is needed in a product that does not offer a mosaic, Atlas Concorde will produce the requested size. A minimum quantity is required.

Landmark Ceramics, a family-based company out of Italy, has a facility in Tennessee where it manufactures products for the U.S. market. Its new Charme Evo marble-look tile collection is designed for floor and wall applications.

Grace is a travertine look also designed for floor and wall use. The 24"x48" tile is rectified, while the 12"x24" is not. A mosaic is also available. Additionally, the firm highlighted Infinity, a limestone-look tile that comes in six colors and a 20mm thickness.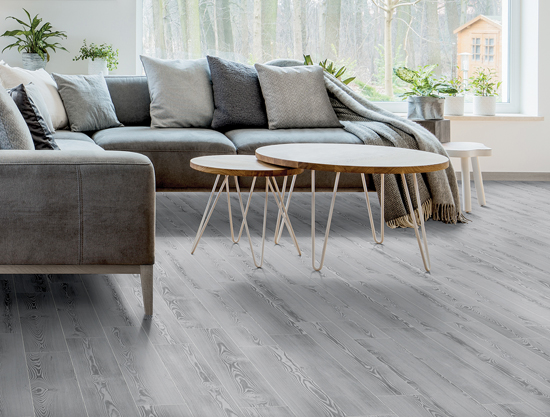 Del Conca featured Amsterdam, a new wood-look collection, ranging from white to brown. The planks are characterized by heavy graining and knotting, making for a realistic wood visual, but are smooth to the touch.

Also on display was Neopolis, which can be used on the floor and wall. Two colors are available for each application in multiple sizes. Bianco and Beige are light, natural colors for floor use, and Moka and Gray are a light brown with grey accents and a medium grey for wall use.

Stelvio is a versatile indoor/outdoor terrazo-look tile. It is available in three colors. The indoor-use tile is available in four sizes and two mosaics. The outdoor tile comes in only one size: 24"x36".

Copyright 2019 Floor Focus

Related Topics:Daltile, American Olean, CERAMICS OF ITALY, Marazzi USA, Coverings, Crossville, Stonepeak Ceramics, Mohawk Industries, Florim USA