Carpet Fiber Overview: A detailed look at carpet face fiber in the residential and commercial markets - Dec 2020
By Darius Helm
Broadly speaking, today's carpet fiber market is characterized by two great divides-between low-cost PET filament and the higher-performing nylons, and between branded and unbranded fibers. In terms of brands, the residential market is still dominated, for now, by a single independent brand, Invista's Stainmaster, which competes against the vertically integrated fiber production of most of the major mills as well as unbranded fiber business. The commercial market is a more competitive field, where there are both vertically integrated mills and brands from the independent producers, like Invista's Antron, Aquafil's Econyl, Ascend's Ultron and Universal Fibers' range of fibers, including Thrive.

A lot can change in a couple of decades. At the turn of the century, staple fiber, mostly from independent producers, made up over 30% of the carpet and rug face fiber market-18% from nylon, 6% from polypropylene and 7% from PET (a form of polyester). And in terms of BCF (bulk continuous filament) fiber, 37% came from nylon and 31% from polypropylene. At the time, there was no BCF PET.

Back then, most of the carpet mills were supplied by four nylon suppliers (BASF, Honeywell, DuPont and Solutia), with vertical fiber integration still largely centered on polypropylene carpet production. There were a couple of PET suppliers, KoSa and Wellman, and two mills extruding their own PET from recycled drink bottles, Beaulieu's Marglen and Mohawk's Image.

Today, staple fiber is largely a thing of the past. PET filament technology yielded a viable product, and now over 50% of face fiber used in carpets and rugs is polyester-the vast majority of which is PET, with the balance from another form of polyester, Mohawk's SmartStrand triexta (PTT) fiber-with nylon about ten points behind and polypropylene consumption in single digits.

Polyester is predominantly used in the production of residential broadloom. On the commercial side, almost all of the synthetic fiber in both carpet tile and broadloom is nylon 6 or nylon 6,6.

And in terms of those four independent nylon producers, in the ensuing years, they changed names and changed hands. DuPont's fiber business and its Stainmaster and Antron brands are now Invista. Honeywell and its Anso brand went to Shaw, as did BASF's Zeftron. Solutia's Wear-Dated brand name went to Mohawk, and Solutia's carpet fiber facility was bought by Ascend.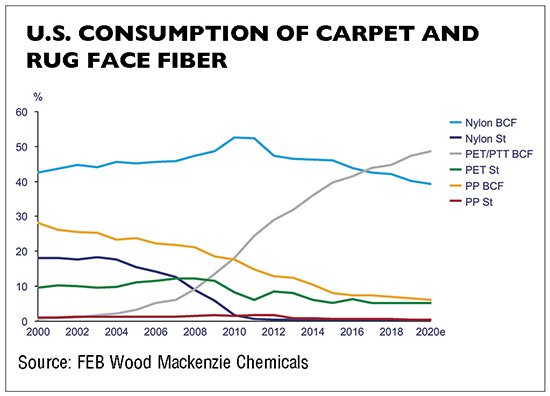 POLYPROPYLENE UPDATE
In the 1990s, mills started extruding their own polypropylene face fiber. Driven by demand for Berbers and related constructions, which were well suited to polypropylene, and thanks to growth in the domestic machine-made area rug business, polypropylene surged. Mainstreet loop products also used polypropylene. But by 2000, the Berber craze was over, and nylon cut piles started to take over the residential market. Mills started extruding their own nylon 6. And over the ensuing decades, polypropylene has continued to lose share.

Polypropylene is still a common fiber in machine-made rugs, but now there's nylon and polyester, too, and the decline in domestic machine-made rug production has reduced polypropylene volumes there. In addition, mainstreet carpet has also heavily shifted to nylon. In fact, earlier this year, Mohawk announced that it is getting out of the polypropylene carpet business altogether.

As a fiber, polypropylene has some unique advantages and some disqualifying disadvantages. It can't be stained, for instance. It has no stain sites for dyes and stains to latch onto, which is why it has to be solution-dyed. And it is historically the least expensive of the fibers. It also has a naturally soft hand.

On the other hand, it is the most oleophilic face fiber; it loves oil so much that it is used all the time to clean up oil spills. So it might not stain, but it can't wait to soil. Also, it crushes easily, and it has a much lower melt point than the other fibers-320º F, compared to nylon 6 at 428º F, PET at 500º F and nylon 6,6 at 516º F.

CARPET RECYCLING
The bulk of carpet recycled in the U.S. is residential broadloom, which is diverted from landfills by collectors and processors that channel the waste material into the recycling stream. And carpet recycling, under the stewardship of CARE (Carpet America Recovery Effort), was developing nicely until about a decade ago, when the waste stream, previously dominated by nylon, for which a range of end-use markets had been developed, shifted quickly to PET, for which at the time there were no viable end-use markets.

Very quickly, collectors, processors and recyclers were inundated with product that they couldn't get rid of. Many of these entrepreneurs went out of business. Subsidies in the main recycling market in the U.S.-California-were quickly developed, funded by fees on carpet purchases. Grants were also established. And slowly, the situation began to improve. A range of processing technologies and end-use markets have been developed through firms like Eastman Chemical Company, Arropol, Loop Industries, Circular Polymers and Verdex Technologies, to name just a few. And recycling volumes started to rise.

At the beginning of 2020, the carpet recycling industry was widely acknowledged to be on the threshold of viability. Then came the pandemic, which impacted carpet recycling in much the way it impacted most businesses. CARE helped out with increased and accelerated subsidy payments, though at the same time a $4 million Voluntary Product Stewardship fund for non-California states, funded annually by the mills, was terminated.

In terms of nylon recycling, Aquafil and other nylon recyclers are struggling to get enough recycled material, since PET makes up the bulk of what is collected. According to Aquafil's Rossi, "The collectors have been focused on low-hanging fruit," and they're not inclined to expand their collections, which could leave them with a lot of excess product that they'd have to pay to dispose of. Aquafil has addressed part of the supply problem through its acquisition of Planet Recycling, but there are concerns that PET's increasing share of carpet will lead to even smaller recycled nylon volumes in the years to come.
POLYESTER: MOVING THE MARKET
The most significant trend in face fibers since 2000 has been the rise of polyester BCF. Filament production has always been cheaper than staple production, but there were dye uniformity problems in BCF that held back its wide-scale adoption. New technologies emerging around 2004 solved those problems, and polyester BCF immediately began to take share, undercutting the lower end of the nylon 6 market. The wave was so strong that in 2010 Bob Shaw, co-founder of Shaw Industries, created a new carpet mill, Engineered Floors, to ride (and drive) that wave and its convergence with the wave in housing toward multifamily markets. It took the firm less than a decade to cross the billion-dollar mark in annual revenues.

The three leading residential carpet mills in the early years of the new millennium-Shaw, Mohawk and the now-defunct Beaulieu-also quickly pivoted to PET BCF fiber, leaning heavily on PET content from recycled bottles. It should be noted that the mills were already making staple carpet out of 100% recycled PET, and the BCF fibers initially had to reset at much lower recycled contents while they figured out how to increase recycled volumes while maintaining fiber quality.

Today, Mohawk is the largest consumer of recycled drink bottles in the U.S. And Shaw, through its Clear Path Recycling partnership with DAK Americas, processes bottles into PET flake, which it uses for carpet fiber extrusion.

While the bulk of polyester carpet is at the lower end of the market, all of that is PET, and meanwhile, there's a different polyester, PTT or triexta, that has carved out a strong niche in the residential market in the form of Mohawk's SmartStrand fiber. DuPont developed the fiber, which Mohawk started selling as SmartStrand in 2005, and within a couple of years, DuPont had worked with Tate & Lyle to replace 37% of the polymer with bio-based content.

By all accounts, SmartStrand has been a successful fiber system, largely in the midrange, but also at higher price points. SmartStrand Silk is its soft version.

In the residential market, polyester (both PET and PTT) accounts for about 75% of all carpet by volume, and it's still growing. Even Stainmaster, whose brand has always been associated with its own nylon 6,6, got into the PET game around 2010 with Stainmaster Essentials for Lowe's. The outsourced fiber must meet strict construction characteristics to achieve the performance Invista required for its brand, i.e. 5.75 turns per square inch, according to an industry source who is not with Invista. (Stainmaster has also expanded with a Mohawk partnership for triexta and nylon 6 carpet at Lowe's through its Stainmaster Signature program.)

The movement en masse to PET has been a source of frustration for many in the flooring retail community, particularly those that have focused their carpet business on delivering quality. The fear is that without quality materials to elevate the product, there's little to stop much of the market from sliding toward commoditization. For instance, Jeff Macco, CEO of Macco's Floor Covering Center, says, "I don't think you're going to get an argument from anybody that the better-quality nylons will outperform polyesters. … The finish of a nice, clean nylon carpet-in our opinion, we think it looks better and I think it feels better [than PET carpet]," though he adds that certain producers have definitely improved the quality of their PET offerings. "We try not to play in the race-to-the-bottom, how-cheap-can-we-get-it market. For us there's never been value there."

One of the main concerns is that PET is not just cheaper than nylon but also does not have the resilience. To attain the natural resilience of nylon, PET needs a lot of twisting. PET has a higher specific gravity than nylon (in other words, it's denser), and when added to the twisting, it means that a lot more weight of product is needed to achieve equivalent performance. Also, PET is more oleophilic than nylon, though not as much as polypropylene. Nevertheless, it crushes more easily than nylon, which is one of the reasons why it has not gained traction in the commercial market, where durability requirements are higher than in residential.

In addition, the system for wet-dyeing (as opposed to solution dyeing) PET differs from nylon. Polyester fiber has no acid dye receptors, so it can't stain from household accidents with wine, ketchup and the like. Instead, it is colored using a dispersed dye system, where the fiber is heated and the dye mechanically lodges in the fiber. However, the bulk of the polyester fiber used in carpet these days is solution-dyed.

NYLON: THE PERFORMANCE FIBER
Experts agree that nylon is the best-performing fiber, with nylon 6,6 a notch above nylon 6 in overall performance. Laura Murphy, research director in fiber for Wood Mackenzie, a consulting firm focused on the petrochemical chain and the fibers and films deriving from it, points out that nylon 6,6 has better quality properties for a long-life carpet versus the other polymers. And she adds, "Performance-wise, nylon 6,6 has in general better crush resistance than nylon 6." Due to their chemical structure, nylons offer better flex fatigue, resiliency and elongation than the other face fibers. Nylon 6,6 is the costliest carpet fiber, followed by nylon 6, polyester and polypropylene.

Because of its wearability and resilience, nylon performs a lot better in high traffic areas, like in much of the commercial market. As Franco Rossi, president of Aquafil USA, points out, "because the fiber holds its form, it doesn't ugly out or show wear patterns as fast as a PET carpet."

In the residential market, the bulk of nylon carpet is extruded by the mills themselves, and that's all nylon 6. Nylon 6,6 mostly comes through Invista's Stainmaster brand, both to independent flooring dealers and home centers like Lowe's. Residential nylon is increasingly solution-dyed, while commercial carpet has been dominated by solution-dyed carpet for years.

While there's still inhouse nylon 6 extrusion on the commercial side, the economics of self-extrusion lend themselves to the larger volumes and fewer SKUs in the residential market. Commercial production is more project-driven, so the runs are shorter.

Several independent fiber producers have strong positions in the commercial market. Most prominent is Invista, through its Antron nylon 6,6 brands. Another major producer is Aquafil, an Italian firm whose Econyl nylon 6 is 100% recycled. In the mix is Universal Fibers, which makes mostly nylon 6 and nylon 6,6 for the U.S. market. Ascend makes nylon 6,6 for the commercial market under the Ultron brand, and also sells unbranded nylon to the residential market. There's also Zeftron, a nylon 6 producer that is part of Shaw Industries. And Pharr Yarns, which was acquired by Mannington in the early part of this year, produces a range of fiber types, including specialty fibers, and it extrudes PET and nylon 6. The bulk of its fiber production goes to Mannington on the commercial side and Phenix on the residential side, but it also has substantial outside sales.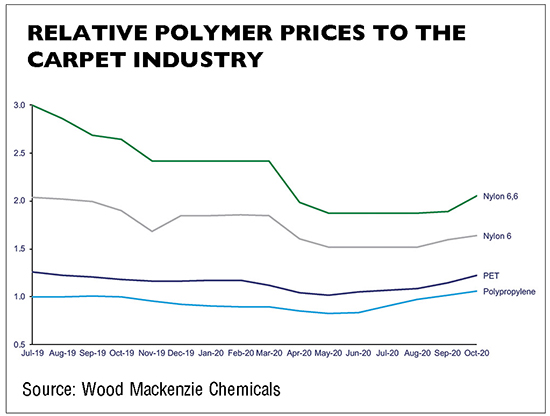 INDEPENDENT PRODUCER HIGHLIGHTS
Aquafil has been one of the highest profile fiber suppliers in recent years, due to its investments in recycling for its Econyl nylon 6 program. The firm harvests nylon from used fishing nets and reclaimed carpet, depolymerizes it at its Slovenian facility and turns it into Econyl fiber. The firm has also had huge success gaining traction among prominent apparel brands. Nylon only has a small share of the apparel market, which is dominated by PET and cotton, but it's a higher value material (see box to the left). Econyl is used in brands ranging from Gucci, Prada and Burberry to Adidas, Patagonia and Tretorn.

At the beginning of this year, Aquafil partnered with Genomatica to produce the first ton of bio-nylon 6 precursor, and late last month Genomatica announced that after the successful trial, it will scale up 50-fold for Aquafil to commercially produce 100% renewable nylon 6. At least to start with, the first-of-its-kind bio-nylon 6 will largely be used by prominent consumer brands.

The firm also made a major announcement about its recycling last month. Aquafil has two recycling facilities in the U.S., one in Phoenix, Arizona and another near Sacramento, California that has just started up. The state-of-the-art facilities process nylon 6 carpet, sending the clean material to Slovenia for depolymerization. But the problem has been supply. With so much PET saturating the reclamation market, Aquafil has had a hard time securing a steady and sufficient volume of nylon 6 carpet.

To help solve this problem, Aquafil has acquired Planet Recycling, a Phoenix, Arizona-based firm that has been recycling residential and commercial carpet for over 35 years. Planet Recycling currently reclaims over 10,000 tons of carpet and carpet pad from the landfills in San Diego County and Phoenix Valley, and that waste stream will be used to supply Aquafil with a stable quantity of nylon 6 waste to be turned into Econyl fiber.

Invista reports that during the early months of the pandemic, it decided to sustain its Stainmaster marketing campaigns, and it took the opportunity to reemphasize its brand identity. Stainmaster has huge brand recognition thanks to early efforts decades ago that provided the brand with remarkable momentum. It has far more brand recognition than not only every other fiber firm but also every carpet mill.

Thanks to efforts in the last couple of years to become more nimble and flexible to demand, it weathered the slowdown with relative ease and continued to manufacture product, which positioned it well for the surge in demand over the summer months.

In recent years, the firm has expanded its Stainmaster brand from proprietary nylon 6,6 to include PET, PTT, nylon 6 and even hard surface flooring. On the fiber side, its partnership with Lowe's includes Stainmaster Essentials PET and Stainmaster Signature PTT and nylon 6, along with its widely available Stainmaster PetProtect nylon 6,6 products. Some retailers have expressed disappointment in this redefining of the Stainmaster brand, which they feel diminishes the brand value promise inherent in the nylon 6,6 program. However, Invista is quick to point out that it created tufting protocols and standards to help ensure that all of the Stainmaster products reflect higher quality and performance.

Universal Fibers, which is headquartered in Bristol, Virginia, has spent much of the last 14 years focusing on global expansion, opening facilities in Thailand in 2006, China in 2008, the U.K. in 2013 and Poland just last year. The facilities in Poland and China both include full fiber extrusion capabilities.

Universal's green fiber, Thrive, has been expanded since it was introduced four years ago to a family of sustainable products, including Thrive Auto for the automotive market, and Thrive Bio, created through annually renewable non-food-based plants-up to 40% by weight. Coming soon is Thrive RePet, its green PET.

Early in the pandemic, Zeftron developed educational content about the health and safety benefits of carpet, including its role in improving air quality and also how it can be used in wayfinding to help people navigate with social distancing in commercial spaces.

The firm reports that it has seen success with its QuickShip program, which can deliver any of its 125 solution-dyed products two to three days after receiving the order. It also has a Small Quantity Program, which enables mills to order small yarn poundage quickly and easily, in increments starting at a single 200-pound package.
NYLON AS TEXTILE
While nylon has a fairly small share of the apparel market, it's often the textile of choice for high-performance uses, like outdoor wear, due to its greater abrasion resistance and performance attributes. One of the first uses of nylon after its invention in the 1930s was in the production of parachutes, tarps, tents and ropes during World War II, and it was first used as carpet fiber in 1947.

According to NorwayGeographical.com, which brings together outdoor enthusiasts to evaluate and review outdoor apparel, nylon is a preferred textile because of its durability, low moisture absorption and resistance to "damage from oils and several other chemicals." Also, nylon fiber is softer than most performance materials, making it a comfortable alternative.

Polyester also has some advantages, including its hydrophobic qualities, which inhibit moisture absorption and enhance insulation.

Copyright 2020 Floor Focus

Related Topics:Mannington Mills, Beaulieu International Group, Shaw Industries Group, Inc., Mohawk Industries, Engineered Floors, LLC