Annual Report 2019: Raw materials, transportation and tariffs drove growth - May 2019
Introduction by Darius Helm, Statistics by Market Insights LLC
In 2018, the flooring industry faced pressures both internal and external, impacting sales as well as margins. The housing market was soft, increases in raw material and transportation costs put pressure on margins, and the tariff issue triggered a wave of price-hedging purchases. For the year, reflecting flooring sold by producers, the industry grew by 5.1% to $23.68 billion at mill sell price.

However, organic growth was lower. In the second half of last year the market was thrown into turmoil with the announcement and then enactment of the 10% tariff on goods from China and the threat of the increase to 25% at the beginning of this year. The tariffs impact most flooring categories, but none more than the rigid LVT category, which is almost entirely supplied by Chinese producers. From late summer through the end of the year, huge volumes of mostly SPC flooring were imported from China. Resilient imports in the fourth quarter of 2018 were $1.29 billion, up over 75% from Q4 2017, according to Market Insights. For the year, resilient imports were up nearly 44%.

Most purveyors of rigid LVT entered 2019 with overflowing warehouses. Resilient imports Q1 2019 fell over 6% from Q1 2018, while organic growth would probably have pushed it into double-digit gains. The market should stabilize through the spring, but it's likely that the slowdown in imports will end up pulling down industry growth numbers for 2019.

A big story for 2018 was margins. Increases in polymer costs impacted many flooring categories-most carpet mills enacted three price increases over the course of the year-and rising crude oil costs affected everyone from suppliers all the way to end users. Transportation was doubly hit, from both fuel costs and restrictions on long-haul trucking, which caused delays and higher rates for transport.

However, in October crude oil prices slid back down, then started climbing at the beginning of the year. Now they're back to where they were about a year ago. Most polymer prices also seem to be stabilizing. And manufacturers report that conditions this year have improved.

There were also some notable manufacturer developments last year. Mohawk's shares hit an all time high in December 2017 of about $284 and by December 2018 had retreated all the way to $113, its lowest point since April 2013. This year so far has been middling, with marginal gains. The firm did complete two sizeable acquisitions last year, closing on Godfrey Hirst in the summer and purchasing Brazil's Eliane, a ceramic tile producer, in November. Net sales for the year were up about 5%.

Also, Armstrong, the long-time leader in the hardwood category, sold its wood business to a private equity firm at the end of the year. The hardwood category is facing something akin to an existential crisis, with its look-the hardwood visual-driving sales in just about every category except hardwood itself, most notably in the category Armstrong decided to hang on to, resilient flooring.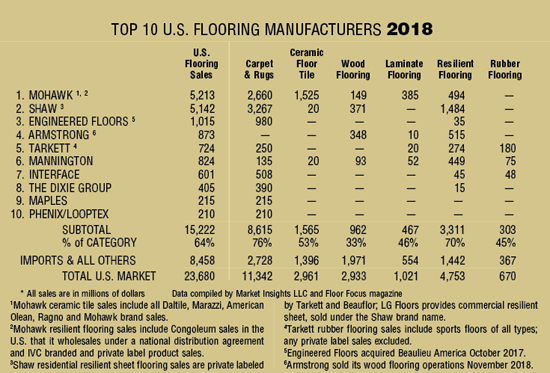 THE 2018 HOUSING MARKET
Another impact on last year's results, on the residential side, was the underperforming housing market. Total existing home sales fell 3.1% last year, from 5.51 million units in 2017, the strongest pace in a decade, down to 5.34 million units. That includes single-family homes, townhomes, condos and co-ops. Rising mortgages contributed, as did continuing low inventory levels. According to the National Association of Realtors (NAR), median home prices rose 4.8% to $259,100, the slowest rate of increase since 2012 but also the highest median price ever.

While growth in the multifamily housing market is slower and less steady, that market has grown so much in the last decade that it has become a much bigger channel for flooring revenues. Flooring for apartment turns has become the bread and butter for many flooring companies-Engineered Floors' early rapid ascent was based on riding that wave. Vacancy rates have been more or less steady at about 4.8%. And multifamily starts have moved around a lot but have started trending down.

New home sales were up last year, rising 0.65% to 617,000 units. And while the most populated part of the market, homes from $250,000 to $750,000 were up about 1%, homes from $750,000 to $1 million were down 6%, and those above $1 million were down 11%.

This year so far, market conditions seem improved. For one thing, at the end of last year mortgage rates reversed course and started inching back down, and indications are that the Fed, following the rate bump in December, won't be raising prime rates any time soon. Robust first quarter GDP growth of 3.2% also bodes well.

New home sales in March were up 4.5% over February's revised numbers and 3% above March 2018 to a seasonally adjusted annual rate of 692,000. Wage growth coupled with falling mortgage rates and slowing inflation of house prices has helped drive sales. Home sales were up the most in the Midwest at 17.6%, followed by the West at 6.7% and the South at 3.6%, but sales fell 22.2% in the Northeast.

Existing home sales continue to slide. March sales fell 4.9% from February's notably strong pace to a seasonally adjusted annual rate of 5.21 million homes, and that's down 5.4% from March 2018. Condo and co-op sales fell at a faster rate than single-family homes. And inventory increased to 1.68 million units, a 3.9 month supply.

FLOORING CATEGORY UPDATE
Last year, once again, the biggest gains came in resilient flooring, led by LVT and rigid LVT. Driven more than anything by SPC imports, the resilient category grew by 26.4%. Sales of WPC flooring also posted major gains, and commercial flexible LVT business was strong. Residential flexible LVT made gains, but its growth has been slowed by share shift to rigid LVT.

Overall, domestic resilient production was down a few points. Other than Shaw, there was no domestic manufacturing of rigid LVT last year. While domestic LVT production was up, domestic VCT was down over 10% last year and domestic sheet goods were down even more-over 15%. Sheet vinyl continues to lose ground in the residential market, despite elevated styling. And commercial sheet, which is a much smaller business, is steadier, in part because of its unmatched performance attributes in the healthcare market.

Last year, resilient marketshare grew to 20.1% from 16.7% in 2017. As stated above, some of this growth was not organic, driven by a flurry of buying in anticipation of the tariffs. It's unlikely that the resilient business will attain similar growth this year or, for that matter, any time in the future. Nevertheless, the sky's the limit for rigid LVT products. Mannington has started making them in Calhoun, Georgia. Nox is poised to start in Ohio. Mohawk intends to offer SolidTech SPC from its own facilities late this year. And others are sure to follow.

The biggest sector is still carpet, though sales and marketshare slipped again this year from 38.0% to 36.4%. Total carpet sales were down about half a point in dollars to $8.625 billion, and down even more in units, with the residential market slightly above the commercial market. On the commercial side, carpet tile is continuing to take share from broadloom, but at a decreasing rate, because the low-hanging fruit has long since been picked. But even the final bastions of broadloom, like the hospitality market, have now been breached.

On the residential side, broadloom is losing share to hard surface flooring. In homes, carpet is mostly confined to bedrooms and other retreats. Carpet mills are leveraging a range of technologies to offer carpet with more styling and better performance to lift up price points, particularly this year. The market has responded with enthusiasm, but ultimately it's the numbers that will tell the tale.

The ceramic flooring category was down a hair last year to $2.961 billion. And while marketshare slipped from 13.2% to 12.5%, it outpaced hardwood enough to overtake it in marketshare.
Last year, ceramic flooring imports grew by 3% to $1.822 billion, while mill shipments fell 4.4% to $1.178 billion. Imports last year accounted for 61.5% of consumption, compared to 59.7% in 2017. The last few years have seen a lot of investment in domestic production, and it looks like the market is still adjusting to the new landscape. For now, there's overcapacity in the market, and some domestic producers have reduced production volumes.

The hardwood category suffered last year, mostly at the hands of rigid LVT. Domestic hardwood consumption fell 4.1%. Imports, which make up nearly 53% of consumption, were up over 9%, while domestic production fell by double digits.

The lower end of the engineered hardwood business has suffered the most, losing ground largely to entry level SPC. But the solid hardwood business is off too. Its traditional markets are shrinking, and engineered hardwood is proving to have too many advantages. For one, it's more buffered from lumber prices because only the top veneer is premium wood. That's a big advantage when everyone is demanding white oak and prices are rising. Also, hardwood trends toward longer and wider boards simply cannot be accommodated by solid hardwood, which will warp in those larger formats.

Laminates were also down 4.1%, ending the year with revenues of $1.02 billion. This year, Floor Focus' report only has the top four domestic producers, because Shaw has stopped producing. Laminates are also suffering at the hands of rigid LVT, mostly because of rigid LVT's waterproof story. LVT can survive being soaked and submerged in water, but laminate's HDF core can't handle it. The laminate industry is currently heavily focused on making its products more water resistant. One advantage the category does have over rigid LVT in general is better scratch and dent resistance.

Also showing growth last year was the rug category. It was up 9.8%, driven by strong imports. Domestic production was down. Going forward, the prospects are good for rugs, since they're needed to go on top of all that hard surface flooring.

However, in addition to traditional handmade and machine-made rugs, there has been a sharp uptick in custom-cut rugs made from broadloom. Commercial designers have always favored custom-cut rugs both because they can design them to fit the space and also because it allows them to continue the carpet design in different areas. On the residential side, it's mostly about the custom size. It's a pricier solution than the lower end of the machine-made rug market, but it's a lot cheaper than most handmades.

For the complete Annual Report, see the May 2019 issue of Floor Focus Magazine.
Copyright 2019 Floor Focus

Related Topics:Shaw Industries Group, Inc., Armstrong Flooring, Engineered Floors, LLC, Mohawk Industries, Mannington Mills