Marazzi USA
« Previous Page

A Resource Directory to put you in touch with some of the most notable floor covering producers in North America.
| | | |
| --- | --- | --- |
| Marazzi USA | | Website |
| 359 Clay Road | Sunnyvale, TX 75182 | |
| Phone: 972-226-0110 | Fax: 972-226-2263 | Email |
---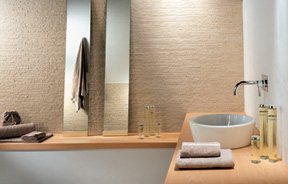 Marazzi USA plays a key role within the strong global presence of Marazzi Group by decisively meeting the tile needs of the North American market. Manufacture and sourcing of a vast array of products – porcelains, glazed ceramics, glass mosaics, natural stones, metallics – brings a total tile package that addresses aesthetic and performance requirements of designers, architects and homeowners. Always leading while learning; always integrating the best approaches in technology, communication and management; always partnering with artists, technicians, entrepreneurs, forward-thinking individuals and companies of various backgrounds, Marazzi Group is a multinational, multicultural, worldwide enterprise that leads the world in design, manufacture and sale of ceramic tiles as well as other flooring materials, sanitary wares and bathroom furnishings still based on its visionary and systematic strategy. The Group operates through five (5) Business Units (Italy, USA, Russia, Spain, and France), 20 manufacturing plants and 5,800 employees worldwide. The Group's sales network reaches over 14,500 sales outlets in 130 markets worldwide.