Armstrong Flooring Design Council Hosts Designers From Across North America
Lancaster, PA, March 29, 2019--At Armstrong Flooring's recent Design Council, held in Palm Springs, California, during Modernism Week, nine interior designers from across North America gathered to share their perspectives with Armstrong Flooring's design team and commercial marketing group.
Armstrong Flooring principal designer Razieh Council presented commercial design trends and the vision for what's next in flooring. "The current trend in biophilic design will naturally advance, with designers exploring humans' footprint on nature, as well as how weather and natural forces influence the materials we've manufactured," she said.
Principal designer Jeanette McCuaig shared a kaleidoscope of color trends, color influencers and pleasing palettes for a variety of commercial spaces. "As biophilic palettes continue to bloom, and wellness in hospitals, schools and the workplace continues as a key focus, colors influenced by nature will flourish," she said. "Design is becoming more flexible and curved, and colors will also be influenced by organic environments. Color will mimic nature and flow with more dynamic movement."
Each of the nine designers presented a collage of material that inspires their work and a palette of their favorite colors, along with their forecast of where design trends are heading.
Fashion and textile designer Candice Held also participated in the Design Council event.
Design Council members concluded the event with a tour of local Palm Springs architecture, including the mid-century modern design of William Holden's Deepwell residence.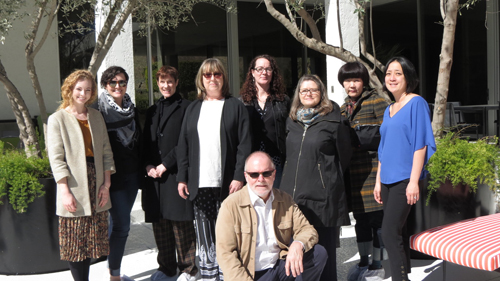 Photo:Members of Armstrong Flooring's Design Council are Kristin Mayhew, Paterson Design; Sarah Finis, NAC Architecture; Laurence Delgrange, STR Partners; Whitney Tong, VLK Architects; Beth Hiltonen, Gresham Smith; Gabrielle Rossit, Montgomery Sisam Architects; Ritsuko Shibutani, SmithGroup; Suzanne Sasaki-Hartstein, Rainforth Grau Architects; and David Kimzey, NK Architects

Related Topics:Armstrong Flooring