Senior Living: Case Studies: Senior living projects from Shaw Contract, Mohawk Group Hospitality, Tarkett and Forbo - March 2023
According to the Centers for Disease Control and Prevention, in the U.S. there are currently nearly 820,000 residents living in about 31,000 assisted living facilities. And with Baby Boomers racing toward retirement and seniors living longer than ever, the need for more senior living facilities is rising rapidly-by some accounts, a million additional beds will be needed by 2040.

As the senior living market develops and the needs of the community are better understood, interior elements like flooring are increasingly designed to meet the specific needs of senior living, in terms of both performance and design.

SHAW CONTRACT
Project: Masonic Pathways, Alma, Michigan
Architect: Hobbs+Black Architects
Products: Quiet Cover LVT in Cottonwood, Cut LVT in Mushroom, Batik broadloom in Classic
Photography: John D'Angelo

Masonic Pathways engaged with Hobbs+Black Architects to renovate its skilled nursing building. This renovation included the redesign of dining spaces, activity rooms, the lobby and staff offices to improve circulation and access for residents.

In the dining area, Shaw Contract's Cut LVT is flanked by Quiet Cover LVT in Cottonwood to designate a space for the dining table with seamless transitions. And Batik broadloom provides a residential rug feel in the activity area.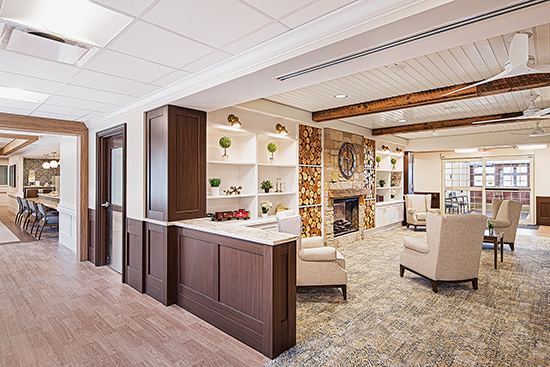 MOHAWK GROUP HOSPITALITY
Project: Sinai Residences Boca Raton, Boca Raton, Florida
Interior designer: StudioSix5
Products: Custom PDI (precision dye injection) broadloom
Photography: Lowry Productions

Sinai Residences was designed as a sophisticated resort-style community with luxurious amenities and modern programming for residents. The project, installed in the spring of 2022, was new construction of a building at an existing community. The expansion comprised 227,408 square feet of space for independent living, assisted living and memory care.

The community needed to be luxurious and sophisticated in order to fit the residents of the area. A major focus was on keeping everything light, bright and airy and bringing the outdoors in. Calming finishes and designs to promote wellness were also top of mind.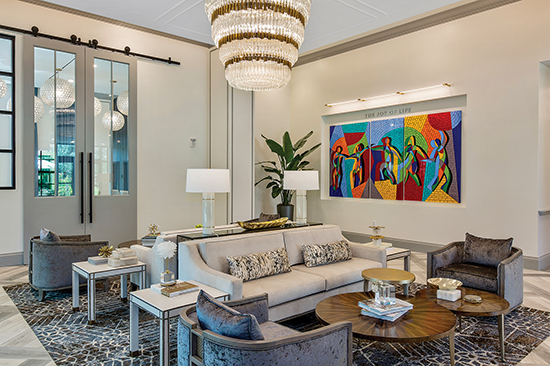 TARKETT
Project: The Glenn Minnetonka, Minnetonka, Minnesota
Architect: Westwood Interior Designs
Property Management Firm: Renovation Systems
Products: Garden Walk in carpet tile and 6' Powerbond

The Glenn Minnetonka offers adults ages 62+ varying levels of care, including independent living, assisted living and memory care. The building, constructed in 2011, was in need of a design refresh in common areas, which was completed in November 2022.

According to FGI 2022 Guidelines for Residential Health, research suggests that flooring with a medium-sized pattern (1" to 6" wide) was associated with more falls than floors with no pattern, a small pattern (less than 1" wide), or a large pattern (wider than 6"). The Garden Walk pattern and color contrast were designed based on this research. Corridors on each level were designed with a different Garden Walk pattern to assist residents with orientation and wayfinding.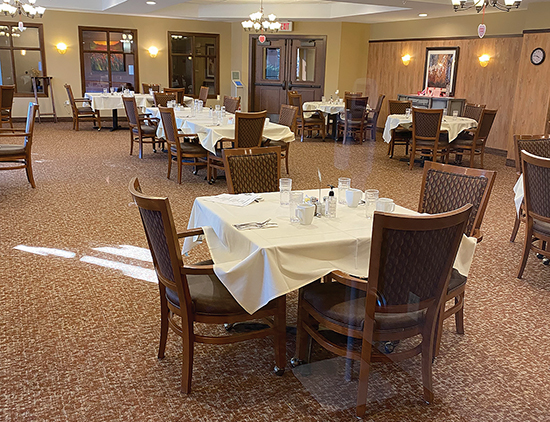 FORBO
Project: MeSun Health Services Health & Rehabilitation Center, Lawrenceville, Georgia
Architect: Stegenga + Partners
Products: Flotex flocked-nylon tiles; Eternal sheet vinyl
Photography: David Fisher, JandDimages

MeSun Health Services' campus includes a 100-bed, three-level skilled nursing and rehabilitation center with grand public areas, clinical, support and administrative spaces, and activity spaces across two floors. The original build was completed in 2020, and another building is planned.

Stegenga + Partners chose Flotex and Eternal flooring for MeSun's skilled nursing and rehabilitation center, creating a highly functional facility that will maintain its looks and performance for years to come.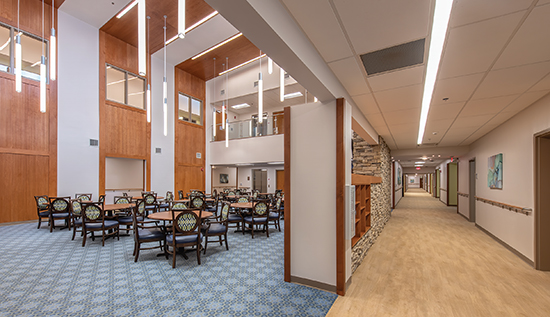 Copyright 2023 Floor Focus

Related Topics:Shaw Industries Group, Inc., Tarkett, Mohawk Industries