Roppe Celebrates 60 Years: A family picnic markes the milestone - Aug/Sep 2015
By Calista Sprague
R oppe celebrated its 60th anniversary on July 18, not with bigwigs in black tie sipping champagne, but with executives, employees, retirees and their families at an all-American picnic, replete with hamburgers, cotton candy and pony rides. The celebration reflected the company's long history of building "a family business with family values and an emphasis on teamwork."

Throughout the sunny Saturday, 725 attendees cheerfully streamed onto the property at Ole Zim's Wagon Shed, a rustic event hall in Gibsonburg, Ohio, to mark the occasion. After a big buffet lunch, the adults played Bingo—called by vice president of sales and marketing Bart Rogers—and entered raffles while the kids bounced on inflatables and lined up for face painting and caricatures.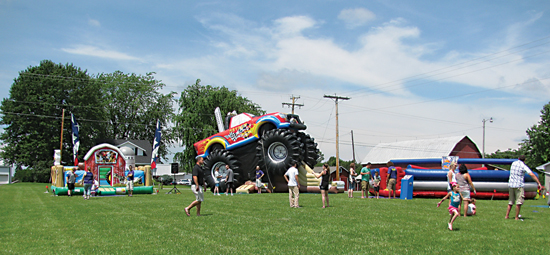 Sixty years ago, Thony Roppe founded the Roppe Rubber Corporation, a rubber cove base manufacturing plant, in Fostoria, Ohio. Launching the enterprise with his life savings and only seven employees, he built the company to 26 employees within the first year.

Throughout the late 1950s and 1960s, the company continued to grow, and in 1972, during the months preceding his death, Roppe oversaw a facilities expansion that would help propel the company toward future development.

Current owner and CEO Donald Miller was one of Roppe's early employees, starting with the firm in 1958, just three years after its inception. After Roppe's passing, Miller was instrumental in leading the company forward, building on the foundation that Roppe had left behind.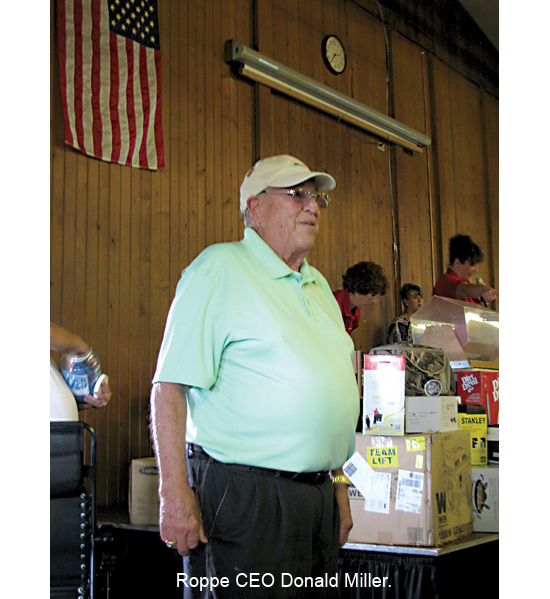 During the late 1970s through the 1990s, the business expanded exponentially. In 1979, the company built a new mixing facility, doubling its production capacity. Then in 1985 Roppe Rubber Corporation purchased American Thermoplastic Extrusion Company (ATECO), in Hialeah, Florida and began producing vinyl flooring products. Just four years later, Roppe purchased a 44,000-square-foot building to house a tool and die shop, the molded product division sales staff and Seneca Re-Ads Industries, an industry partner that provides sampling services and manufactures vinyl corners.

An 85,000-square-foot distribution center was built on 60 acres in Fostoria just a year later to house RHC Logistics Corporation, the company's truck fleet, warehouse and shipping operations, and another 100,000 square feet of warehouse space was added in 2000.

Roppe Rubber Corporation eventually shortened its name to Roppe Corporation to reflect the wider array of product offerings, and in 1999 the Roppe Holding Company was formed to manage the growing list of holdings, which by then included Roppe Corporation, ATECO, RHC Logistics Corporation, hardwood molding maker Seneca Millwork and radio station group TCB Holdings. Two years later, Flexco Corporation, a commercial flooring producer in Tuscumbia, Alabama, was acquired and added to the Roppe group as well.

Combined, the companies employ more than 750 people at offices and facilities in Ohio, Alabama and Florida. They produce rubber and vinyl flooring, ESD rubber and vinyl tile, wall base, stair treads and a wide assortment of rubber and vinyl accessories, as well as hardwood transitions and stair components.

Many employees have logged more than 20 years with the company, and one woman at the picnic said she's been there for 42 years. Work is often a family affair with two or three generations on the payroll. That kind of longevity and family referrals speaks volumes about employee satisfaction.

Regardless of tenure, employees talk endlessly of Miller's generosity. Stories of gifts to the community abound, such as paying to keep the local pool open or to put on Independence Day fireworks when the town couldn't find funding. When Seneca Millworks, a family owned manufacturing plant, threatened to close, Miller bought it, saving 35 jobs and eventually adding more than 60 others.

To help employees afford college tuition for their children, Roppe Holding Company gives away approximately $30,000 in scholarships each year. Jim Reiter has worked as a laborer at Roppe for 31 years, and both of his children, Mason and Chloe, have participated in the scholarship program. Recipients volunteer at two Roppe events, like the annual picnic, to fulfill requirements for a $1,000 scholarship. Mason graduated from Xavier University in Cincinnati in 2014 after receiving four Roppe scholarships, and Chloe will begin her freshman year in the fall on her first scholarship.

Toward the end of the fun-filled day, everyone packed into the event hall to find out who won the raffle and numerous door prizes. Miller briefly addressed the crowd and then signaled for two Fostoria police officers to come forward. They pushed three large foot trunks that they guarded with a 1930s era machine gun, eliciting grins and anticipation from the crowd.

Once the trunks were unlocked, each employee and retiree lined up to receive a small box, each holding a crisp $100 bill and a commemorative Roppe pin. The day ended with an announcement that the raffle had raised thousands of dollars for the scholarship fund.
Copyright 2015 Floor Focus

Related Topics:Roppe