Redi Carpet Celebrates 30 Years
By Brian Hamilton
Redi Carpet, which began as a single store in the Houston, Texas suburb of Stafford in 1981, is now the largest multi-family flooring contractor in the country in the fastest growing sector of the floorcovering industry. The private company, whose majority owner is chairman and founder Bruce Caress, is marking its 30th anniversary this year and it's as determined as ever to keep on growing. Redi Carpet focuses on the apartment replacement market, which makes up about 90% of its business.

Redi Carpet, a FloorExpo member, has long had a commitment to expansion. Early last month it bought the Charlotte, North Carolina operations of Solar Contract Carpet. It was the third purchase in 12 months, coming on the heels of the acquisition of Seagull Floors of Atlanta, which also had an office in Charlotte, along with three others in the Southeast, and the acquisition of Select Floorcoverings of Birmingham, Alabama, which also had a location in Atlanta. The Solar acquisition will help the firm become perhaps the dominant player in the growing Charlotte-area market, just as the Seagull and Select purchases—which now operate as Seagull Select—helped it gain share in Atlanta. Today, Redi Carpet has 16 offices in eight states, stretching from Virginia through the Southeast and west to Arizona and Colorado.

"We don't expand for the sake of expansion, we're not interested in sales that aren't profitable" says CEO Greg Waleke. The firm jettisoned its commercial operation in the early 1990s because "we had $12 million in sales and no profits."

Redi Carpet also decided early on not to get heavily involved in new construction and focus instead on replacement. The firm could have grown far more rapidly than it did if it had taken the plunge into the Houston multi-family builder market, as apartments were springing up everywhere in the 1990s. But Redi Carpet considered that segment too boom-and-bust to create a solid foundation for the business.

"We preferred to build on re-lay because it would be there every day," Waleke says, likening pursuit of the building market to "building a house on sand." The company's goal is to open at least one new location every year, and Waleke says completing Redi Carpet's footprint in Virginia is a priority. "We're always looking to expand," Waleke says. "We're continually moving our five year plan." The one market Redi Carpet won't enter is California because Waleke's heard too many horror stories about doing business there.

Redi Carpet is affiliated with the MultiFamily Solutions network, a FloorExpo organization consisting of the top multi-family contractors throughout the country. The network was created to allow companies to better serve large customers that have properties outside their service areas.

"There's no revenue sharing," Waleke says. "The [MultiFamily Solutions members] add to our revenue by providing us an opportunity to differentiate ourselves from local flooring contractors."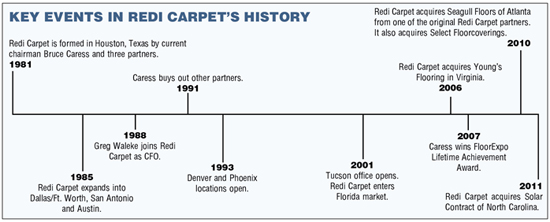 Other benefits of expansion
Waleke, who has been with Redi Carpet since 1988, when he was hired as the chief financial officer, notes that "expansion gives us a lot of other benefits."

Among them is the company's ability to offer career advancement opportunities for valued employees, which Waleke has seen in his own career at the company. "Growth is a requirement to keep those people," Waleke says.

Growth also gives the company more money to invest in tools, such as the latest technology. For example, last year the company developed Redi-Link, a customized measurement program. It hired a California firm to modify a measurement program it had already developed for the retail industry.

"There are a lot of programs out there but all of them were developed for the retail side," Waleke says. "Our customers are more interested in minimizing yardage, not seams." One of the firm's next projects will be a smartphone application so that carpet can be ordered on site.

Redi Carpet has also maintained its focus on growth throughout the economic downturn. While many other firms have cut employees, Redi Carpet has continually added account managers, because it takes about two years of knocking on doors before an account manager can become successful. Top account managers can make $200,000 per year. "We've got to get that two years out of the way somehow," Waleke says.

Next day installation
Redi Carpet was founded on the concept of offering next day installation, and that service has helped set it apart in the market. It has also created unusual challenges for the company, especially as it expands.

When Redi Carpet enters a new market, it can't afford to sell more than its installers can handle on a next-day basis because that could hurt the firm's reputation in its early stages. And it takes time to develop a good pool of subcontractor installers.

Overall, Redi Carpet uses 700 to 800 installers throughout the company, and they are all subcontractors. One location could deal with up to 80 crews. Redi Carpet has to depend on enough subs showing up each day to handle the workload, which is 70% carpet and cushion installation in generally unoccupied apartments. It pays a set rate for each different kind of job, and Redi Carpet doesn't offer any kind of installation training for fear of running afoul of tax laws regarding employees versus subcontractors. In most cities a quality control inspector randomly checks jobs.

Next-day installation can also create some long days in the warehouse, because no one leaves until all orders are cut and staged for the next day.

Four basic concepts for success
Redi Carpet operates on four guiding concepts. Perhaps the most important is "customer obsessiveness."

"We go out of our way to take care of our customers, and no one [at Redi Carpet] needs to be afraid to make a decision," if it's in the best interest of the customer. "We don't do finger pointing."

Redi Carpet also invests to make it as easy as possible for customers to do business with them. It has a number of online services, such as electronic ordering and invoicing. One of the most interesting and widely used applications is a prorate calculator to help customers recover the cost of floors damaged by tenants. A property manager can automatically print a bill for a tenant by entering information such as the cost of the carpet, when it was installed, and how long the tenant has been in the apartment.

Redi Carpet's website is filled with testimonials from satisfied customers.

Self discipline is the second tenet. "We work hard because we want to, not because we have to," Waleke says.

The third principle is, "We're nice to each other, our customers and our vendors. Screaming and shouting are not tolerated." Waleke says employees have been terminated for that kind of behavior.

Fourth is "Keep the workplace clean. It's a reflection of who we are and it provides a good work environment."

Redi Carpet's anniversary celebration continues this month. Seven different dinners are planned for employees across the company, and employees have had chances to win prizes for activities like designing t-shirts. In addition, Redi Carpet has sent thank you gifts to its customers.

The firm also sends one employee every year on an all-expenses-paid trip.

REDI CARPET SEES RECORD REVIEWS
Redi Carpet estimates that sales this year will approach $135 million and 2011 will be the best year in company history, partly due to recent acquisitions, but mostly because same store sales this year are up 23% as the multi-family sector has been perhaps the brightest spot in the floorcovering industry over the last year or two. Waleke also believes Redi Carpet has gained marketshare. About 90% of the firm's business is multi-family housing. Value broadloom carpet represents the biggest share of sales at about 70%, and the rest is mostly resilient, with growing customer interest in luxury vinyl tile, which has largely replaced laminate because of LVT's high quality visuals and its better acoustic characteristics. Redi Carpet also installs wood, tile and laminate, but they are a small part of the business.

Waleke says the average ticket is $750, and this year Redi Carpet will complete about 180,000 installations. Redi Carpet has 85 account managers to drum up all that business, and most sales are negotiated.

Redi Carpet doesn't do much advertising other than in apartment association magazines. Waleke says his business is driven almost entirely by relationship building with property managers and others, and that's largely why it takes about two years for new account managers to get up to speed. Relationships are so crucial, partly because property managers tend to talk to each other and they can provide valuable referals. Plus, they tend to move around to different properties, but they usually take their Redi Carpet relationship with them.
Copyright 2011 Floor Focus

Related Topics:Armstrong Flooring, Lumber Liquidators, Redi Carpet, Coverings