Project Spotlight: Bold flooring blends historic and modern aesthetics in renovation - Jan 2021
By John T. McGrath Jr.
Originally built in 1940, the Toledo Lucas County Main Library in Toledo, Ohio is an Art Deco masterpiece. Featuring a stunning façade, irreplaceable vitrolite glass panels, ornate original lighting fixtures and detailed historic murals, it has been enjoyed by area residents for decades.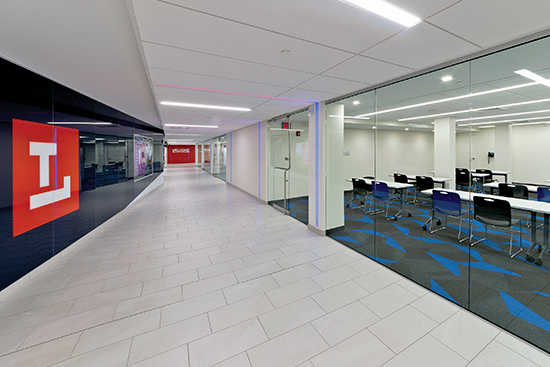 An entry hall features a walkway installed with Landmark Ceramics' Milestone collection in North White. For a meeting room along the corridor, Shaw Contract's Hexagon carpet tile in Electric Form was installed.

While the building was expanded over the years-including the addition of a large atrium that houses a gallery, café and gift shop-the sprawling facility required a number of physical and technological enhancements.

HBM Architects worked with Commercial Flooring of Toledo, an INSTALL (International Standards and Training Alliance) Warranty Contractor, to refresh public spaces with new flooring, while adding much needed modern technology, new learning and educational spaces, and enhanced accessibility.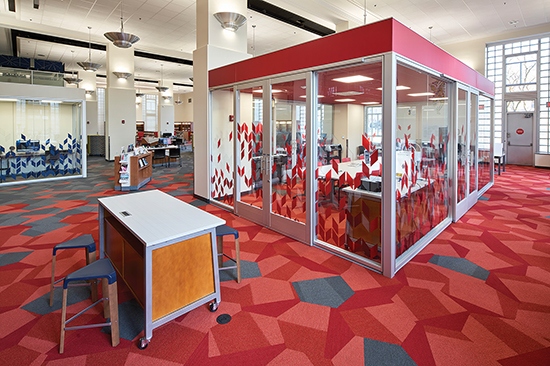 In meeting and study rooms, a bold pattern was created using carpet tile from Shaw Contract's Configure collection in three styles: Color Shift Hexagon in Social, Contract Hexagon in Social Dialogue, and Base Hexagon in Dialogue.

THE CITY'S ARCHITECTURAL ICON
The Main Library in the Toledo Lucas County Public Library system is one of the city's most recognizable buildings. Designed by architectural firm Hahn and Hayes, it originally opened its doors on September 5, 1940. The interior of the building was modeled after the Enoch Pratt Free Library in Baltimore, Maryland while the exterior was modeled on that of the Folger Shakespeare Library in Washington, D.C.

Known for its colorful vitrolite murals in the Central Court, the library also includes more than 200 works of original art by illustrators of children's literature. Established in 2004, the collection contains popular characters like Clifford the Big Red Dog, Fancy Nancy and authors like Dr. Seuss and many regional and award-winning artists. It is also a Federal Depository Library and a Patent-Trademark Depository Library.

With 270,000 members, the main library serves a large and diverse population. Over the years, the building has expanded to meet the needs of Toledo, including a large renovation and expansion in 2001 that saw the addition of the atrium.

The atrium acts as a connector between the historic areas and the main collection wing of the library. The light-filled space, which is distinctly modern and contemporary compared to the Central Court and other Art Deco portions of the building, has become a central gathering point.

While the atrium helped modernize the library and add much needed space, the rest of the library needed key enhancements-much needed technology, repositioning spaces and functions to make them more readily accessible, and adding new spaces that let members experience, learn and create.

According to HBM Architects, "When renovating a library for the 21st century, particularly a building as iconic as Toledo Main, it is important to first understand what is sacred to the library and its community in terms of both function and the physical components of the space." In order to maintain the architectural integrity of the building while adding a fresh new look and feel to the space, HBM Architects turned to Commercial Flooring of Toledo.

The installation team had worked on a variety of large-scale commercial projects and had the knowledge and experience of working in historic buildings. Together they set out on a year-long project that would completely transform the Main Library while preserving unique architectural details.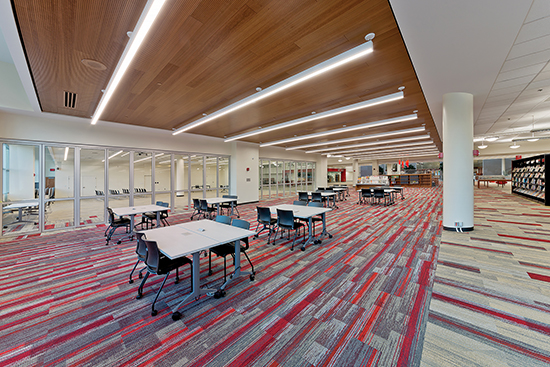 A meeting space in the library features carpet tile from Interface's Aerial collection in Berry, Iron/Berry and Taupe.

ART DECO MEETS CONTEMPORARY
The main challenge facing this renovation project was creating cohesive and inspiring spaces to reflect distinct characteristics of the original historic architecture. These existing characteristics were the basis for all decisions.

The lower-level entry from parking was reimagined with new lighting and back-painted glass. Neutral flooring is accented by color-changing LED strips traveling from the ceiling down walls at intervals. Red and blue branding colors accent the dark grey carpet of the meeting and business incubator spaces.

Carpet in technology-rich spaces evokes angular Art Deco details. Accents of cobalt, poppy and seafoam identify each space. In the main collection area, much of the existing carpeting remained.

A striking pathway in rich red, grey and gold draws patrons farther into the library, revealing the main collection, seating, meeting/study rooms and gift shop. Large-format grey porcelain tile flooring was used in the cafe to complement stone, and wood plank flooring in the gallery adds a warm accent.

The second-floor children's area is an interactive and immersive destination. Vitrolite glass panels on the walls were already colorful, so grey tones with accents of blues, greens and oranges were used to balance the overall space.

The flooring vendors included in the renovation were Shaw, Ardex Americas, Armstrong Flooring, Bostik, Chapco (H.B. Fuller), Tarkett's Tandus Centiva and Johnsonite, TEC (H.B. Fuller), Crossville, Interface, and Mohawk's American Olean, Daltile and Marazzi USA.

While creating a cohesive design was a challenge, the existing substrate throughout the library posed several dilemmas. "Many spaces in the library and atrium required a significant amount of floor prep," says Mike Rajner, president and CEO of Commercial Flooring of Toledo.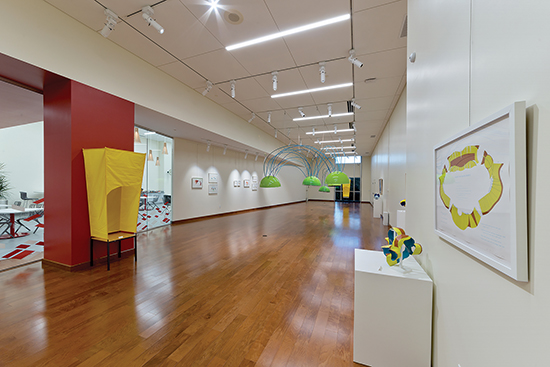 The gallery of the library was installed with engineered birch hardwood floors from Armstrong's Performance Plus collection in Cottage Suede.

"The Atrium and Winter Garden areas, which utilize large format tile, were also a major concern for us. There were no expansion points in these spaces, so we worked with the architect and contractor to identify key expansion and contraction points to prevent future flooring failure."

Additionally, while the library was closed to the public during renovation, it remained in operation with employees working full-time, processing book and material orders for the greater library system. Floorcovering installers worked around the library's needs to ensure that building occupants were safe during construction.

While roughly 50% of the library received new flooring in the project, many of the historic areas, offices and storage areas were left untouched. The team at Commercial Flooring of Toledo also patched the terrazzo tile in the main entrance after a security desk was repositioned to maintain visual integrity.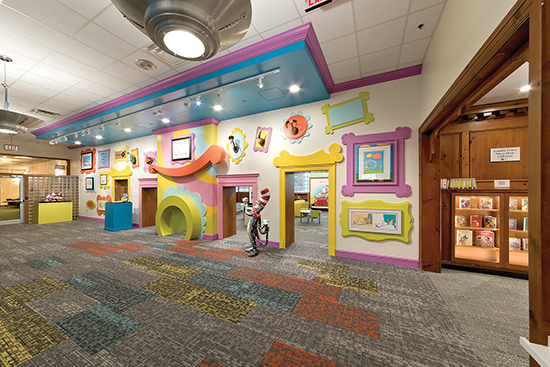 A space in the library highlights famed author Dr. Seuss, and, to reflect his whimsical spirit, Powerbond carpet from Tarkett's Edifice collection in Hancock, Hancock Sunset, Tower Lagoon and Tower Yellow add a splash of color.

DEFINING SPACES AND HISTORY
The Toledo Lucas County Main Library celebrated its grand reopening with a gala event on September 28, 2019-just one year shy of its 80th anniversary.

"The space is a beautiful blend of new and old," Rajner says. "The flooring is diverse, eclectic and bold–yet it all works together and helps define each space."

"Each architectural decision preserves the integrity and inclusivity of the Main Library," said Jason Kucsma, Toledo Lucas County Public Library director. "The Main Library has always been an absolute gem. This update honors our history while looking to the future."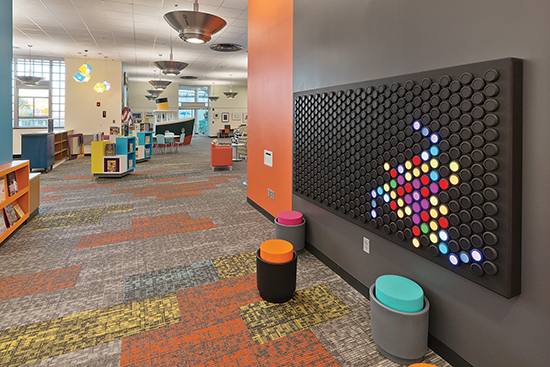 An area of the library that has an interactive wall for children features Tarkett's Edifice collection of Powerbond in a range of colorways.

Copyright 2021 Floor Focus

Related Topics:Bostik, Armstrong Flooring, Crossville, Tarkett, Marazzi USA, Daltile, American Olean, Mohawk Industries, Interface, Shaw Industries Group, Inc.