Looking Back Jack Ganley Retirement - Jan 2020
The "Lees carpet group" recently came together to celebrate Jack Ganley's retirement from Mannington. Pictured are (rear, left to right) Jack Ganley, Renee DeLack Hultin, Ralph Grogan, Tim Hiner, Jim McCallum, Larry Miller, Alex Jauregui; (front) George Henderson, Evonne McCallum.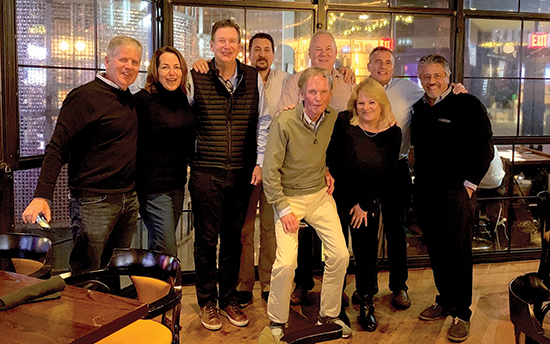 In its last decade as an independent business, Lees Carpet saw explosive growth-with revenue skyrocketing from $90 million in 1990 to $350 million in 2000-driven by a highly synergistic group of young individuals, many of whom went on to additional leadership roles in the flooring industry. The magic, according to Grogan, was three-fold.

First of all, the team was comprised of a highly creative group of individuals who genuinely liked each other. "When I look back on those ten years at Lees, I can say with honesty that they were the most fun decade of my career," recalls Grogan. "None of us knew each other beforehand, but George Henderson, who was president, brought the group together."

Besides their chemistry, Grogan believes that the group's lack of experience in the carpet world also played to its benefit. "We weren't afraid to change how things were done," Grogan recalls.

Thirdly, the company's product offering was strong. "We had two styles in particular-Pebble Weave and Sisal Craft-that were very innovative for the day," he notes. "They were different. In addition, we had a stain-resistant technology that Lees had developed and patented called Duracolor. We decided to put it on all the products. It was a bold move." In fact, Mohawk, which bought Lees in 2000, still uses Duracolor technology today.

Grogan attributes the success the team members have found in the balance of their careers as learning the Lees "formula" and applying it to the companies and teams under their purview. "You put a good group of innovative people together with good innovative products, and it works," he concludes.

CAREER PATHS
• Jack Ganley: VP of broadloom for Lees⇢president of Lees⇢president of Mannington Commercial
• Renee DeLack Hultin: general manager of Lees⇢EVP of global sales for Nano-Tex•SVP, Americas Region at Center for Creative Leadership
• Ralph Grogan: VP and general manager of Lees⇢COO of Tandus⇢president/CEO of Bentley Mills⇢CEO of Parterre
• Tim Hiner: product development for Lees⇢product development operations manager for Mannington Commercial⇢senior director commercial product solutions and development for Mohawk
• George Henderson: president of Lees⇢president of Burlington
• Jim McCallum: VP of operations for Lees⇢president of Lees⇢president of Mohawk Commercial⇢VP of global yarn development for Interface⇢president of flooring at Milliken
• Larry Miller: VP of human resources for Lees and Burlington Industries⇢VP of human resources for Vulcan Materials
• Alex Jauregui: EVP/general manager of Lees Carpets Squared⇢SVP international of Mohawk Carpet Group⇢VP of commercial sales for Mannington⇢svp/general manager carpet business and international development for Mannington

Copyright 2020 Floor Focus

Related Topics:Mannington Mills, Parterre Flooring Systems, Interface, Mohawk Industries