Industry Barometer-Commercial interiors: Changes and challenges in the commercial built environment–Feb 2020
By Mark Nestler
The commercial interior landscape is undergoing rapid change, driven by long-term trends, generational influences and recent developments in the industry. These changes impact all participants in the commercial built environment, including manufacturers, contractors, specifiers and end-users. Succeeding in this environment requires both an understanding of these changes and the development of agile and responsive business models that can keep pace with the market's ongoing shifting demands.

Several specific challenges are prompting significant changes throughout the commercial interiors industry, particularly in its largest market segment, workplace/office. These challenges relate to low demand for commercial space absorption, changes in the utilization of products, and structural changes to the commercial purchasing process. Change is certainly not a new phenomenon; successful companies in the space regularly adjust their go-to-market strategies according to shifting conditions, but lately the pace of change has been remarkable, making it harder than ever to deliver on what the market wants.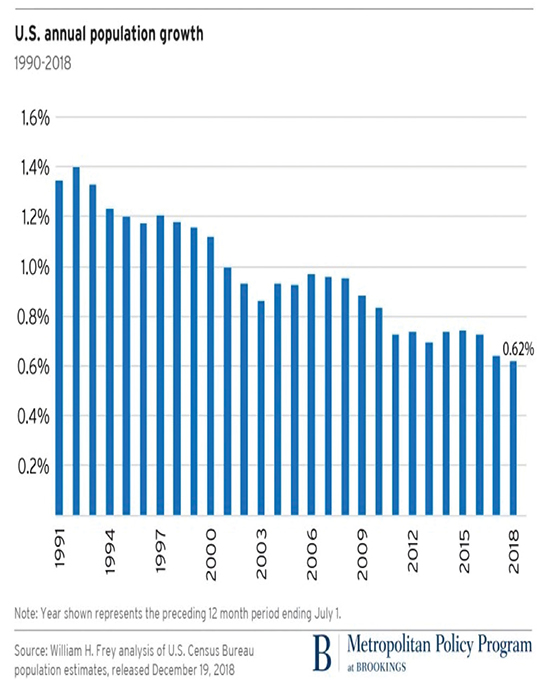 CHALLENGE ONE: DECREASED OVERALL DEMAND
Demand begins with the size of the workforce. Unfortunately, the U.S. workforce and overall population are growing at a very low rate. As is evident in the chart to the left, the population growth rate has declined significantly since 1991.

This low growth is likely to continue. The Brookings Institution reports that "the national rate of population growth is the lowest since 1937." And the Bureau of Labor Statistics has projected an annual growth rate of only 0.5% for the U.S. workforce for the next decade. With a current workforce of about 164 million people, that would come to only 825,000 new entrants per year.

Three recent trends could decrease the size of the workforce even further. First is a continuation of a shrinking delta between birth rates and death rates. Second is reduced immigration, and third is the low rate of workforce participation.

The recent annual rate of births has not been sufficient to keep the population growing. According to Brookings, the natural increase has dropped from 1.6 million in 2000 to 2001 to just a bit above one million in 2017 to 2018. Until recently, immigration compensated for this drop-off. In 2018, however, only 200,000 people emigrated to the U.S., compared to an annual average of more than one million people between 1990 and 2017. Under current policies, the lower levels are likely to persist.

Finally, the workforce participation rate-the sum of all those working or seeking work divided by the total non-institutionalized civilian working age population-is currently 63.2%. In 2009, at the start of the recession, it was almost 66%. During the economic downturn, it went as low as 62.4%, but at today's 63.2% level, it has not improved significantly.

Ultimately, the relationship is clear: the smaller the workforce, the less demand there is for commercial space.

In addition, several trends in space planning are contributing to lower commercial space demand. These trends include densification of space (less square feet per employee), hoteling and hot desk concepts (employees sharing desk space on an as-needed basis) and remote working. Shared office concepts, such as WeWork (subscription models) aren't only popular among small or mid-sized companies; they appeal to larger corporations as well. According to Quartz, which offers a range of business and economic reports, "WeWork says 40% of its members work for companies with 500 or more full-time employees, up from 30% a year ago, and that enterprise members are its fastest-growing type of membership." As a result of these planning and utilization trends, companies are leasing less office space than they would have in the past.

CHALLENGE TWO: CHANGES IN PRODUCT UTILIZATION
Traditional layouts no longer fit the bill, partly because employers are trying to cater to the preferences of employees from a number of different generations. The chart below depicts a generational breakdown of today's workforce.

Each generation has its own characteristics that shape its views of what a workspace should look and feel like. Further, they have unique ideas about sustainability, wellness, work-life balance, need for privacy, desire to collaborate and more.

Meeting the needs of this diverse and evolving workforce requires office designs that incorporate a variety of work and support areas. These might include private desk space, open-office desk space, collaboration spaces, social space, food areas of varying scale, exercise areas and quiet areas. Consequently, more products are being used per project, but there are fewer units required per product per project. This puts severe pressure on manufacturing and inventory control.

Furthermore, the emphasis on multi-purpose space has led to a blurring of the aesthetic and performance requirements of the different commercial market segments. This includes the infusion of residential and hospitality characteristics into other market segments, such as the workspace/office segment.

All of these changes will lead to significant adjustments to existing product portfolios, affecting decisions about production equipment, inventory, and expansion into other product categories.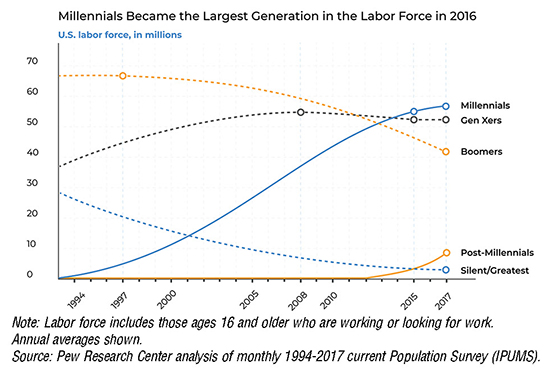 CHALLENGE THREE: CHANGES TO COMMERCIAL BUSINESS
The expanded presence of bigger companies in the market, such as regional and national design firms, as well as regional and national commercial real estate companies, can create some significant obstacles to the sales process, including less access to key individuals at these bigger firms; the groupthink mentality that pervades some big firms, leading to commoditization of product; and the tendency of large companies to feel best served by other large companies, which may result in fewer opportunities for small to medium size companies.

Another challenge arises for outside design consultants, who are addressing a different set of structural changes stemming from shifts in decision-making roles within the industry. Specifically, the consultants have to contend with an increase in in-house design departments at end-user companies; commercial real estate companies becoming more influential in product selection; and more predetermined standards.

Meanwhile, competition for fees among outside design consultants has resulted in fewer billable hours per project and fewer associates assigned to projects, which together add up to less time to meet with vendors. To complicate matters, the replacement of personal meetings and telephone calls with digital communication has further limited interactions between vendors and customers. This is an especially notable problem in the interior furnishings industry, where it's important to convey the tactile nature of products. In addition, reliance on digital technologies can lead to the commoditization of products, and puts another barrier between salespeople and customers.

Lastly, vendors need to fulfill heightened service expectations that have been created by the Amazon effect.

ADAPTING TO CHANGE
Companies must continue to introduce new product concepts, uncover new production methods, change the way they communicate their offerings, and develop new channels and methods for bringing their products to the market. The good news is that the overall commercial interiors market is, and will remain, quite large. And these challenges the industry is currently facing will trigger new and innovative go-to-market strategies. Some examples are
• Historically commercial companies expanding into the residential segment
• Companies broadening the commercial market segments they serve
• More focus on direct-to-customer (both B2B and B2C) sales and marketing
• Just-in-time manufacturing techniques to respond to smaller unit requirements in a cost-effective manner
• Partnerships with companies that provide complementary products or services, thereby offering the customer a more holistic solution
• Acquisitions where the acquirer seeks to diversify by purchasing a company with a different product or service; acquisitions will include vertical (downstream, including direct digital channels), horizontal (same or different product/service types) and backward integration-all in an effort to provide more value to the customer with a differentiated offering
• Significantly enhanced visualization tools that allow customers to see products in the actual space, utilizing artificial and augmented reality platforms
• More manufacturers opening physical showrooms, established in a broader array of cities, located outside of design centers and open to the consumer.
• New Internet aggregation sites that facilitate the design selection process
• A focus on ways that products and spaces contribute to employee overall wellbeing, personal satisfaction, and productivity
• Enhanced training of sales associates to provide more value to the customer
• Manufacturers establishing in-house design teams available to work with both independent design consultants as well as end-users

As always, the future will be full of surprises. But I suspect that the future will belong to those who embody the spirit of the character from George Bernard Shaw's "Back to Methuselah," who said, "You see things; and you say 'Why?' But I dream things that never were; and I say 'Why not?' "

Copyright 2020 Floor Focus

Related Topics:Shaw Industries Group, Inc.