Direct Distribution Models: The economics of residential hard surface flooring - Nov 2016
By Santo Torcivia
Over the decades, various flooring producers have attempted to distribute residential hard surface flooring direct from the factory to specialty flooring retailers, many of them unsuccessfully. This holds true for resilient sheet and tile, laminate flooring and hardwood. The only exception is ceramic tile, which developed independently and is a product category with a broader range of service expectations versus other hard surface categories, especially with regard to freight logistics.

The single most important factor behind the success of any direct distribution service network lies in the size of the individual order (dollar sales per door). Contract commercial sales generally involve full-truckload orders of product, which goes a long way to covering the various sales, sampling and logistical costs of servicing an account direct. The same is largely true with big-box retailers and tenant improvement contractors. On the other hand, the vast majority of residential hard surface flooring sold via flooring specialty stores comes from much smaller special order sales.;


TILE DISTRIBUTION
Ceramic tile is largely distributed through company-owned service centers that handle the manufacturers' ceramic tile product and the products of other producers. It is also sold via independent distributors that can also spread selling and delivery costs over several brands. Further, ceramic tile contractors usually come to the service center or distributor to acquire their tile and installation materials, thus eliminating freight-out expense. And this allows selling and training to be done on site at the service center. In addition, ceramic tile contractors are much more closely wedded to a given service center than retailers are to a given direct hard surface flooring producer or independent distributor.
There are only two firms that directly distribute residential hard surface flooring successfully, Shaw and Mohawk. The reason they can do what no other firms seem to be able to do profitably is because a large portion of their selling and logistical costs is absorbed by the residential carpet they sell. Without residential carpet, a company trying to distribute on a direct basis is cut off from 42% of the average flooring retailer's 2015 sales of $1.75 million. That equates to $735,000 in annual retail carpet sales, or $515,000 in wholesale carpet purchases that hard surface direct firms have no chance of acquiring.
To better understand how the product mix of flooring types plays into the economics of distribution, it is first necessary to understand the costs of distribution. Research with several independent flooring distributors and an analysis of the financial reports of wholesalers and direct suppliers results in the following summary (below) of distribution cost structure. The important figure to be aware of is operating costs of 22%. This is the cost, expressed as a percent of sales, to distribute direct and support those operations that must be covered by any profit margin.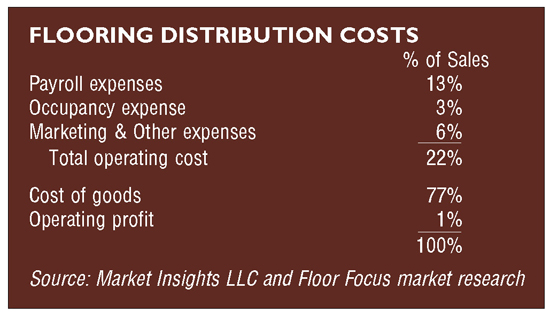 Analyzing direct distribution expenses also requires determining the cost to service an average flooring specialty retailer. Whether direct by a mill or via an independent distributor, the cost to service the average flooring specialty retailer is estimated to be $262,000 annually. Given that the average flooring specialty retailer also deals with ten suppliers (independent distributors and direct mills), the average servicing cost per supplier is $26,200 annually.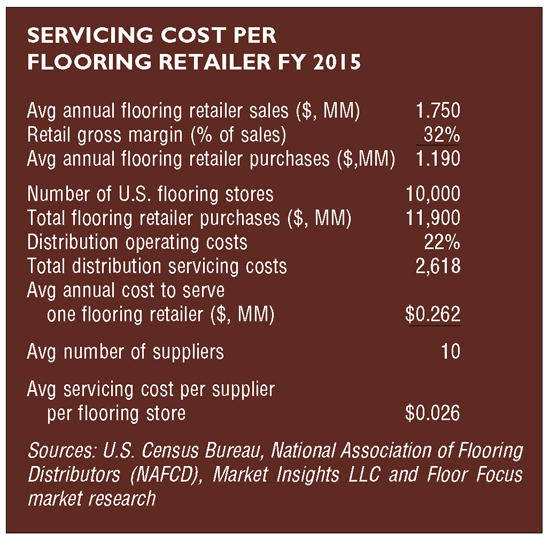 Based on the estimated positions of major flooring firms at retail, it is clear that Shaw derives 69% of its margins and Mohawk derives 54% of its margins with an average flooring retailer from carpet sales to that account. These carpet sales provide the two firms with the distribution and marketing leverage to sell hard surface flooring and garner the revenue required to cover the profitability of its servicing costs—selling, sampling, support, training, logistics, etc. Armstrong and Mannington, two premier hard surface retailers, do not offer residential carpet and thus cannot service the average flooring retailer directly and make a profit. In fact, based on their current estimated positioning, if Armstrong and Mannington tried to service flooring retailers direct they would lose $10,000 and $11,000 annually on average per account (below).
Therefore, with the consolidation that has occurred in the North American carpet industry, specifically the residential carpet industry, and the near absence of stand-alone residential carpet producers able to be acquired, Shaw and Mohawk have a clear barrier against other firms that might try to effectively mimic their traditional direct distribution networks with specialty flooring retailers. It also cements the position of independent distributors, which remain a viable channel of distribution to these retailers. Unlike hard surface flooring manufacturers, independent flooring distributors can cover their distribution costs by selling multiple products and brands to a given flooring specialty retailer, allowing them to profitably service these stores.
Many hard surface flooring producers over the years have denigrated residential carpet as a category not worthy of consideration for a variety of reasons. At the same time, many of these same manufacturers have internally discussed and in some cases even tested direct distribution strategies. However, their analysis may have missed the fact that not only is residential carpet key to effective direct flooring distribution to the flooring specialty retailer, but is also a required product segment to gain and keep a retailer's attention and loyalty. Without the leverage of carpet, Shaw and Mohawk would not have been able to diversify into hard surface flooring as quickly and as effectively as they have.
If and when the time comes that retailers are forced to designate their loyalty to a given supplier, as new automobile dealerships and other industries have already done, the fact that only Shaw and Mohawk have residential carpet will put them at the top of the list of a retailer's choice, at least for another decade or more.
While this analysis was done using averages and estimates, it remains a fact that all successful direct distribution networks deployed in flooring featured residential carpet. It is also a fact that Shaw and Mohawk have a clear barrier to competitors in this regard, and there are few, if any, viable options to challenge them by replicating a traditional direct distribution network. Also, Shaw and Mohawk's position with residential carpet has put them in an extremely advantageous position to dominate the flooring specialty store channel, should that be their goal. Still, if traditional direct distribution is effectively closed to competitors, what about nontraditional logistic networks?

Copyright 2016 Floor Focus

Related Topics:Mohawk Industries, Mannington Mills, Armstrong Flooring, Shaw Industries Group, Inc.