Design Ovations: Sequoyah Hunter Cuyjet - April 2021
By Sequoyah Hunter Cuyjet
At Determined by Design, we have a story-driven process that propels each of our projects. We're not the type of design firm that boxes ourselves into a certain style. Letting the story of the site, neighborhood and community directly inform our work is at the heart of what we do. As an interior designer who has worked across several sectors of interior design, I have found durability, flexibility and cleanability are always a client's primary concern when it comes to flooring. The industry has come so far; with so many great offerings at various price levels, great design is truly within reach.

ID MIXONOMI BY TARKETT
The use of patterns in design is a very human experience; all cultures have used them for decoration and storytelling. That is why we are excited about iD Mixonomi, a modular vinyl tile collection from Tarkett that has expansive colorways and shapes that are refreshing as we emerge from every conceivable tone of grey. The collection gives designers the freedom to develop custom floor patterns. There is an online visualizer to help users mix and match shapes and colors, and the possibilities of various patterns and rich colorways potentially provide a backdrop to culture-rich storytelling through design.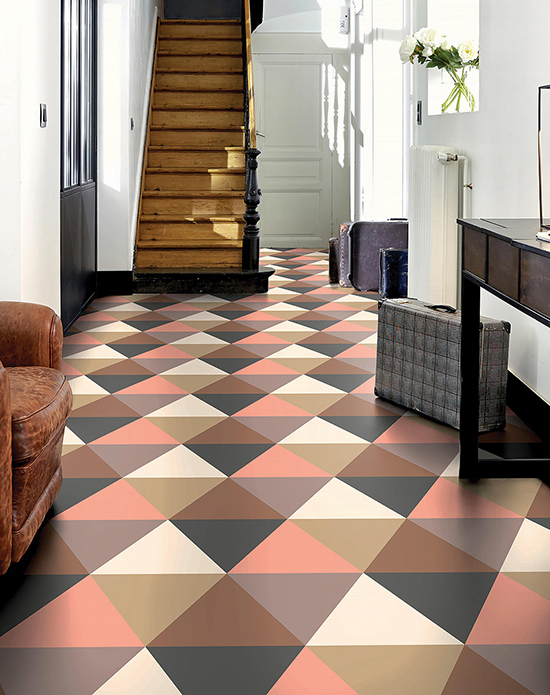 Vintage Wheel from Tarkett's iD Mixonomi in Chestnut, Ashes, Ivory, Charcoal, Rosewood and Clay.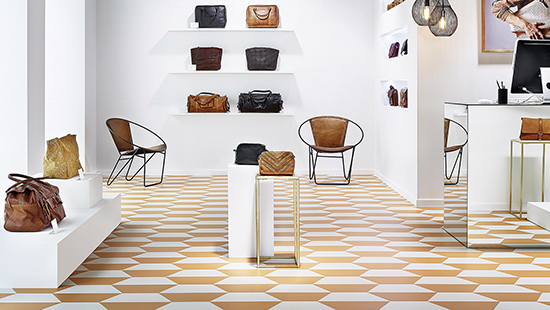 Precious from Tarkett's iD Mixonomi LVT collection in Cappuccino and Colombo.

PLAID BY CHILEWICH
For one of our multifamily projects, we started with the concept of "symmetrical contrast," which was generated by a great deal of research on the history of the neighborhood and in response to the core and shell architecture. While we wanted to keep the floors subdued, we sought to have shifts in texture to create zones in an open floor plan. For our Archer Park Apartments project in Washington, D.C., we went with Plaid by Chilewich, a vinyl weave floormat in warm neutrals that provided the perfect patterning to designate this lounge zone, while staying within the same hue of the wood floors. Layering textures and patterns softens a space, and we are seeing the increased use of woven vinyl in lieu of carpet as insets. Woven vinyl, like luxury vinyl plank and tile, offers low maintenance and superior durability.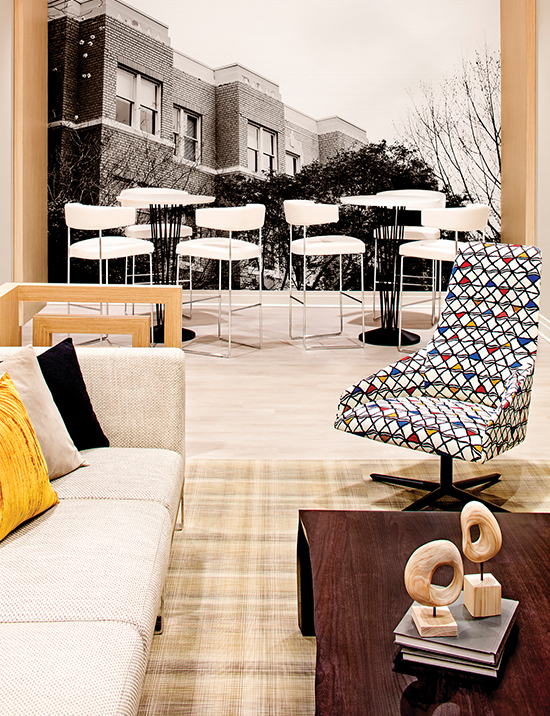 For an apartment project in Washington, D.C., Plaid by Chilewich, a vinyl weave floormat in warm neutrals, was used in a seating area.


WASHY OAK BY SIX DEGREES
Keeping it simple is sometimes the best approach. For our Momentum at Shady Grove multifamily project in Rockville, Maryland, we used Washy Oak by Six Degrees Flooring, a luxury vinyl plank, to create a beautiful monolithic floor. The technology for faux wood floors has come so far that once floors are installed, it is hard to tell if they're real or not. The durability and ease of maintenance of luxury vinyl plank flooring makes it a perfect choice across industry sectors. Wood-look flooring will always provide a sense of warmth with any backdrop, even if it's a pale whitewash as we used here. These light floors created a high contrast to the furnishings to provide a dramatic and elevated look.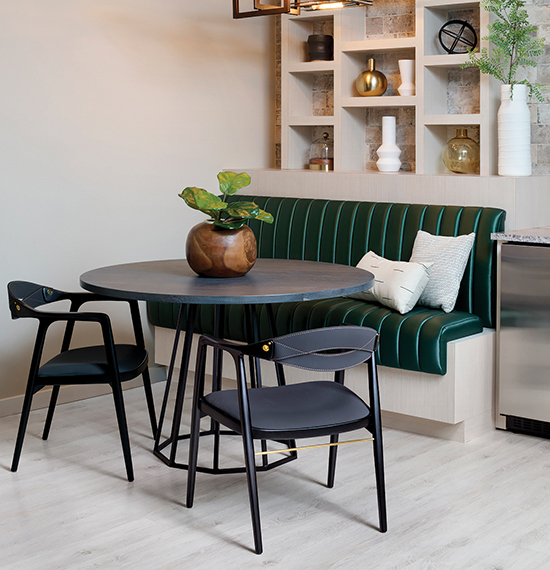 Washy Oak by Six Degrees Flooring, a luxury vinyl plank, was installed in multifamily project.

Copyright 2021 Floor Focus

Related Topics:Tarkett