Design Ovations: Kelly Ennis - Jan 2021
By Kelly Ennis
A clear, strong and relevant brand strategy is the foundation upon which an organization is built. As such, a brand strategy is not solely a physical exercise, but one that is positive, self-curated and integrated into all facets of an organization's values and culture. It must align with interior architectural design concepts that are discovered during visioning and planning sessions between the design team and the organization. When these concepts are woven together, they tell a story that creates an emotional connection between the organization and its physical space. The results are more comprehensive resulting in more engaged end users. The space resonates, which clearly shows in the flooring selections. These selections are the foundation of a solid design concept.

HEXAGONS
A new startup project at the University of Buffalo's Center of Excellence in Bioinformatics and Life Sciences will house and incubate startups and support small businesses via leased spaces and shared, collaborative and social spaces. It will serve as a tool for economic and business development in Buffalo and western New York. During the project visioning session, it became obvious, given the life science aspect of the project, that the recurring visual would be that of the geometric genius of hexagons, which are startlingly ubiquitous in nature, from the largest planet to the smallest microscopic compounds. We loved integrating the shape into the overall flooring concept using Shaw Contract's Hexagon collection, both with carpet tile and LVT. The colorways were spot on in relation to the project's identity package and could not have been more relevant.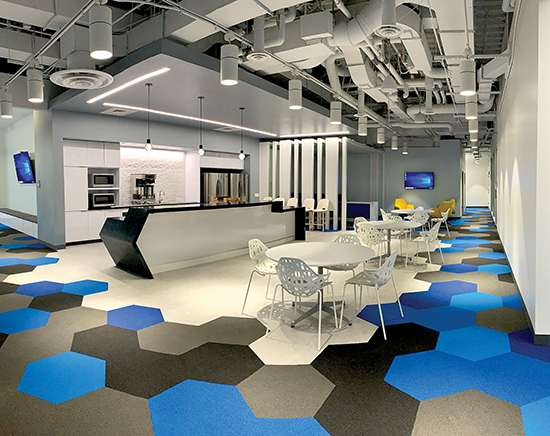 Shaw Contract's Hexagon collection in carpet tile and LVT was used in the University of Buffalo's Center of Excellence in Bioinformatics and Life Sciences.

COMPLEMENTARY LINES
We are also digging the complementary and lush nature of both J+J Flooring's One Good Turn and Craftwork modular collections and Shaw Contract's wood-look LVT, Grain. These were installed in the new Columbia, Maryland headquarters of First Finish, a general contractor in the hospitality industry. The design creatively integrates lush textures and materials, familiar to the hospitality industry, with an application that is reflective of First Finish's maturity, and the palette uses warm dual-grey tones to provide a more timeless and serene environment. J+J was used to define the work zones, while Shaw serves as the arteries that connects the variety of work settings throughout the space. Both provided beautiful and evocative products and solutions that are expressive in relationship to the hospitality industry.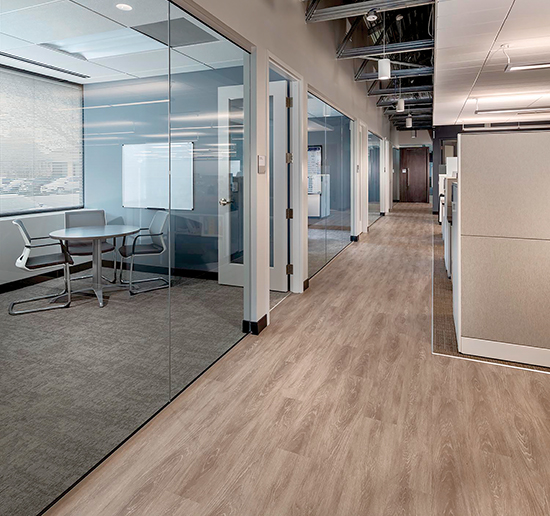 Other areas of the building feature a wood-look LVT from Shaw Contract.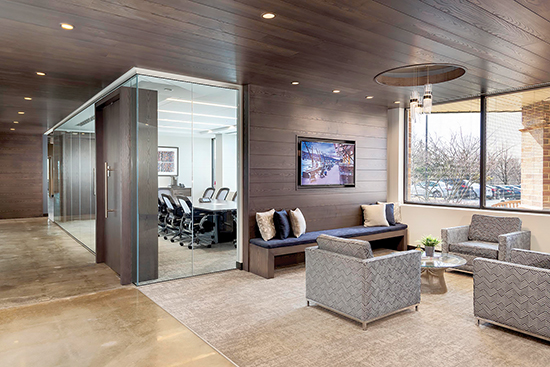 J+J Flooring's modular carpet was used in the headquarters of First Finish in Maryland.

Copyright 2021 Floor Focus

Related Topics:Shaw Industries Group, Inc., Lumber Liquidators