Design Ovations: Cindy Saathoff - Nov 2019
By Cindy Saathoff
With 30 years of design experience focused on healthcare interiors, I expect a high level of performance from my flooring choices. The goal is to provide a welcoming and relaxing environment that will also meet the stringent needs of the client. Most of the facilities I work in not only have the typical patient-care spaces, such as exam rooms and patient rooms, but also lobbies, administrative areas, retail spaces, dining spaces, surgical areas, pharmacies, labs and maintenance-support spaces. When sorting through the flooring options, I focus on durability, ease of maintenance and repair, acoustics, aesthetics and cost. In addition to all of these items, there must be a green story. What is the product life? Will it off-gas? What is it made from? Can it be recycled? All these considerations must be addressed with each type of space.

FORBO MARMOLEUM
Forbo's Marmoleum Striato collection is a great solution for patient floors. Marmoleum is a homogeneous linoleum floorcovering made from all-natural ingredients that has a high-performance finish, which also aids in retaining vibrant color. With its linear visual, Striato is a fresh approach to Marmoleum. A key feature of this flooring is its ability to inhibit the growth of microorganisms. It is available in tile and sheet material and can also be heat welded and flash coved if needed. The flexibility of this product enables designers with an option to use one material for a wide variety of needs.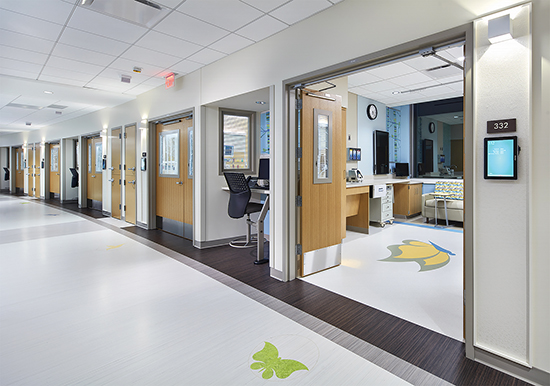 AMERICAN BILTRITE RUBBER FLOORING
Many treatment spaces within healthcare facilities require flooring that can handle a broad range of disinfectants, heavy rolling loads and minimal turnaround time for cleaning. In addition, they must be comfortable for medical professionals, who stand for long periods of time. American Biltrite AB Pure is a product that meets those needs. With the ability to heat weld and have an integral base, providing a completely sealed floor, infection control needs are met. In addition, creating a quiet environment is always a priority, and with its ability to absorb noise from foot traffic and cart traffic, the material addresses acoustic concerns in areas where most surfaces are hard. The color options-including Fire Engine Red, Rich Lavender, Pistachio and Snowstorm-are abundant, providing designers with many solutions.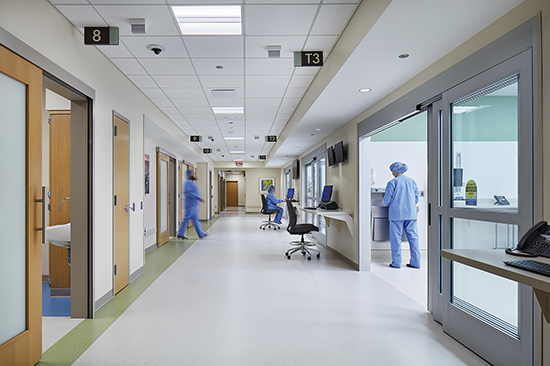 TERROXY RESIN SYSTEMS
One of my go-to products for public spaces is terrazzo. The beauty behind this product is its flexibility to move throughout a building with no transitions, making it easier for patients with wheelchairs, canes and walkers to maneuver easily. The design becomes unique to a space and works especially for locations with sweeping curves and buildings that come together at unusual angles. Using various sized and colored divider strips creates the possibility for unlimited patterns. Colors in the aggregate and epoxy matrix along with recycled products, such as glass chips and metals, can all be incorporated, depending on the project's budget. In addition to floors, stairs and bases can be formed with terrazzo, linking various public levels and providing a cohesive look. Terrazzo is great in high traffic areas, is chemical resistant and resists bacterial and fungal growth.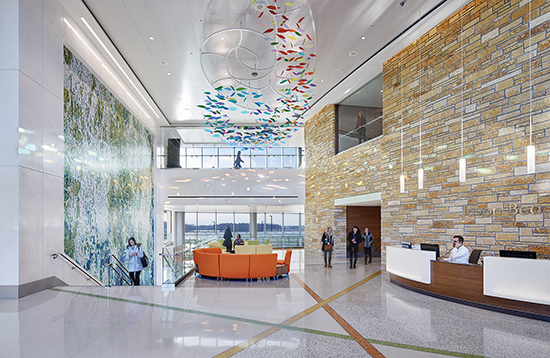 THE AUTHOR
Cindy Saathoff, senior project designer with Aecom in Minneapolis, brings over 35 years of design experience devoted to the design of healthcare facilities in the U.S. and internationally. For each of her projects, she works collaboratively with clients, project managers and the design team to create an efficient and healing healthcare environment. Responsibilities include preparation and/or supervision of the design process, as well as material finish and furnishing selection and specification.

Copyright 2019 Floor Focus