Consumer Preference: Made in America - Feb 2016
By Sonya Jennings
The consumer's preference for Made in America products continues to grow. According to Consumer Reports' July 2015 article entitled "Made in America," nearly eight in ten American consumers would rather purchase products made in America than imported goods, and more than 60% of respondents say they would be willing to pay up to 10% more for domestic products. According to Santo Torcivia at Market Insights, 20% of flooring products were imported in the year 2000 (see chart on page 60), and that figure grew to 37% by last year, with some surface categories shifting more than others.

Even though imports have increased over the past 15 years, there is a recent trend of investment on American soil, with many companies, both foreign and domestic, now building factories and allocating millions to produce flooring products in the USA. With these new investments in domestic production and an eager consumer, flooring retailers can reasonably expect benefits to the bottom line by buying, displaying and promoting their Made in America products.

QUALITY, HEALTH AND ECONOMIC PROSPERITY
Many consumers believe that American made products are of better quality and have higher safety standards than those made overseas, and such beliefs are reinforced with high profile stories like the 60 Minutes Lumber Liquidators exposé in March 2015. That story highlighted Lumber Liquidator's inventory of laminate flooring manufactured in China, which was shown to contain an adhesive with toxic levels of formaldehyde, a known cancer causing chemical—just as the American consumer is becoming more and more concerned with toxins in her home. The 60 Minutes story tapped into the same vein as the asbestos issues of the second half of the 20th century and the early 2000's discovery of Chinese made toys for children shown to contain lead paint.

Consumer Reports also theorizes that the interest in Made in America products might come from the desire to support the American economy and worker. According to the Bureau of Labor Statistics, the unemployment rate in America hit 10% in 2009 and 2010, just six years ago. Prior to that economically unstable time, the effort to keep the American economy going and growing was not top of mind. But with the effects of the Great Recession still lingering, it's not surprising that the economy and concerns for American workers are at an all-time high. American independence is another popular concern. Manufacturing products domestically, as well as growing food and procuring energy sources, helps to alleviate stability concerns as conflict around the world increases.

QUALITY ISSUES OFFSETTING DIMINISHING LABOR RATE SAVINGS
Labor costs are leveling worldwide as workers overseas are expecting higher wages and benefits. Many of the labor cost savings of operating a factory overseas are disappearing. According to a June 26, 2015 article on Fortune.com, "U.S. manufacturing costs are almost as low as China's, and that's a very big deal." There is currently only a 5% discrepancy in manufacturing costs between the U.S. and China, and manufacturing costs are 10% to 20% lower than in Europe. Part of the reason for this is the increase in wages for Chinese workers, and cheaper oil and gas in the U.S. is also playing a role. The article also highlights a projection from BCG, the Boston consultancy, that by 2018 it will be 2% to 3% cheaper to make goods here in the United States than in China.

Quality standards in various markets throughout the world are not necessarily the same as the quality standards in America. There can be hidden costs in purchasing what seem to be cheaper products abroad. Some are literally hidden. For instance, when purchasing large containers of goods overseas, manufacturers will often find that off-quality goods are hidden in the middle of containers. It is not possible for an importer to inspect every item in a container, so an additional embedded cost exists when off-quality goods are unknowingly purchased.

Whether a product is manufactured abroad or in America, chances are it was made by a machine in a factory, not by hand. The demand for imported handmade goods has fallen, and machine made goods can be manufactured domestically at a more competitive cost, and this also drives the growth in American made products.

FLOORING PRODUCTS: DOMESTIC VS. IMPORTED
Carpet makes up approximately 40% of all flooring product consumed in the United States. It is the largest category of flooring sold, and almost all of it is manufactured domestically. While the category itself is slowly losing share to hard surface flooring, there's no reason to believe that imports will gain any traction in the U.S. market.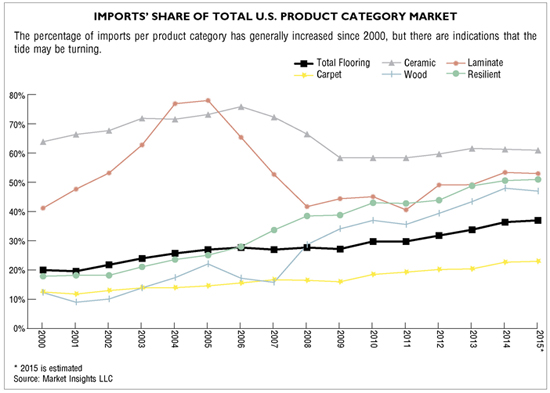 The rug segment is still mostly imported, but that could change over time, as more and more rugs are now machine made. There used to be a financial benefit to purchasing hand knotted rugs overseas, but that has waned over time. Today, machine made goods comprise a greater percentage of what's sold, and many consumers don't find value in Old World rugs these days. It is rare for a family to purchase an expensive imported handmade rug and then pass it down from generation to generation, as was traditional in the past.

Solid hardwood products have a strong manufacturing presence domestically as well. The United States has an abundance of raw material, much of it in well managed forests and plantations, so a large part of the market is domestically produced. It is expensive to ship the raw wood material to Asia and then ship it back to the U.S. for sale, although that's part of the business for some foreign manufacturers.

Unlike solid hardwood, a large portion of the engineered hardwood segment is manufactured abroad. However, domestic production of engineered hardwood should increase soon, as a recent anti-dumping law was instituted, prompting the U.S. Department of Commerce to raise taxes on these imports. A few domestic manufacturers combined efforts to prove that Chinese companies were selling engineered hardwood for less money than it costs to manufacture it in order to gain marketshare. As duties are raised on imported engineered hardwood, the financial benefits of importing the product will diminish, and the purchase of domestic goods should be more attractive.

For years, ceramic tile has been a largely imported product. However, domestic manufacturing capacity has been building in recent years, much of it from investments from foreign firms that already have a strong position in the U.S. market. Foreign investors understand that Americans prefer to purchase products made in America. Also, energy is relatively cheap in the U.S., and the raw materials to make tile are readily available here. In addition, tile is very heavy and expensive to ship, so there are even more financial benefits to producing it domestically.

A lot of U.S. ceramic tile production capacity comes out of Tennessee, where raw materials are plentiful. In fact, there are about half a dozen major tile factories in Tennessee owned by foreign investors, along with the largest privately owned American producer, Crossville. In 2015, it is estimated that 61% of tile products were imports compared to a high of 75.9% in 2006. That percentage should drop further as domestic production increases.

Laminate products were invented overseas with Europe's Pergo, although domestic capacity has been increasing for over a decade—as has Asian production. At this point the product category is at about 50% import and 50% domestic production. Kronotex, a European laminate manufacturer, opened a large factory in South Carolina within the last decade and has continued to grow the operation with three major expansions since its opening, including a major expansion in 2014, according to the South Carolina Department of Commerce.

When it comes to resilient flooring, domestic production has traditionally been fairly strong, but since the turn of the century, imports, mostly from Asia, have increasingly taken share of the market. However, LVT growth has led to a wave of investment in domestic production, which should start to move the needle back. Established firms like Armstrong, Shaw, Mohawk, Tarkett and Mannington have invested hundreds of millions of dollars to produce LVT in the U.S., along with FloorFolio and South Korea's Nox. And a few years ago IVC, now part of Mohawk, also built a sheet vinyl facility in Dalton, Georgia. And now Belgium's Beaulieu International (no relation to Beaulieu America) is building a sheet vinyl facility in Cartersville, Georgia.

Some categories are dominated in the U.S. by imported products, though it's mostly smaller categories, like linoleum, which is produced exclusively in Europe. More recently, WPC (wood plastic composite) products, which are waterproof LVT hybrids, have gained a lot of traction, and at this point none of it is produced domestically.

The recent trend toward domestic production of flooring has been a boon to the industry, although it's not yet clear if this is part of a long-term movement. However, if product trends and consumer preferences continue in the direction they're moving, it's likely that we'll see more investment in products made in America.

GLOBAL COMPANIES
Some American manufacturers have committed to manufacturing products where they are sold, and in that manner building a global presence. For instance, Interface, Milliken, Shaw Contract, Aquafil, Universal Fibers, Tarkett and Dal-Tile manufacture most of their products sold in the United States on U.S. soil, and they also manufacture products abroad in regions where they are sold.
Copyright 2016 Floor Focus

Related Topics:Mohawk Industries, RD Weis, Mannington Mills, Crossville, Daltile, Armstrong Flooring, Shaw Industries Group, Inc., Interface, Tarkett, Beaulieu International Group, Lumber Liquidators