Color & Design: Trends 2021 - Feb 2021
By Cindi and David Oakey
Forget the new normal. Our lives are forever changed by 2020, and the 21st century will never be the same, but we're moving forward with the optimistic viewpoint that the pandemic will wane in the coming months. And we're looking at the new frontier for interiors.

Clearly, hygiene and spatial distancing are a given as people step out into this new world. Businesses in all segments will choose how to adapt to these changes where, for many, expenses are a concern. We hope to see creative output that no one sees coming.

HOME WORK
In the last decade, we've seen residential and hospitality looks infiltrate office design, creating collaborative, alternative work-spaces. Work from home was often the exception, an afterthought, and we made do with whatever. Form and function are critical. Light and styling the scene represented during onscreen meetings matter. The pandemic accelerated bringing the office to our homes because we quickly learned that temporary digs simply won't do.

INSIDE OUT
Some creatives stepped up the game by erecting expandable outdoor spaces as a reprieve from the shock of being homebound or as necessary havens for privacy and concentration. These expandable spaces indulge a craving for nature.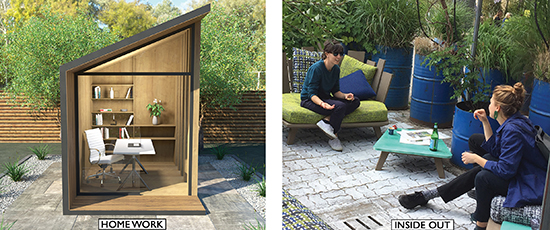 NATURE-INFUSED
Nature as a safe haven has been healing mankind for centuries. In the early aughts, Edward O. Wilson came to Pond Studios, the home of David Oakey Designs, imprinting biophilia as a mainstay for design inspiration. Once thought of as simply bringing plants indoors, we now see an explosion of colors from nature other than leafy green. The great outdoors is a vast array of earth tones that warm our hearts and surroundings. Warm grays in granite and stone overwhelmingly lead the color direction, as soothing greige, taupe, mushroom and beige gain momentum. Layers of the earth hues-smoky bark browns, rust, clay and terracotta-are once again in vogue. Lichen, sage and colorful wildflower yellows, orange, purple and vivid pinks populate as accent colors.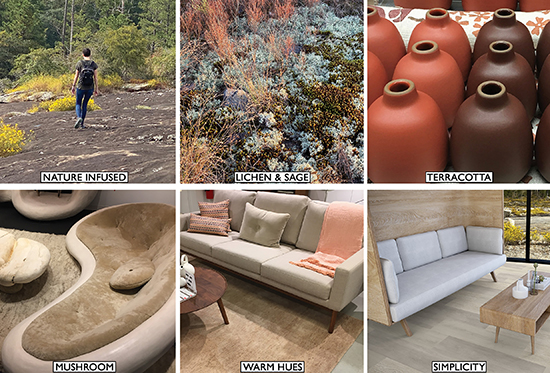 SIMPLICITY
In congruence with the explosion of colors from nature, simplicity is the new minimalism, aligned to evoke comfort without excess, often using sustainable materials. Warm neutrals dominate the palettes with calming color. Washed-out, cozy, soft pastels like butter yellow, peach puree and pale blush add a variance of accent color. Natural, lighter, white-washed, beach-look wood-like patterned LVT dominates, as do extreme darker hues. Mid-greys feel played out. Variations simulating reclaimed wood still have panache. A quiet luxury emulates elegant comfort that is soft and soothing, all with a sense of being pared back.

WASTE NOT
No longer a novel artistic effort, more and more furnishings are made from waste with a critical focus on carbon footprint. The more educated customer, whether design professional or client, demands to know authentic details-what it's made of, where it's made and by whom-and they expect the maker to substantiate their positive environmental proc-lamations. Walk the talk with honest transparency is the way of the future.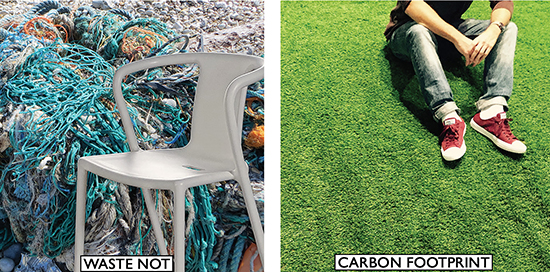 MORE IS MORE
Ah, but all this pent-up en-ergy lends the way to self-expression. Maximalism is a blend of expressive, eclectic patterns in bold saturated colors mixed with intention as we dare to experiment with color more than ever. Art Deco and gold metallics reference the Roaring '20s. Old is new. Inspired vintage looks, typical in wallpaper and ceramic tile, include rich jewel tone hues like ocean blues, rustic reds and deep leafy greens that are playful and optimistic, or layers of mush-room, oatmeal and ecru for a somewhat subtle contrast. Every surface is an opportunity for more pattern, more statement. The results are excessive but curated.

MAXED OUT
But wait, there's more. Futuristic palettes, borrowed from fashion streetwear (no signs of slowing), embody digital fantasy inspired by playful escapism. Vivid yellow, pink and orange pop. Electric greens, blues and purple hues ground the color compat-ibility. Neon gives way for shimmery, translucent brights in bold shapes that pop like from outer space.



TOGETHER AGAIN
Expect a co-working revival through the continued increase of mixed-use buildings that utilize post-pandemic technology and offer a workplace for those seeking human interaction inspired by collaboration, especially the spontaneous synchronicity that sparks innovation, to be a hybrid answer for the remote work lifestyle. Pre-pandemic, we saw movement against the "typical" office atmosphere. Progressive businesses in Europe offered a four-day workweek. Post-pandemic, having had the experience of a better-balanced lifestyle in home, work and leisure, people will not readily go back to what was once normal.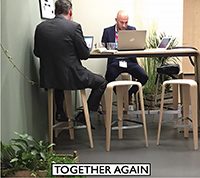 Overall, the workplace must convey a genuine sense of safety with meaningful interaction that is conducive to productivity. Along with technology that delivers a safe, healthy environment, the workspace must be designed flexible enough to accom-modate diverse activities that will change on an ongoing basis. All the elements of interaction must be considered. Workstations, spatially distant meeting areas for collaboration, learning spaces, areas for retreat and relaxation, and, yes, even bathrooms require reconfiguration. Flooring can distinguish and define areas, be it hard surface like LVT or concrete, low-profile carpet in more expansive areas that require acoustic reduction, or softer, plush carpet for distinct design and comfort. Gone are the days of a monolithic surface of any kind. The office in the new frontier will consist of different surface materials: hard, soft, flat, textured, subdued or colorful.

We have made it through the shock and chaos of the early pandemic. We have a good idea of what needs to be done as we wade through this next phase. It's an exciting time for designers to rethink the best workplaces of the past and innovate the workplace for the new frontier.

Copyright 2021 Floor Focus