Cersaie 2022: Refreshing styling sets the stage for tomorrow's interiors and outdoor entertainment areas - November 2022
By Kemp Harr
In its 39th year, the Italian-based Cersaie show, held in late September, showed sure signs of resilience after, first, the Covid setback and, now, the unrest from the Russian invasion of Ukraine. Attendance was strong, as fashionable and innovative finishes were exhibited at the five-day event, recognized around the world as the place to meet if you make a living in the ceramic tile industry.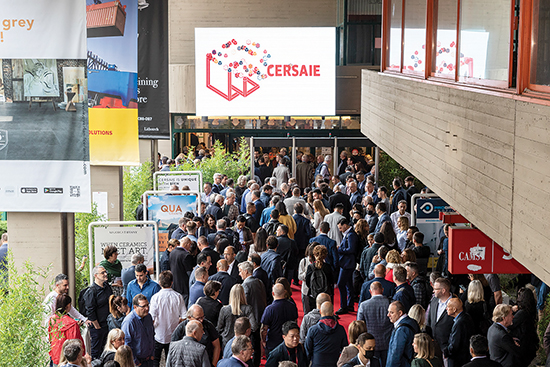 The 2022 show floor.

Attendance this year surpassed 90,000, with almost half (44,215) coming from foreign countries. The show attracted 624 exhibitors to 15 fully occupied halls at the Bologna exhibition center. Last year's show attracted just under 63,000, so the event is clearly recovering from the Covid-era setback.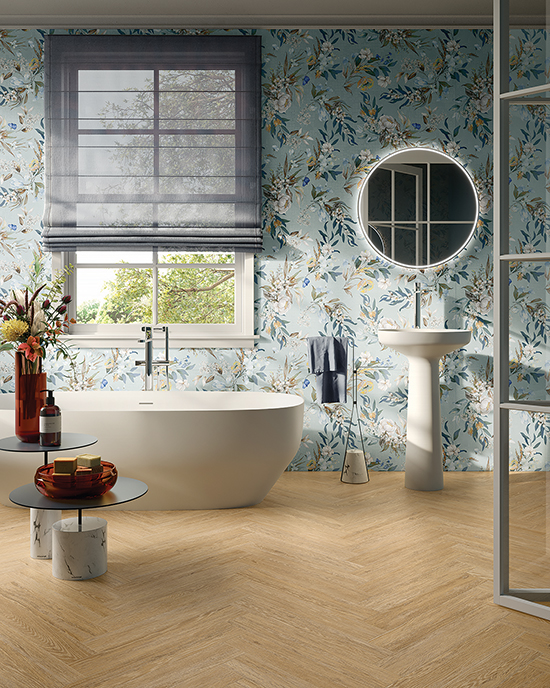 Sunwood by Sant'Agostino in a herringbone wood look pairs naturally with ceramic "wallpaper."

Cersaie takes place in Bologna, Italy due, in part, to its proximity to Sassuolo, undeniably the center of innovation and production for Italy's tile business, with 80% of all Italian tile produced in this region. Bologna is also recognized for its culinary leadership, making it one of the top food cities in the world.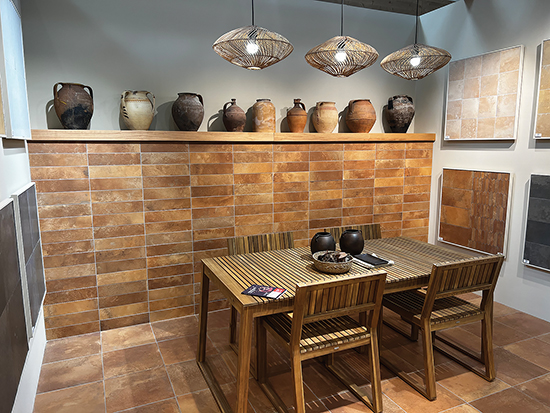 The terracotta look was an important trend at Cersaie 2022, as seen in this vignette on the show floor.

Tile imports represent 65% of U.S. consumption, and through the first eight months of 2022, imports were down 0.8% in units. Wholesale prices for tiles imported from Europe are up due to the super-high cost of natural gas used to fire the kilns in the production process. As a result of the Russian invasion of Ukraine, natural gas prices in Europe are up tenfold from a year ago. Half of the over $19.7 billion annual global tile market (wholesale value) is produced in Europe, so these inflated energy costs are impacting both the profitability and competitive value of tile produced in Europe.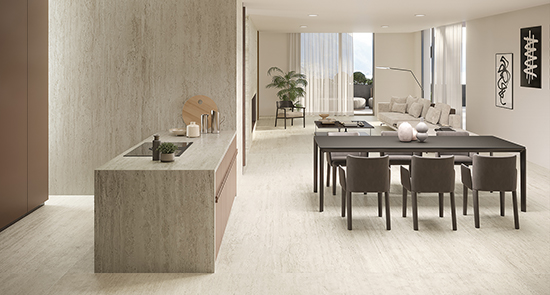 Large slabs for furniture and countertops are another great use for ceramics, as shown here with Atlas Concorde's Marvel collection.

Despite these inflationary energy concerns, the styling and creative realism displayed at this year's Cersaie show continued to push the fashion envelope to new heights. On display were realistic onyx looks, continued advancements in concrete visuals, floral/wallpaper designs, as well as traditional and natural terracotta looks-just to name a few of the more popular styling trends. Greens and variations of tans and browns drove the hues toward a biophilic, natural theme.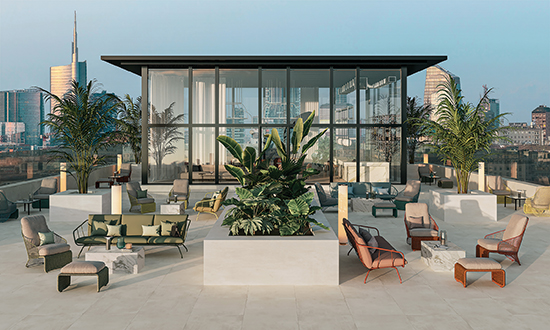 2.Out by Ceramica Fondovalle.

From a format perspective, large-format gauged panels continued to dominate, but smaller, more elongated formats were also introduced with subtle, wavy imperfections to portray a more natural stone image and a handcrafted look. The advancements in digital printing, pressing and polishing technology have expanded the realism that can be built into this manmade product to create attractive, natural-looking walls and floors, as well as countertops, cabinet doors and durable furniture.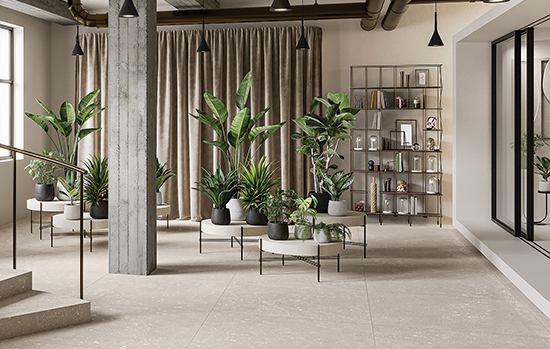 Ceramiche Piemme's Piastrelle collection on the floor and staircase is a good example of the way the concrete look in ceramics continues to evolve.



Greens-from grass green to lime green and everything in between-were on show in force at this year's show. This blue-green tile is by Ergon.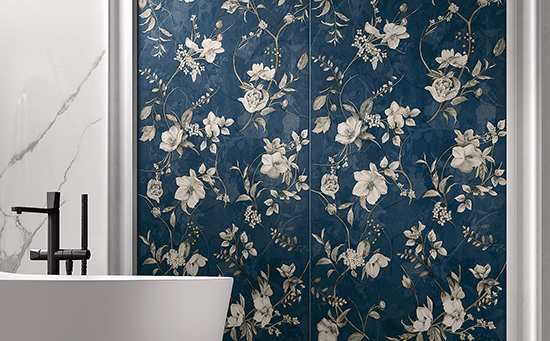 Del Conca's Buttercup is one of many examples of ceramic tile used as "wallpaper."

Copyright 2022 Floor Focus

Related Topics: CERAMICS OF ITALY, CERSAIE