Annual Report 2020: Last year, a range of unrelated factors inhibited flooring growth - May 2020
Introduction by Darius Helm
In 2019, various issues up and down the supply and value chains restrained a market rife with innovation and design. For the year, the U.S. flooring market-consumption of flooring at mill sell price-fell 4.4% to $22.485 billion, according to Market Insights.

GLOBAL EFFECTS
On the supply side, tariffs imposed on flooring made in China in September 2018 sent ripples through the market, generating volatility both globally and domestically. Flooring imports from China surged that fall, as U.S. flooring businesses rushed to buy up inventory. And there were other repercussions in the market, as U.S. buyers-from flooring manufacturers to distributors to importing companies-chose between absorbing the tariffs or passing them on, or, more often, meeting in the middle. Others hunted for new manufacturing partnerships outside of China, looking for more stable pricing conditions.

In late summer 2019, exemptions were made for click-system LVT because it was determined that there was nowhere near enough capacity outside of China to serve U.S. demand. In the same month, the Chinese ceramic industry, the largest supplier of tile to the U.S. market, was hit with countervailing duties up to 222%. Imports of Chinese tile, and in particular the huge volume of entry-level tile priced below what U.S. tile manufacturers can manage, fell off a cliff. That import volume can't be replaced by domestic manufacturers due to insufficient capacity, but unlike rigid LVT, there are plenty of other nations more than eager to try to fill the void, including Spain, Mexico, Turkey and Brazil.

At the manufacturing level, the surge in rigid LVT has created a dynamic, innovative market. Several manufacturers built facilities in the U.S., and for all of them the learning curve took longer than they expected. At Shaw, Mohawk and Mannington, products are rolling off the lines at varying rates. Others are on the verge or in the early stage of investing.

And while rigid LVT is taking huge flooring marketshare, the other flooring categories, all but area rugs, are losing their share. So they've been busy, too, figuring out new ways to recapture consumers' attention or at the very least to break the spell that rigid LVT has over them.

FLOORING OVERVIEW
There were also issues along the value chain that made last year problematic. For instance, SPC might be a hugely popular product, but it's priced at the low end, and the explosion of capacity in China-now extending to its neighbors-has only made it more of a pressure cooker for commoditization. Lower-priced goods make for meager margins, and when demand slows, as it will, profitability could become an issue.

Among consumers, a major factor last year was their unquenchable thirst for what everyone from vendors to retailers is increasingly simply calling "waterproof flooring"-the catch-all for rigid LVT in every form. It's particularly frustrating for the ceramic tile industry, which is in fact the only flooring category whose product and installed systems are legitimately waterproof.

The higher-end WPC category, while not growing at the same pace, is still roaring through the market, mostly in residential remodel, and it's gaining traction in upscale multifamily and even to some extent in hospitality.

Innovations, sometimes to make products cheaper and sometimes to make them better, include direct digital printing on the rigid core, adhering wood veneers to the top of cores and producing different types of cores. For instance, the biggest trend is toward magnesium oxide composite cores (MgO), which are lightweight and rigid and can work well with non-vinyl polymers. Also, some rigid LVT is glued down instead of floated, and this could help the category gain real traction in the specified commercial market, where performance is often paramount, with heavy foot traffic and rolling loads.

With Shaw Industries already established as the carpet leader, the firm's resilient gains helped it pull ahead of Mohawk Industries last year as the largest player in the U.S. flooring market. Mohawk, meanwhile, is the largest player in the world, with sales of nearly $10 billion. The two firms have very different strategies. For instance, Mohawk is more heavily focused on making its own products, while Shaw is comfortable with a healthy dose of manufacturing partnerships. And while Mohawk is covering as many flooring categories as possible, Shaw's focus is on the dominant ones, having dropped rug and laminate in recent years and increasingly outsourcing its solid hardwood program.

The biggest flooring category in the U.S. market is carpet, and it was down about 5% last year and lost a little more marketshare. On the commercial side, broadloom has shrunk to a minor position compared to carpet tile. On the residential side, there's very little carpet tile, and broadloom is losing share to hard surface, most recently to rigid LVT. Now that the bulk of the carpet in today's homes is upstairs, in the bedrooms and sometimes the corridors, manufacturers are trying to refine the category. The new homeowner trend is to do one room at a time, and that means a lower price tag than the hard surface flooring going down across most of the rest of the house. It's also an opportunity for customers to consider higher-end carpet.

Manufacturers have started pouring more styling and design into those better goods and also leveraging new technology-most notably, Tailored Loop by Card-Monroe, which offers a complete variable loop height, with advanced precision and control, enabling the creation of, among other things, convincing woven looks in tufted carpet. New yarn systems have also been developed, and bolder, more dynamic colorways are increasingly available.

A critical development in carpet last year was home centers reducing their carpet offerings and increasing hard surface. The move significantly impacted carpet sales in that channel. Also, Lowe's started branding practically all of its carpet, regardless of whether it is made with Invista carpet fiber, as Stainmaster.

Hardwood is another category under pressure-down over 13% last year-with SPC in the builder channel speeding up its share loss. And with that trend unlikely to abate any time soon, the one silver lining may be the development of wood-topped rigid core products, which can be as waterproof as any rigid LVT. Thanks to their classification by the National Wood Flooring Association as composite engineered wood, those products count as wood flooring sales. Also, hardwood's higher end is relatively immune to the rigid LVT threat.

Laminates, though, are priced competitively with SPC, and their susceptibility to water makes them an easy target, despite their higher performance in scratch and dent resistance. Laminates were also hurt by the tariffs on Chinese flooring, with imports down nearly 22%, and domestic consumption down over 13%. Research on new core compositions and edge treatments for enhanced water resistance is a particular focus for the category.

CONSUMER IMPACTS
Last year, a range of national and global events influenced U.S. consumers. The year began with the longest government shutdown in history. This directly impacted public workers, but it also left many consumers, who were generally confident about the health of the U.S. economy, with an impression of instability.

Once the shutdown was over and spring arrived, massive floods in the Midwest held back regional activity. More uncertainty came in the form of tax refund worries (that turned out to be overblown), political investigations and intrigue, and global instability. To what degree this impacted consumers and their willingness to spend is hard to say, but the residential market underperformed over the summer months, and the housing market continued to lag but gathered some momentum in the latter part of the year.

RESIDENTIAL CHANNELS
Overall, the commercial market outpaced residential last year. (For more, see next month's Commercial Market Report.) And within the residential market, the retail channel-residential remodeling-had a soft year. The multifamily market remained healthy, but it's mostly in apartment turns now, which is a high-volume, low-margin business, so its high activity level belies a relatively meager stream of profits.

It was the builder channel that gathered the most momentum over the course of the year, though it still fell below expectations overall. While low unemployment, low mortgage rates and sustained economic growth should have been the recipe for a robust market, high debt, uncertainty and a lack of affordability at the low end of the market minimized gains.

Last year, single-family home sales were up from 2018 by about 10% to 682,000 units, and new home starts were up 3.2%.

One trend in the single-family housing market is large property management companies expanding beyond traditional rental units into the single-family market, and already hundreds of thousands of properties have shifted from private ownership to rental properties. This is anticipated to impact the fortunes of independent flooring retailers, because large firms can leverage for better prices and tend to buy through multiple channels.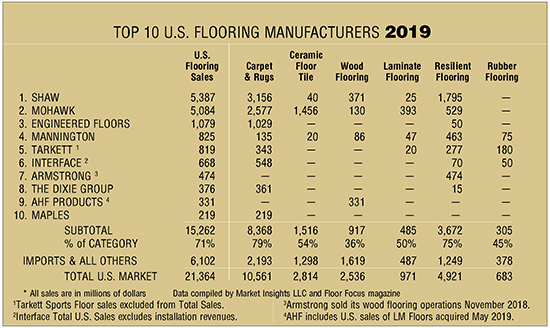 ON 2020
The momentum closing out 2019, by most accounts, continued into the first quarter of this year. Flooring sales were up in both the residential and commercial market. Existing home sales were strong in January and strengthened in February, and new home sales also showed strong growth. The market faltered in March, with the advent of the pandemic. Although the course of the rest of this year is unclear, the March to June home-selling season, which accounts for 40% of annual sales, according to the National Association of Realtors, will likely be the slowest selling season since at least the 2007 recession.

While it's impossible to predict how this pandemic will play out and the way in which society will right itself and get the economy going again, including the timeline, current conditions have many Americans largely sheltering in place. It's a safe bet that this will lead to growth in the DIY market. And that includes flooring that can be delivered to homes and installed by homeowners.

This generally means products that click together for floating installations like laminates and rigid LVT, but now it also means ceramic. Mohawk's new RevoTile is installed by clicking tiles together with only an underlayment underneath, and then grouting. It's currently priced at a premium, but depending on how consumers rationalize the savings from doing their own installation, it could gain good traction.

Another product that needs professional installation is broadloom. Carpet tile does not, but it has never found widespread traction in the residential market, despite early efforts by Milliken and Interface's existing Flor brand. But conditions are different now. Appreciating this, Shaw is putting a lot of marketing muscle behind its Floorigami line of carpet tiles. Installation is easy-as it is for Flor. Shaw is currently shipping displays to retailer partners.

This could be the moment for residential carpet tile. It's a product well suited to online ordering, direct shipping and DIY installation. And it's solving a real need. And, like any transactions during this crisis, it's adding fuel to the economic engine.

For the complete Annual Report, see the May 2020 issue of Floor Focus Magazine.
Copyright 2020 Floor Focus

Related Topics:Interface, Mannington Mills, Mohawk Industries, Shaw Industries Group, Inc.