Annual Report 2010 - May 2010
By Darius Helm and Jessica Chevalier
With the residential market struggling to regain its footing, the commercial market took a tumble last year, pushing down the flooring market about 18%, according to Santo Torcivia of Market Insights. Total U.S. flooring consumption fell to about $15.5 billion, down from a revised $18.8 billion last year.

For the third year in a row, the area rug and resilient flooring industries gained share from the other categories. Resilient business was down 13%, rugs were down 15%, and rubber fell just over 16%. Carpet was down nearly 19%, losing half a point in share, as its strengthening residential business was eclipsed by losses on the commercial side. Ceramic floor tile business fell about 20% as the category lost a little share, while hardwood, with its strong position in the hammered housing market, fell the most of all, 22.2%, with share falling to 10.5%.

In the commercial market, carpet and vinyl are the big players, and last year, with the education and healthcare markets still fairly healthy and spotty signs of life in retail, vinyl performed fairly well. However, the hospitality market took a huge hit, its biggest hit in 38 years, and the corporate sector struggled too—both are strong markets for carpet. Even though the government sector fared well, and despite carpet's share in education and to a lesser degree in healthcare, commercial carpet business was still off significantly.

In other cheery news, raw material costs have been on the rise and crude oil is up over $80 a barrel, nearly twice as high as where it stood this time last year. And last month, the big carpet mills and big vinyl producers announced price increases.

REASONS FOR OPTIMISM
However, so far in 2010 there are clear signs of improving conditions in the floorcovering business. The residential market is starting to trend upward, with most flooring manufacturers reporting increased activity across several flooring categories, though most of that activity is in the lower price points.

Nationally, unemployment has held steady at 9.7% since the beginning of the year, a clear indication of improved economic conditions—though some are more skeptical and suspect that the hiring of census workers is giving that number a short-term boost. In the New York City metro market, the region hardest hit by the financial crisis, unemployment has fallen to 10%, having reached a high of 10.5% late last year. And for what it's worth, the stock market has been rising steadily all year long.

Consumer confidence rose to 52.5 from 46.4 in February—it's been fluctuating around the 50 mark for the last year. According to the TNS Conference Board, consumers have not reached a consensus about the next six months—it's a mixed bag, with about 14% saying they anticipate conditions will get worse and 18.3% saying they'll get better. While nearly 43% claimed conditions are bad right now, only 8.6% claimed conditions are good. However, both numbers moved modestly in the right direction.

For many, the darkest clouds are still the banks. People in every corner of the industry, from flooring retailers to manufacturers to architects and designers, report that credit is still a huge problem. Since the fourth quarter of 2008, billions of dollars worth of projects have been shelved or canceled. The architect and design community, which by some accounts saw its rolls fall by 50% in 2009, reports that here and there projects have started moving again, but it's still a trickle, and it's nothing flooring manufacturers will feel until, at best, late this year.

Housing Update
In just a few months, the housing slowdown will hit the four-year mark, and even though some indicators are positive, the consensus is that we're nowhere near out of the woods and there's still the potential for a few more tumbles.

The best news is in existing home sales. According to the National Association of Realtors, existing home sales—comprising single-family homes, co-ops, condos and townhomes—surged 6.8% in March to a seasonally adjusted rate of 5.35 million units. That's about 16% higher than the 4.61 million unit rate of March 2009, and it marks the ninth consecutive month of positive movement against year-ago levels. It also marks 20 months of falling inventory levels (against year-ago levels).

Total housing inventory in March stood at 3.58 million existing homes, equating to an eight month supply, which is movement in the right direction. Inventory levels peaked about two years ago, when supply crossed the 11 month mark. A six month supply is considered balanced. Inventory of unsold new homes stood at 228,000, the lowest new-home monthly inventory since December 2006.

In March, sales of existing single-family homes were up 7.3% from the previous month and up over 13% from March 2009. Median prices were up slightly, rising in most metro markets, with some of the strongest double-digit increases in San Diego, Boston and St. Louis. Condo and co-op sales rose only 3.1%, though that was a 39.3% jump against March 2009, while median prices fell slightly compared to last year.

Growth was strong in all regions: sales rose 6% in the Northeast, up 24.5% from last year; 7.2% in the Midwest, up 15.5% from last year; 7.1% in the South, and up 13.9% from last year; and 6.6% in the West, up 14% from last year. Median prices were up in all regions except the West.

New home sales also surged in March, up 27% to a seasonally adjusted rate of 411,000 units from February's record low, according to the Commerce Department. That's up 24% from March 2009. Sales were up the most in the South at 44%, and in the Northeast at 36%. Sales were up only 6% in the West and 4% in the Midwest.

The main hesitation forestalling enthusiasm about these numbers involves the tax credit for home buyers. That tax credit, which has been available since late last year, has certainly spurred a lot of home buying, and that's a good thing, but after a round of extensions, it expired at the end of last month (or at least it was scheduled to do so at press time), so the fear is that home sales will grind to a halt in June and July—we won't really get a sense of this until the very end of July. Contracts utilizing the tax credit must be closed by the end of June.

However, it's possible that the terrible weather in most of the country last winter was an impediment to big plans like home buying and that may act as a compensating force this summer.

Another issue is foreclosures. According to RealtyTrac, 2.8 million homes were foreclosed on last year, up 5% from 2008. So far this year, foreclosures seem to be continuing their climb. In February, one in every 418 houses fell into foreclosure, a 6% higher rate than February 2009.

Nevertheless, foreclosures can mean business for the flooring industry, generating two waves of activity. When owners like banks take over a property, they often go in and do basic improvements to ready the house for sales, like installing commodity carpet. Then, once the house is sold, homeowners often upgrade, though the timeline for that is not as tight, stretching into a longer, lower wave. So these foreclosures do impact flooring sales, though it's hard to quantify how much they really contribute.

There are also signs that builder business will soon be picking up. According to the Commerce Department, housing starts in March rose 1.6% to a seasonally adjusted rate of 626,000 units, and while that growth is not exactly explosive, it does represent the third straight month of increase. Most of the activity came from multi-family units, with new construction of single-family homes actually dipping a little.

Some flooring experts believe that as builder business starts to pick up, carpet and vinyl will be the first to gain share, since they're the most economical to install, homeowners are still in tough economic straits, and banks are still wary of lending. In general, commodity products have been outperforming other price points during the last year, with home centers doing a strong business, particularly on the DIY side.

One misconception some people hold is that the housing market will take years to rebound, reasoning that there's such a glut of houses on the market that it will take a long time for demand to pick up. However, through birth and immigration, the U.S. population increases by about 2.5 million people every year. Close to a million families enter the market annually, and that's a lot of new customers. They'll all need places to live and flooring under their feet.

TOP 10 U.S. FLOORING MANUFACTURERS 2009
Firms ranked by U.S. Flooring Sales

U.S
Flooring Sales

N. American
Flooring
Sales

Foreign Flooring
Sales

Total
Flooring Sales

Total Non-Floor
Sales

Total
Company
Sales*

1.
2.
3.
4.
5.
6.
7.
8.
9.
10.

MOHAWK (1)
SHAW (2)
ARMSTRONG (3)
BEAULIEU OF AMERICA (4)
MANNINGTON (5)
TARKETT (6)
INTERFACE
PFLEIDERER (7)
THE DIXIE GROUP (8)
TANDUS (9)

4.575
4,509
1,322
993
584
526
409
267
240
238

4,642
4,561
1,400
1,003
599
555
447
267
280
273

530
--
407
--
--
527
1,253
--
103
30

5,172
4,561
1,807
1,033
599
1,082
1,700
267
383
303

1,654
491
1,586
80
31
--
--
16
2,170
19

6,826
5,052
3,393
1,113
630
1,082
1,700
283
2,553
322

*All sales are in millions

Data compiled by Market Insights/Torcivia and Floor Focus Magazine

Total company sales may not be the same as reported sales, due to acquisitions and divestitures, both of which are included or deducted for the full year 2009.

(1) Mohawk's non-flooring sales include ceramic wall tile, textiles, cleaning accessories, fiber and stone flooring sales which are not shown in a separate category.
(2) Shaw's non-flooring sales include Spectra contract service/installation revenues, and fiber/yarn sales.
(3) Armstrong's non-flooring sales include ceiling, cabinets and flooring accessory sales.
(4) Beaulieu's non-flooring sales include fiber and chemical sales.
(5) Mannington's non-flooring sales include ceramic wall tile and flooring accessory and rubber product sales.
(6) Tarkett's sales include Sommer, Domco, Tarkett, Johnsonite, and FieldTurf.
(7) Pfleiderer's non-flooring sales include sales of board and forest products.
(8) Dixie's non-flooring sales include sales of yarn and carpet dyeing and finishing services.
(9) Tandus' non-flooring sales include sales of extruded yarn.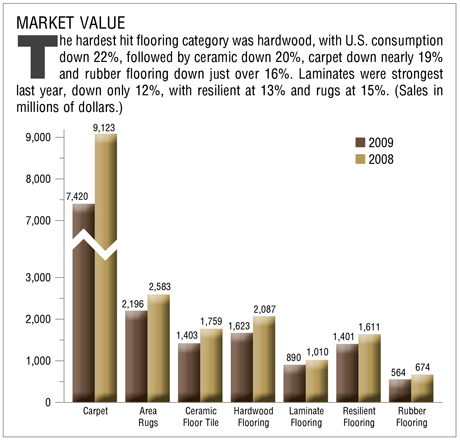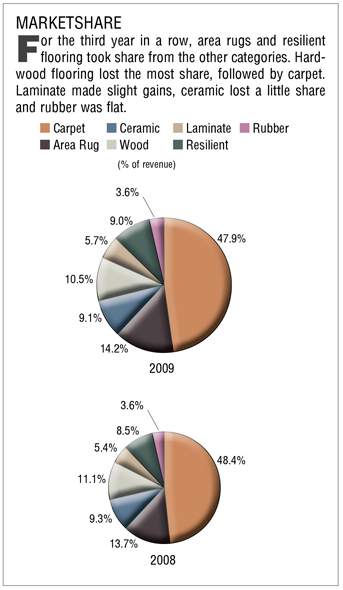 For an indepth look at the various flooring categories, see the May 2009 issue of Floor Focus.

Copyright 2010 Floor Focus

Related Topics:Spectra Contract Flooring, The Dixie Group, Mohawk Industries, Mannington Mills, Interface, Beaulieu International Group, Shaw Industries Group, Inc., Armstrong Flooring, Tarkett