Annual Report 2009 - May 2009
Introduction by Darius Helm, Statistics by Market Insights/Torcivia

Last year was another year of decline for the residential market, and the commercial market joined suit in the final quarter, setting up the flooring industry for another weak year in 2009. The good news is that costs are finally moderating, moving the industry—and the economy—away from a perilous new kind of recession.

According to Market Insights/Torcivia, U.S. flooring sales were down 11% last year to $20.127 billion from a revised estimate of $22.542 billion in 2007. The commercial market, which is about half the size of the residential market, was only down by single digits, but the continued housing woes kept total flooring sales depressed. So far this year, it's been more bad news from the housing market, though there are compelling indications that we may be approaching the bottom of this crisis.

This August the housing slowdown will officially turn three years old, so we have a few more months of the terrible twos. And so far there is a gathering body of evidence that right around that time we might see the market begin to turn. However, it doesn't look like this recessionary timeline is going to be V-shaped, and folks should be prepared to dig in for at least another year.

As Paul Krugman, Nobel laureate and Princeton professor of Economics and International Affairs, pointed out in a recent New York Times column, "History shows that one of the great policy dangers, in the face of a severe economic slump, is premature optimism." The same holds true for the flooring industry. Everyone wants business to bounce back overnight, and the temptation is to interpret signs, like the occasional jump in new home sales, signs of life in the stock market, and truly unreliable consumer confidence numbers, as indications that it's all over and we can relax and start spending again.

However, that optimistic spirit, which some would say is as American as apple pie, is best held in check for now because it may have the effect of taking our collective eye off the ball. After all, this is a new economy, truly global in nature, and the recession is still rocketing across the world. Many bumps in the road lie ahead, and most experts agree that 2009 will not be a year of sunshine and roses.

The good news is that in one essential way conditions have improved over last year—namely, material and energy costs are no longer climbing. In most slowdowns, declining demand for materials drives prices lower across the board, but this recession occurred as raw material prices continued to rise. Last year saw record increases in two key supplies, food and fuel. And for the flooring industry, fuel costs equate closely with raw material costs, even more so if you're in the carpet or vinyl business. Consequently, margins were squeezed like never before.

This year it's a different story. At least for now, $140 for a barrel of oil is just a bitter memory. Fiber costs have moderated, transportation costs have eased, and it's a lot easier to pull a profit from a foot of flooring.

On the down side, over the last two years domestic producers have had the advantage of a weak dollar, which has depressed imports. Now that the dollar is stronger, particularly against the euro, imports are likely to take back some of the share they lost in 2008.

Housing Update
It's now common knowledge that regionally the most overbuilt and over-speculated markets fell the hardest. California, Arizona, Nevada and Florida have fared the worst, along with parts of the Rust Belt. Other parts of the Midwest all the way down to Texas, along with the Pacific Northwest and isolated spots along the Eastern Seaboard, either didn't see the tremendous overvaluation in housing prices or, like Texas, grew more organically, and these regions have held up a lot better. Nevertheless, inventory is up, housing prices are down and foreclosures are still rising in most of the nation.

According to RealtyTrac, first quarter 2009 foreclosure rates were up 9% from the fourth quarter of 2008, and up nearly 24% from the first quarter of 2008. March foreclosure rates were nearly 50% higher than they were in March 2008, and those were, in turn, 57% higher than in March 2007. That's a grim statistic, though not quite as bad as it seems, since rates jumped in large part because Fannie Mae and Freddie Mac, the big mortgage finance firms, along with many banks, had halted foreclosures until they could assess which borrowers would qualify for protection under the administration's new plan.

The highest foreclosure rates were in Nevada, Arizona, California and Florida—and Illinois, Michigan, Georgia, Idaho, Utah and Oregon rounded out the top ten. In Nevada, one out of every 27 homes received a foreclosure filing.

According to the National Association of Realtors (NAR), existing home sales, including single family homes, townhomes, condos and co-ops, rose 5.1% from January to February to an annual rate of 4.72 million units. However, February's numbers were still 5% below February '08 levels. More significantly, 40% to 45% of those sales were on distressed properties, and not only did that reduce median prices to $165,400 (nearly 16% below February '08 prices) but it highlights the fact that some of the activity is due to people jumping on foreclosures.

Sales of existing single family homes were only down 3.6% compared to February '08, while condos and co-ops were down 13.1%. This confirms other evidence suggesting that the multifamily market, which helped offset losses last year, is tailing off.

Existing home sales were strongest in the East, followed by the South. The West performed better than expected, but activity was slowest in the Midwest.

Another interesting statistic from NAR is that vacation and investment home sales fell to 30% of all existing and new home sales in 2008. While investment homes held steady at 21%, vacation home sales fell from 12% of the market in 2007 to just 9% last year.

New home sales edged up 4.7% last February compared to the previous month, but they were down 41.1% from February 2008. The seasonally adjusted estimate of new homes for sale in February was 330,000, which is over a year's supply at the current rate of consumption.

New home starts were down 10.8% from February to March 2009, down in fact to the lowest level on record and 48.4% lower than March 2008. Building permits fell 9% from March to February, to 513,000, down 55% from March '08.

The Commercial Market
Parts of the commercial market were already slowing before the banking crisis hit last September. Retail store planning had already slumped and parts of the corporate market had begun to slow. However, the real slowdown came in the final quarter of the year, and the corporate market, led by financial institutions, has shown the biggest declines. Except for some activity in the discount sector, retail store planning is in about the same position. And now the hospitality market is also tailing off, led by full service hotels.

The healthiest market remains, appropriately enough, healthcare. However, it's a safe bet that the assisted living side will see reductions over the next couple of years. But the healthcare sector in general is in dire need of renovation and it's facing unprecedented demand as baby boomers hit retirement age. Though growth may be uneven, this sector should continue to grow for a couple of decades.

Another sector with huge demand is education, as immigration and the children of baby boomers swell the school and university age population. Unfortunately, the administration's stimulus package did not end up allocating any funds specifically for school modernization and construction, except in the form of tax free bonds. The billions put toward education can certainly be spent on construction and renovation, but it's at the discretion of state and local governments.

We'll take a closer look at the state of the various commercial sectors in next month's Commercial Market Report.
TOP 10 U.S. FLOORING MANUFACTURERS 2008
Firms ranked by U.S. Flooring Sales

U.S
Flooring Sales

N. American
Flooring
Sales

Foreign Flooring
Sales

Total
Flooring Sales

Total Non-Floor
Sales

Total
Company
Sales*

1.
2.
3.
4.
5.
6.
7.
8.
9.
10.

MOHAWK (1)
SHAW (2)
ARMSTRONG (3)
BEAULIEU OF AMERICA (4)
MANNINGTON (5)
INTERFACE
TARKETT (6)
THE DIXIE GROUP (7)
PFLEIDERER (8)
C&A FLOORCOVERINGS (9)

4.575
4,509
1,322
993
584
526
409
267
240
238

4,642
4,561
1,400
1,003
599
555
447
267
280
273

530
--
407
--
--
527
1,253
--
103
30

5,172
4,561
1,807
1,033
599
1,082
1,700
267
383
303

1,654
491
1,586
80
31
--
--
16
2,170
19

6,826
5,052
3,393
1,113
630
1,082
1,700
283
2,553
322

*All sales are in millions

Data compiled by Market Insights/Torcivia and Floor Focus Magazine

Total company sales may not be the same as reported sales, due to acquisitions and divestitures, both of which are included or deducted for the full year 2008.

(1) Mohawk's non-flooring sales include ceramic wall tile, textiles, cleaning accessories, fiber and stone flooring sales which are not shown in a separate category.
(2) Shaw's non-flooring sales include Spectra contract service/installation, and fiber/yarn sales.
(3) Armstrong's non-flooring sales include ceiling, cabinets and flooring accessories.
(4) Beaulieu's non-flooring sales include fiber and chemical sales.
(5) Mannington's non-flooring sales include ceramic wall tile and flooring accessory sales.
(6) Tarkett's sales include Sommer, Domco, Tarkett, Johnsonite, and FieldTurf.
(7) Dixie's non-flooring sales include sales of yearn and carpet dyeing and finishing services.
(8) Pfleiderer's sales include Uniboard and Pergo sales for the full year 2008; Pergo acquired March 2007 and non-flooring sales include sales of lumber and forest products.
(9) C&A's non-flooring sales include sales of extruded yarn.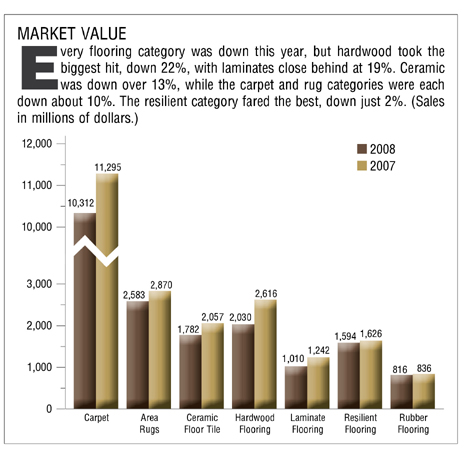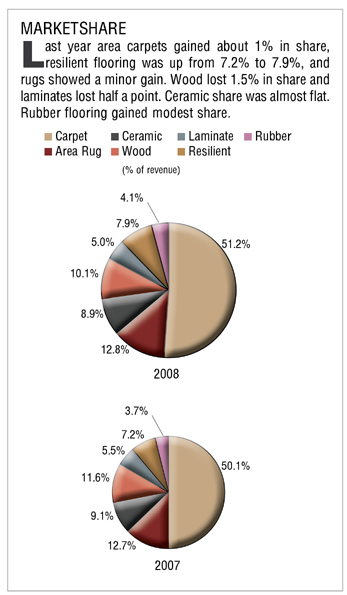 For an indepth look at the various flooring categories, see the May 2009 issue of Floor Focus.

Copyright 2009 Floor Focus Inc

Related Topics:Mohawk Industries, Mannington Mills, Tarkett, Interface, The Dixie Group, Shaw Industries Group, Inc., Spectra Contract Flooring, Coverings, Armstrong Flooring, Beaulieu International Group