Annual Report 2008 - May 2008
By Darius Helm, Brian Hamilton and Kemp Harr
The first full year of the housing slump had a big impact on residential flooring sales, an impact that is even affecting parts of the commercial market. In all, U.S. flooring sales were down nearly 9% in 2007, from just over $24 billion in 2006 to $21.944 billion last year, according to Market Insights/Torcivia.

The residential side of the business, which accounts for two-thirds of the entire floorcovering market, was down about 12.5%. The decline started in mid 2006 on the builder side of the business but over the last year the remodeling sector has also slowed significantly.

All signs point to another sluggish year on the residential side, though the commercial market will grow. The housing market may not start to recover until 2009, and that's assuming nothing unforeseen emerges to put more pressure on the economy.

Housing market outlook
For now, we're still in the middle of the domino effect. When those adjustable rate mortgages started adjusting up and other factors like rising energy costs impacted consumers, one of the effects was that foreclosure rates started rising—and they have yet to peak. As foreclosures add to the inventory of unsold homes, property values are forced down and that has an even greater impact on new construction. March housing starts dropped nearly 12%, the steepest decline in 17 years, according to the Commerce Department. All of this works against a rapid rebound, because inventories will remain swollen until the cycle runs its course, holding down prices and putting a damper on new home construction. There is also evidence that some potential home buyers are holding off because they believe the market has further to fall, which further compounds the problem.

Though there are signs that foreclosure rates may be leveling off, they're still rising. According to RealityTrac, March 2008 rates were up nationwide by 57% from March 2007, with over 51,000 homes lost to foreclosure. Nevada, California and Florida remain the hardest hit, along with Colorado. Georgia comes in at number five, followed by Ohio and Michigan.

Adding to the woes is the unremitting rise in fuel costs—having crossed the century mark earlier this year, crude oil prices happily skipped up to over $119 a barrel by late April. Compare that to a mere ten years ago, when the price was $13.15 a barrel. That's right, $13.15 a barrel—an 800% increase in a mere decade.

Food prices threaten recovery
Headed our way is another problem, food prices. Fueled by severe droughts, rising demand for food globally, and missteps in biofuel development, global food prices are rising faster than ever, up nearly 50% since the end of 2006. Right now the world's poor are feeling the brunt of it, with food riots in Africa, Asia, and places closer to home like Mexico and Haiti. But prices are rising everywhere and everyone is affected.

Biofuel development, an attempt to reduce carbon emissions, is both driving up grain prices and ultimately adding significantly to carbon emissions. Environmentally, corn ethanol is the biggest disaster—sorry, Iowa, but that's the truth. First of all, it takes about as much energy to make it as it releases when it's burned, unlike, say, sugarcane ethanol, which is far more efficient. It decreases fuel economy compared to regular gasoline. And it can't use the pipeline system, so it has to be trucked out of the farm belt. But that's only the beginning of the problem.

With U.S. farmers selling 20% of their corn for ethanol, according to the April 7 edition of Time Magazine, soybean farmers are starting to grow corn instead, boosting soybean imports from places like Brazil, where lucrative soybean production takes land from cattle pastures, which leads to cutting down forests for grazing. The end result is the release of sequestered carbon, and when you take it to the bottom line, it means that corn ethanol emits more carbon than do fossil fuels and its increasing production inevitably drives up grain prices, which automatically leads to increasing food prices.

The long and short of it is that developing biofuels at the expense of existing arable land or carbon-sequestering land like forests impacts both the environment and the population, and considering that the corn used to fill an SUV tank with ethanol can feed a person for a year, corn ethanol specifically may do more harm than good.

Now for the good news
Some regions are doing better than others, like parts of Texas and the Pacific Northwest, as well as sections of the Cornbelt, like Iowa, where government subsidies and rising demand for ethanol have led to a farming boom. And the multifamily market has fared much better than the single home market, even after taking the condo collapse into account.

The weakness of the dollar also promises relief, boosting exports and making investment in the U.S. more favorable. Flooring producers with international business are well positioned to take advantage of the dollar's decline. In general, the situation favors domestic flooring producers over foreign manufacturers looking to sell their goods here, and it's also leading foreign producers to set up operations on U.S. soil.

Exports from China, particularly hardwood, have been impacted by tariffs and export taxes, making Chinese products more expensive, and that in turn has strengthened the position of U.S. hardwood producers.

The commercial sector is by and large healthy, though retail store planning, which closely follows the residential market, has suffered. But thanks in large part to the baby boomers, sectors like healthcare are posting record growth. The education market has also been very strong, and hospitality business is up, though it will slow over the next couple of years before picking up steam again.

Overall, the commercial market will grow again this year before slowing in 2009, but the long term picture remains strong. (We'll have more on the commercial market in June's Commercial Market Report.)

Strategies in a downturn
When the market is down, the floorcovering industry takes on a different character, with lots of subtle maneuvering between the impulse to drive sales, the pressure to boost margins and the opportunity to take share. It's tough to invest in the future when sales are down, costs are up and profits are shrinking, but it's not as risky as it feels.

Many of the approaches, like advertising, diversifying into other markets (like the commercial market) or broadening price points, not only yield a bigger piece of the pie when business picks up but also serve as sound long term strategies. But it's hard to prioritize steady long term growth when the day to day hustle to drive sales seems like the only way to stay afloat.

At the manufacturer level, some of the larger firms are boosting their profile. Mohawk, for instance, has launched a new national ad campaign that includes more TV advertising than ever before. At the retail level, some of the more savvy dealers are also advertising more, and some are even dropping prices in order to get customers in their doors, customers that will hopefully come back for more business when the economy turns around.
At the manufacturer level, some of the larger firms are boosting their profile. Mohawk, for instance, has launched a new national ad campaign that includes more TV advertising than ever before. At the retail level, some of the more savvy dealers are also advertising more, and some are even dropping prices in order to get customers in their doors, customers that will hopefully come back for more business when the economy turns around.

TOP 10 U.S. FLOORING MANUFACTURERS 2007
Firms ranked by U.S. Flooring Sales


U.S
Flooring Sales

N. American
Flooring
Sales

Foreign Flooring
Sales

Total
Flooring Sales

Total Non-Floor
Sales

Total
Company
Sales*

1.
2.
3.
4.
5.
6.
7.
8.
9.
10.

MOHAWK (1)
SHAW (2)
ARMSTRONG (3)
BEAULIEU OF AMERICA (4)
MANNINGTON (6)
INTERFACE
TARKETT (5)
THE DIXIE GROUP
C&A FLOORCOVERINGS (7, 8)
PFLEIDERER (9)

5,276
4,719
1,470
993
691
524
306
305
267
230

5,354
4,772
1,557
1,033
711
550
515
305
303
261

624
--
407
--
--
529
1,385
--
--
238

5,978
4,772
1,964
1,033
711
1,079
1,900
305
303
499

1,654
601
1,586
80
15
2
100
16
27
1,998

7,632
5,373
3,550
1,113
726
1,081
2,000
321
330
2,497

*All sales are in millions

*Data compiled by Market Insights/Torcivia and Floor Focus Magazine

Here's a look at total 2007 sales for the ten largest U.S. floorcovering manufacturers, broken down according to where their products are sold. Total company sales may not be the same as reported sales, due to acquisitions and divestitures, both of which are included or deducted for the full year 2007.

For a breakdown of sales according to product type, see the chart below. Here are explanations for the footnotes next to the company names:

(1) Mohawk's non-flooring sales include ceramic wall tile, textiles, cleaning accessories, fiber, etc.
(2) Shaw's non-flooring sales include Spectra contract service/installation, and fiber/yarn sales.
(3) Armstrong's non-flooring sales include ceiling components, cabinets and flooring accessories.
(4) Beaulieu's non-flooring sales include fibers and chemicals.
(5) Tarkett's sales include Sommer, Domco, Tarkett, Johnsonite, and FieldTurf.
(6) Mannington's non-flooring sales include ceramic wall tiles and flooring accessories.
(7) C&A's sales based on year-to-date results through third quarter projected to the full year.
(8) C&A's non-flooring sales include extruded yarn.
(9) Pfleiderer's sales include Uniboard and Pergo sales for the full year 2007; Pergo acquired March 2007.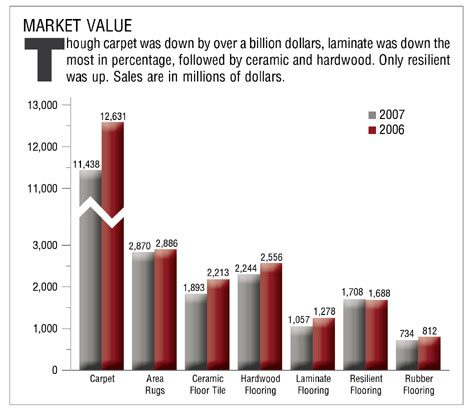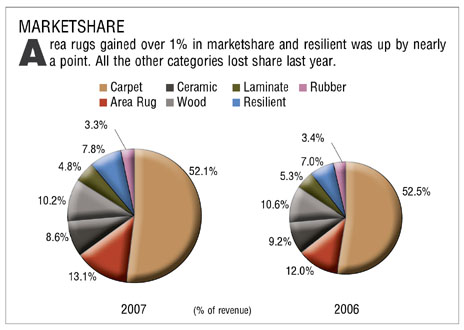 For an indepth look at the various flooring categories, see the May 2008 issue of Floor Focus.

Copyright 2008 Floor Focus Inc

Related Topics:Tarkett, Mannington Mills, Beaulieu International Group, The Dixie Group, Spectra Contract Flooring, Interface, Armstrong Flooring, Coverings, Mohawk Industries, Shaw Industries Group, Inc.