Design Ovations - Aug/Sep 2013
Flooring is one of the design conundrums of our time. Designers want to specify the appropriate product, while eliminating any possibility of wasted energy or resources. They want the specification to be fun, cool and creative, while also responsible.

Sustainability is a word that gets a lot of play these days in reference to flooring. Some designers group products into "yes, we can use it" or "no, we can't use it" categories based on the finish's environmental profile. Though designers love to find products that are 100% recycled and recyclable, reduce their own carbon footprint to zero, perform like iron and last forever, we sometimes must compromise. Do you want look or performance? Designers want both.

Even if a project cannot achieve LEED certification, the designer need not abandon the cause of sustainability. In the end, the designer, the client, the space, the building, Mother Earth and our civilization are all better off for having taken even just one step toward sustainable design on each project.

Often, designers build a palette of other finishes around using an existing concrete slab as the primary flooring material, so as to retain the raw appeal of natural materials and have the satisfaction of not adding to a future landfill by specifying a product that will be demolished later. On many projects, it's also kinder to the budget to leave as much concrete as is feasible. Concrete's popularity in the last decade has led it to become a fallback solution for many who assume a creative space is defined by its bare slab. But a designer can achieve a successful and environmentally responsible design with flooring materials.

For one of our professional hospital supply clients, whose aesthetic is centered between the industrial chic and conservative, flooring for its new 100,000 square foot "creatively responsible" corporate headquarters was addressed by developing a palette of aesthetically coordinated finishes, with color and pattern interest, in materials that were more recycled than not and which would enjoy a long, happy life while looking forever young.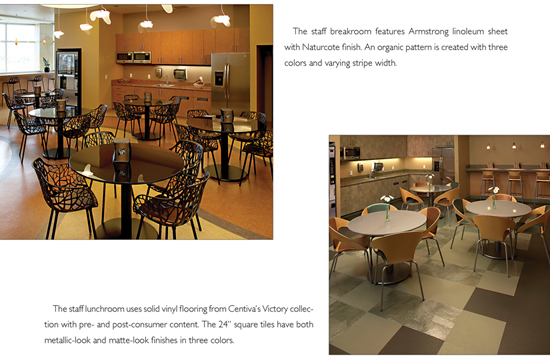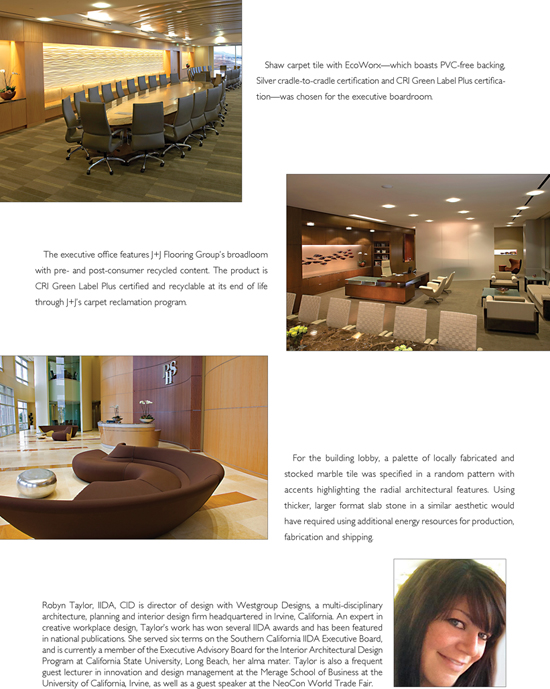 Copyright 2013 Floor Focus