Advertising & Branding - July 2013
By Santo Torcivia
Upon examining the most recent figures from Kantar Media on consumer advertising, I am struck by how quickly the investment in brand equity among producer flooring brands has fallen. Each year over the last five years, the total amount spent in support of flooring brands by producers has declined to the point where spending in 2012 was 20% of what it was in 2008. This does not bode well for manufacturers and their efforts to gain a stronger position in the product channels, considering that the same trend is not true for consumer advertising spending by major retailers.





It cannot be said strongly enough that, in the product channels, brand equity—that is, the communication of a brand's image, perception and benefits to the trade and consumers—is as important as product development, product quality and price. In fact, brand equity is why an automobile company like Toyota or Honda can get a higher price (and higher sales volumes) for its products, which are perceived to have higher quality and better values than its competitors. But producers sometimes think it a simple matter to cheat their brand equity and "save" these funds to freshen-up the bottom line. They do not realize that cheating brand equity today undermines margins down the road. This sort of shortsightedness breeds long-term margin struggles and sales declines. There are plenty of examples. Just consider Stainmaster fiber by DuPont, which held a vaunted position in the late 1980s. Stainmaster cheated on its brand equity before making some other crucial marketing errors, was sold by DuPont, and is now is trying to resurrect itself. It is difficult to regain esteem once a brand has slipped from the consumer's mind.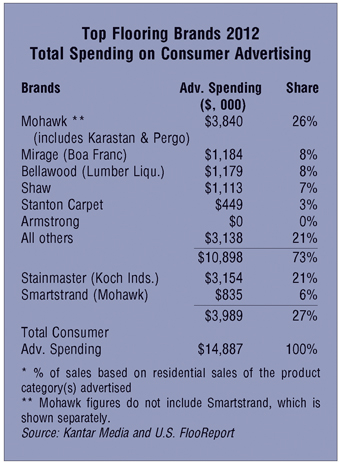 Fortunately, flooring retailers across the U.S. do not suffer the shortsightedness of flooring producers. Empire Today has reportedly spent half a billion dollars over the last five years on consumer advertising, increasing its expenditure each year. Lumber Liquidators spent over $100 million in consumer advertising over the same period, also increasing its expenditure each year. Additionally, Lumber Liquidators has spent over $7 million in consumer advertising since 2008 in support of its Bellawood wood flooring brand. Overall, retailers have expended $849 million in consumer advertising over the last five years versus $297 million by flooring and carpet fiber producers. These figures include an estimated spending by the top three home centers (Home Depot, Lowe's and Menards) of $140 million combined over the last five years, just for flooring.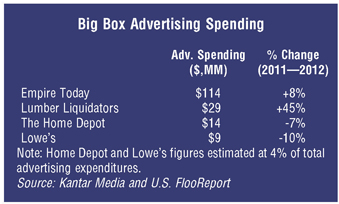 Let me leave you with this thought. All the major retailers have store brands. Some, like Bellawood, Trafficmaster and SwiftLock, have varying degrees of equity. Flooring producers are reducing their advertising (communications with consumers) at a time when retailers are not following suit, diminishing flooring producers' brand equity and pushing themselves evermore closely to commodity status. What will happen to product margins for producers? What other expenditures will producers be forced to cut when margins fall—product development, research and development, or something else? What will this then lead to?

It is not too late for flooring producers to assess their market positions and redeem their brand positions and, therefore, their margins. The question is whether flooring producers can see behind the next quarter's income statement and invest in the future. Where would you put your long-term bet?
Copyright 2013 Floor Focus