Digital Evolution - January 2012
By Jay Flynn
Many of you have read about how social media is changing the world as we know it, while a few of you have already started to experiment with using Facebook, Twitter and other social media tools for your business. I am going to expound on these topics here, but maybe more importantly, I will discuss the area of social media that focuses on what your customers are saying about you—reputation management.

Why is social media important to my business? And what should I do about it? These are the most common questions I get from both retailers and manufacturers when I discuss social media as an online marketing tool. Many of these professionals do not use social media themselves, and therefore they don't understand that their customers use social media every day when searching, shopping and deciding what to buy.

Did you know?

• If Facebook were a country, it would be the third largest in the world.
• A new person joins LinkedIn every second.
• Ninety percent of consumers trust peer recommendations; only 14% trust advertisements.
• Gen Y and Z consider email communication passé.

Remember that just because you don't use social media does not mean that your customers don't. Although age is an important determinant in the frequency of use of social media, it is not the sole factor; in fact, the fastest growing segment of Facebook users are women ages 55 to 65.

Retailers need to consider that most young buyers—those that will be making up an ever increasing percentage of your sales every year moving forward—and a rapidly growing number of mature buyers use social media in ways that directly impact you and your ability to sell flooring to them.

We all know the anecdotes about social media users sharing mundane information about what they had for lunch or what they watched on TV last night, but social media is also used in much more significant ways. Countless consumers use social media to research, shop and validate flooring purchases, and flooring retailers need to factor this reality into their advertising and marketing strategies. Here are some examples pulled straight from Facebook and Twitter.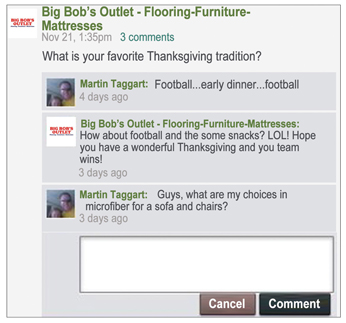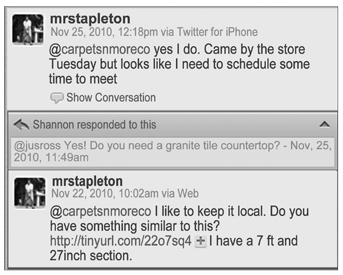 If you now understand that social media should become an integral part of your marketing but are unsure how to get started, keep these important factors in mind:

• Only participate if you are going to dedicate the time and resources required.
• Learning on the job is not a good idea.
• One of your most important jobs with social media is controlling your online brand message.
• Social media sites are designed to keep you present and connected with your customer. They are not a place to "sell" them.

Many companies assume that just going online and signing up for a free Facebook and Twitter account means they are involved in social media and will start benefiting. The opposite is usually the case. Consumers who use these tools will immediately see that you have not put the effort into setting up your tools properly or providing content that is important to them. The result will be a negative reaction from that potential consumer.

The same lesson applies to learning on the job. It is very apparent to social media users if you don't understand how the different tools should be used. Would you consider making a TV commercial with a handheld camera you bought at Target, "actors" that were previously stacking your carpet rolls and printing your invoices, or a script that you had your eighth grader write after he finished his homework? Of course not. You should approach social media in the same manner as you would a commercial: consulting with professionals; learning as much as you can before jumping in; and following the rules of the forum.

Now let's focus not on what you're saying on social media, but about what others are saying. Do you know what is being said about you today online? There is a growing segment in social media known as reputation management, focused on helping businesses identify when they are mentioned online, and then helping them use positive information and mitigating negative comments and reviews posted by consumers or competitors.

Consumers are not only using social media to look for positive information, they are looking to weed out the retailers they don't need to visit, and negative reviews that are left unaddressed in social media can eliminate a potential customer before you even knew that they were thinking about you.

Consider if five years ago (pre-social media influence) you were aware of a customer that was unhappy with the service you provided, and you knew that they had a forum to communicate their dissatisfaction to your core customer base. Wouldn't you want to know who they were and what they were dissatisfied with? If someone could help you not only resolve the situation but also show you how to potentially turn it into a positive with prospective customers, wouldn't that be valuable to you? That is what reputation management companies provide, only they do it in the social media world that your consumers are participating in today.

If you are not aware of your online reputation, you obviously don't have the opportunity to resolve issues or thank and reward customers for positive reviews and comments. If you do nothing else with social media today, you should begin with the first step of reputation management, researching and then continually monitoring your online brand reputation.

Social media tools are affecting the way people communicate, make decisions, interact and shop. Make sure that your competition does not find and engage consumers who should be your customers: the very same consumers who read fewer newspapers and no longer use the Yellow Pages but that spend hours online every day for work, research, shopping, playing and interacting.


Copyright 2012 Floor Focus